Technological change and globalization are revolutionizing the way Canada's economy functions, providing enormous opportunities for development, but at the risk of increasing inequality. Canada scores high in many respects, but challenges remain as specific gaps in opportunities and outcomes persist.
Entrepreneurship plays a dominant role in the Canadian economy since it drives job creation and innovation. Entrepreneurship also has the capability to enhance social inclusion by providing another option to generate income and contribute to society.
Just think of an environment where entrepreneurship is accessible and open to anyone. Then imagine a space based on the assumption that entrepreneurship can smoothen and even the playing arena and provide all entrepreneurs with an equal opportunity when it comes to starting and running a business regardless of race, gender, etc. This capability will not be realized until each and every person has the opportunity to own a business and becomes self-employed.
For a long time, traditional entrepreneurship has meant that people of color and women who often lack access to critical business development resources are not fit to reach their full potential. That is, so far.
Enter inclusive entrepreneurship.
What's Inclusive Entrepreneurship? What Are Its Objectives?
Inclusive Entrepreneurship is a form of entrepreneurship that aims to ensure that every person, irrespective of background and individual characteristics, has the opportunity when it comes to owning and operating a business.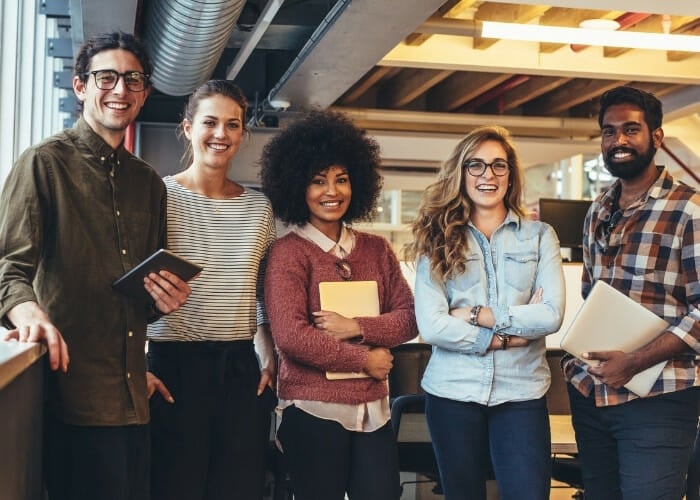 Inclusive Entrepreneurship policy has a dual objective:
First, it raises awareness and motivates action on the potential of self-employment as an activity in the labour market.
Second, they tend to investigate and monitor markets (eg, information failure, external factors), institutional (eg, inadequate regulatory environment), and behavioral failures (eg, failure or excessive fear) disproportionately affect marginalized and underrepresented people.
Inclusive entrepreneurship policies are typically targeted at groups that face greater barriers to starting a business or are underrepresented like women, young people, the unemployed, the elderly and immigrants.
Removing these barriers through initiatives like entrepreneurship education, mentoring and coaching, and microfinance is expected to increase the number of businesses these groups create. This will also enhance the quality of startups to make them more innovative and sustainable. These policies help stimulate economic growth.
Ways to Promote Inclusive Entrepreneurship
To be successful, supportive measures must be tailored for the diverse social target groups – the unique challenges they face on their path to entrepreneurship.
Unequal access to education, top-notch mentoring, and early career opportunities make things hard for a small number of entrepreneurs to build relationships that expand their business.
However, inclusive entrepreneurship helps overcome structural weaknesses by extending technical support in the form of personal coaching, mentoring, and peer support. This also strengthens networks like local chambers of commerce, industry business associations, and non-profit organizations, providing opportunities for small business owners to make valuable connections.
Relationships built through these organizations can assist minority entrepreneurs to access proprietary information, for example by identifying and hosting professional advisory services, attracting new clients, and generating capital growth.
Equality in Capital Access
Generational discrimination based on gender and race is exacerbated by large wealth inequality, making it difficult for minority entrepreneurs when it comes to accessing the financial resources they require in order to create sustainable businesses.
It is seen that more than half of Black-owned businesses had their loan applications rejected. It is twice the rate of white-owned businesses.
As a result, it is not uncommon for black entrepreneurs to enter sectors with lower capital requirements and do business in sectors with lower barriers to entry. This usually means low-profit margins and high business failure rates.
Luckily, the market has launched several innovative and scalable solutions to this long-standing problem that can facilitate the influx of growth capital for a few entrepreneurs.
Online Lending: Today, with the help of online lending, loan applications put forward by minority businesses owners are rejected less than what it was before. It has become a better solution than traditional lending banks.
Crowdfunding: This has become a "go-to" form of startup funding. There are several sites that provide opportunities for minority entrepreneurs to display their startups to many potential investors and bag a range of capital.
Startup Accelerators and Incubators: Acceleration programs provide mentoring, training, and resources to entrepreneurs in all industries, both in the formative stages and in the early stages of company growth. They are all designed to help growing businesses get the resources and tools they need to speed-up their growth. Finding the most accurate fit is an adventure, but like most entrepreneurial journeys, the rewards of time and hard work can yield the greatest long-term outcomes.
Community Development Financial Institutions (CDFIs): They provide technical assistance and flexible loan policies to startups. They put forward financial and social ROI in the economic prosperity of communities that are financially under-served.
Since penetrating the mainstream market is difficult, many minority-owned startups are able to just serve minority communities, making it difficult to scale.
There are two chief strategies to give minority entrepreneurs access to new markets:'
Public Procurement Program: It aims to provide minority businesses with access to government spending on an equal basis with non-minority businesses. Several Canadian states passed laws requiring large corporations to disclose their contractual relationships with minority-owned businesses.
Aggregation: Proper infrastructure is being built to allow consumers to connect with minority-owned businesses. For instance, Black Owned Toronto is a robust online directory that connects black-led businesses with several partners, customers and the resources they need to succeed.
The Key Takeaway
Inclusive entrepreneurship is an attractive macroeconomic and microeconomic proposition.
Breaking the social and financial capital barriers (networking and mentoring) for Blacks, women, Indigenous, Latinx, Asian, and other disenfranchised Canadians will keep these potential owners and founders off the sidelines. This is an economic imperative for everyone and it is the only medium to stop the astonishing decline of every new startup. Global leadership and continued innovation is dependent on this.
The Canadian Government is aware of the complexities of inclusive entrepreneurship, but much remains to be done to disseminate best practices.