Since opening its doors in 1937, Pioneer Home Hardware Building Centre has been a foundational business in the community of Campbell River, BC. Eighty-four years later, the business remains family-owned and is led by a team of three dynamic women. The combined strengths of Allison Kilby, Theresa Handel and Amber Spring allow them to serve their community under an iconic Canadian brand that supports local entrepreneurs.
When Allison Kilby joined her father as a Dealer-Owner at Pioneer Home Hardware Building Centre in 2010, she brought a strong understanding of the business operations from years of being an employee. In 2018, her sister, Theresa Handel, became a Dealer-Owner, bringing her passion for communicating with store staff and the customers they serve. That same year, long-time employee, Amber Spring, completed the trio with her strong office management skills.
"Our individual strengths bring balance and create a stronger leadership team driven by the same objective of supporting the local community that supports us," said Allison Kilby, Dealer-Owner, Pioneer Home Hardware Building Centre.
A Passion for Community Drives Home Hardware Dealer-Owners to Success
Click To Tweet
Building Together
The trio is passionate about providing exceptional service to the people of Campbell River and Home Hardware Stores Limited has the right tools and programs in place to make sure the team can respond to the unique needs of their local community.
"The support Home Hardware provides allows us to operate in a community-minded way," explains Handel. "Having lived and raised families in Campbell River, our relationship with our customers goes beyond the store. We are friends, family and neighbours."
The team at Pioneer Home Hardware Building Centre is always stepping up to support Campbell River when help is needed most. Many businesses and organizations, such as the school district, have relied on them for their commercial and janitorial section through the pandemic.
"Owning a business like ours means you have to be ready to serve at all times. Whether it's a generator or a part to fix a water pipe, customers don't just need help between 9:00 and 5:00," describes Kilby. "We are often the first line of support and take great pride in being there for our customers and employees when they need us because we know they would do the same for us."
Locally Owned. Genuinely Canadian.
Those in Campbell River recognize the Pioneer Home Hardware Building Centre team as members of their community and appreciate that they are locally owned.
"Our customers tell us that they choose us because we're local," says Amber Spring. "And I know many other Home Hardware Dealer-Owners hear that it matters to Canadians that they are supporting home-grown businesses."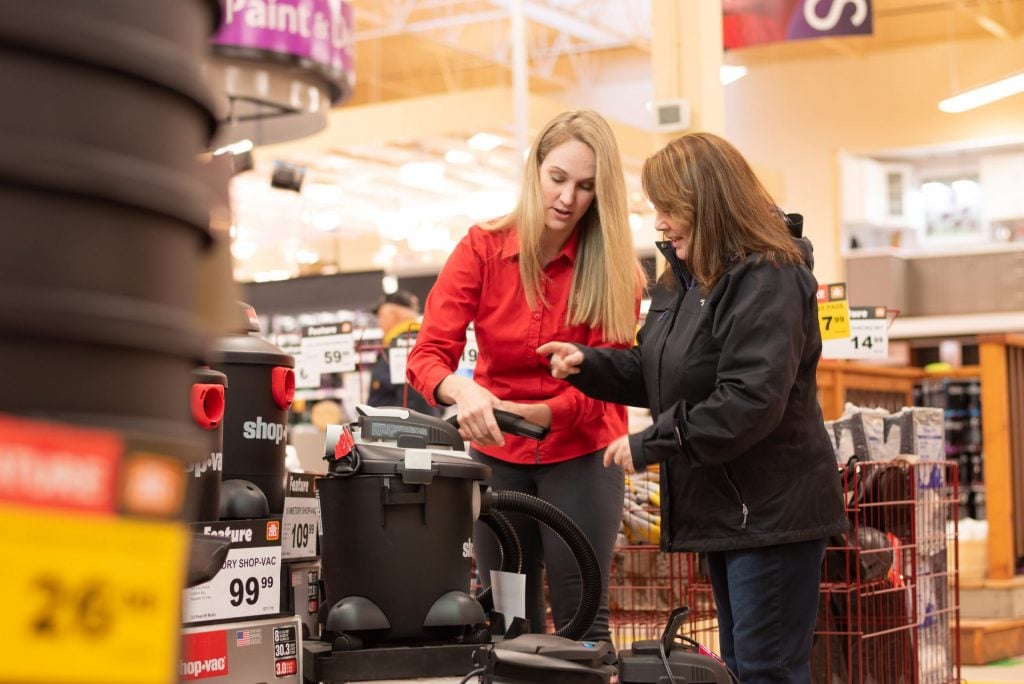 "Home Hardware Stores Limited invests in their Dealer-Owners' future, which means they provide great support to us so we can be successful in our marketplace," details Theresa Handel. "We are one of close to 1,100 locally-owned stores across the country, and each one is tailored to meet the needs of the Canadian community it serves."
Home Hardware's Dealer-owned model allows each store to customize and localize their product and service offerings. This has fostered a national network of Dealers including Kilby, Handel and Spring, who are excited about growing their business and passionate about the Home culture.
"We have always felt supported by Home Hardware," said Spring. "They keep us well-informed and provide us with the resources, training and programs that allow us to build our business for our community."
Historic Change and Future Thinking
A lot has changed since the store opened in 1937, but the fundamentals of Pioneer's success haven't.
"We are focused on providing our customers with the materials, tools and services they need for all of their home improvement projects," said Kilby. "The team we work alongside every day makes this possible. As Dealer-Owners, we all agree the three ingredients for our leadership success are patience, empathy and knowledge."
Although the business has been in the family for years, Kilby and Handel worked hard and showed their passion to drive things forward before becoming Dealer-Owners. This meant working all parts of the business, from cashier to forklift operator and identifying the right fit in Spring to complete their ownership team.
"I have worked in this store since high schools, like Theresa and Alison, and we've worked all areas of the business," states Spring. "We know that if you can put yourself in someone else's shoes and have the understanding of what your business can do for employees and community, you will go a long way," said Handel.
"Dad always told us not to ask someone else to do something that we're not willing to do ourselves," said Handel. "This mindset has been one of the reasons our employees and customers have historically trusted us."
Representing Home
Home Hardware has built a national reputation for putting customers first. Kilby, Handel and Spring are an exceptional examples of how independent Dealer-Owners provide the level of service and knowledge that their community can rely on. They celebrate their employees and customers in Campbell River and exude the strength and passion for their community that makes them stand out.
The team at Pioneer Home Hardware Building Centre represents their Home well.A Passion for Community Drives Home Hardware Dealer-Owners to Success