CanadianSME spoke to Lori Darlington, Vice President of Small Business, Business Financial Services Strategy and Partnerships, RBC Royal Bank of Canada and discussed financial advice that small and medium-sized businesses can utilize short and long term as they re-open their business. She also talks about ways to effectively use digital means of staying connected to your customers and her advice to help businesses adapt to the new normal post-COVID.
---
She is responsible for leading RBC's Small Business segment and teams. In her role, Lori provides strategic oversight in delivering market-leading client experiences through innovative partnerships and differentiated, beyond banking solutions to help aspiring entrepreneurs and Canadian business owners start, manage, and grow their ventures. She also leads the strategy development for RBC's Business Financial Services portfolio, including its client experience, CRM (client relationship management), and data analytics strategies. Lori has more than 20 years of experience within the financial services and technology sectors. In her previous roles, Lori has had a strong focus on sales, client acquisitions, and national employee engagement across various product groups, branch networks, large operation centers, and corporate head office environments. Lori earned her Bachelor of Arts in Psychology from the University of Western Ontario and an MBA from the Richard Ivey School of Business.
---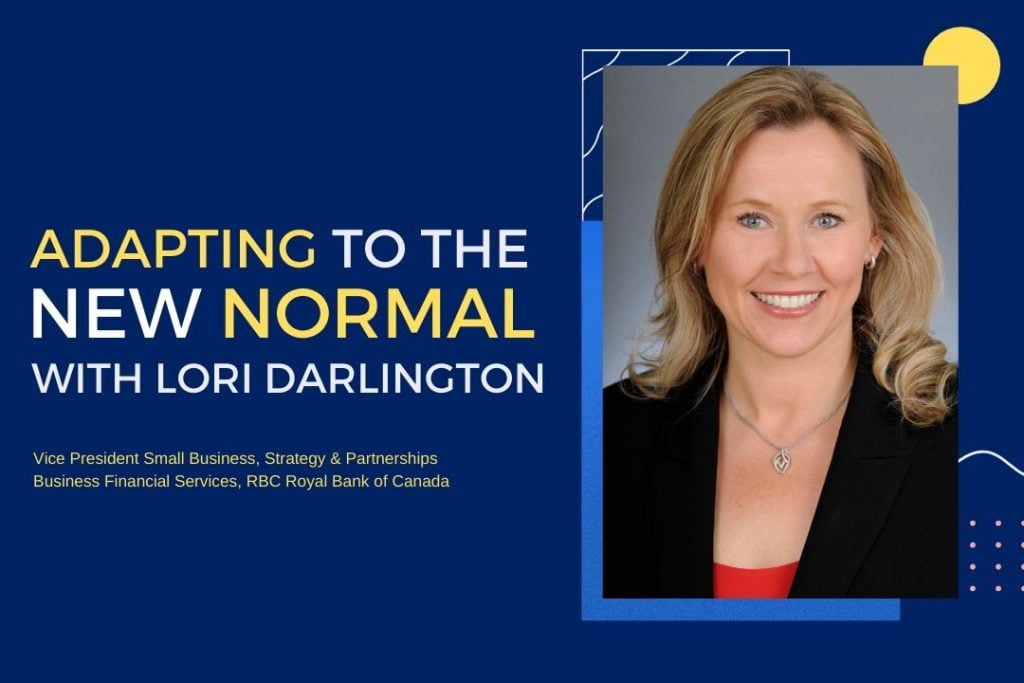 How can businesses ensure a smooth transition toward the reopening of their business in the coming weeks or months?
First and foremost is proactively planning ways to protect the health and safety of you, your employees, and your clients.
It's important that we all follow the guidance of government and public health officials to ensure that we safely re-open the economy while protecting the wellbeing of employees and customers. Given physical distancing measures and ongoing health risks posed by COVID-19, you may want to think through things like a reflow of your merchandising to accommodate safely distanced foot traffic, store sanitization schedules, PPE availability, a phased approach to employee hours and transitions back to work, and even options to expand into online offerings for your customers to manage in-store volumes. Logistically and financially plan for these things early so that when the restrictions lift, you're ready to serve your customers safely.
Secondly, scenario plans your short and longterm cash position.
Despite the economic uncertainties we face today, there's still great value in planning for different scenarios so that you can be more objective and agile in making decisions when those scenarios play out. Take stock of your current cash flow, including any emergency business funds, credit facilities, and government funding. Then, run some scenarios. For example:
• What if you can only collect 25%, 50%, or 75% of outstanding receivables?
• What if you add 0%, 25%, 50%, or 75% in new revenues in the next 4 months?
• How will operational expenses like wages and overhead costs impact your cash flow if you're operating at less-than-full capacity given physical distancing measures?
As you plan, you'll want to make some assumptions as to the number of months your business may feel the impact of COVID-19 and the effect it will have on sales. Look for opportunities to improve operational efficiencies and preserve as much cash as possible during the re-emergence phase by identifying critical vs. nice-to-do marketing campaigns, and tightening up and streamlining your inventory. You may also want to explore new revenue opportunities through additional product lines and/or sales channels such as online & social media. The key is to build resiliency during the crisis while building a stronger foundation for your business long term.
You can always speak with an RBC Advisor to help you with your scenario planning. RBC's NOMI Insights for the business dashboard in the RBC Mobile App is also a great way to get a realtime view of your cash flow position.
Finally, proactively explore ways to digitally enable your business and customers.
It is important, now more than ever, for owners to explore digital solutions that will help their business stay nimble, connected, and efficient. Look for streamlined digital solutions to support your back-office activities like invoicing, payroll, cash management, and virtual employee health services. Contactless, mobile, and online payment solutions will continue to play a big role in supporting physical distancing measures, and exploring an eCommerce and digital marketing strategy may be a great way to compliment your current business model. Digitally enabling your operation can help you save on expenses, while creating a potential new revenue stream, and serve as a backup in the event of another disruption to your physical storefront. RBC offers many digital solutions that go beyond traditional banking to support businesses in this sense and can be found at www.rbc.com/beyondbanking.
---
What are the differences between business operations pre and post-COVID and what is your advice to small businesses adapting to the new normal?
It's surreal how much the world has changed in a few short months. The current COVID-19 situation still remains very fluid, and the socio-economic impact of it will be longlasting. Building our resilience and successfully navigating this will be a marathon, not a sprint. And I think that's exactly how businesses should approach the way they think about their business strategy, recovery plan, and financial planning going forward. I think the biggest difference for businesses in a post-COVID world will be that embracing digital solutions will no longer be a nice-to-do, but a critical means to diversification, growth, and success. During COVID, there's been a profound shift in consumer behaviors, and as a result, we've seen a worldwide surge in digital adoption and eCommerce. We don't see that trend regressing to pre-COVID levels. Brick-and mortar storefronts will certainly be an important channel, but COVID validated the increasing importance of investing in digital strategies and capabilities for businesses to stay nimble, flexible, and operational to keep our economy running, especially during a crisis like this one.