Sameer Gulati, President of Plastiq had a chat with CanadianSME to talk about how Plastiq can be the right solution for your business based on your specific business goals. Sameer also talks about the new data insights from Plastiq's and the most surprising results, as well as initiatives that his organization has implemented to help entrepreneurs during this time.
As President and COO, Sameer is responsible for managing Plastiq's product, sales, business development, and marketing functions. He brings more than 20 years of experience driving growth for companies in the financial technology and payments industries. Previously he served as COO for LendingClub, where he oversaw strategy, product, mergers and acquisitions, and business operations. During his tenure, the company grew annual loan originations to more than $10 billion. Prior to LendingClub, Sameer was a Partner at McKinsey & Co., where he served a wide variety of clients globally in digital payments and consumer and small business banking.
---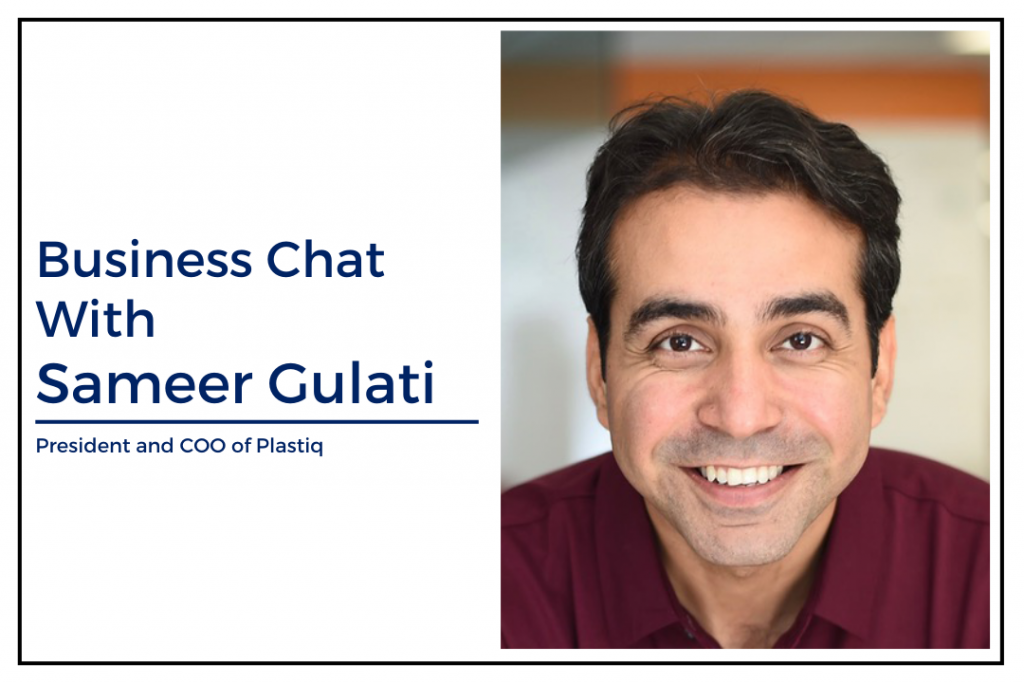 1. As President and COO of Plastiq, what would you say sets the company apart from other similar organizations? Why should SME owners choose Plastiq for their payment solutions rather than other providers?
a. Plastiq is the intelligent payment solutions provider enabling small and medium-sized businesses to pay or accept payment via a credit card for virtually any expense. Uniquely, we let you pay with a credit card even when the recipient does not accept credit cards. There are a number of other payment products out there, but if cash flow is important to you – and it is too savvy business owners – Plastiq tends to be the preferred option. It is also incredibly easy to use – no different than using a credit card online to make everyday purchases. With Plastiq, it's easier for businesses to access working capital in ways that make the most sense for them, so they can maximize every business opportunity.
b. Plastiq is filling a critical gap by bridging credit access and payables and is positioned to become the leading working capital solution for small businesses. Plastiq has revolutionized how its more than 1 million SME and other customers optimize working capital by enabling them to pay or accept payments for anything with a credit card, even where credit cards are not accepted. Plastiq empowers businesses to pay or be paid any way they want, including checks, wire transfers, and ACH transfers. The intelligent platform provides real-time insights into SMEs' payments, cash flow, and working capital. These insights inform SMEs how and when to pay business expenses, allowing them to efficiently manage resources across any industry supply chain.
---
2. Many organizations were greatly impacted by COVID-19. What would you say is the biggest impact that COVID-19 has had on Plastiq and how has the company reacted to it?
a. COVID-19 has had a major impact on everyone, and most materially on SMEs across the world. We feel thankful that we've been able to help even more SMEs during this time of business slowdown. COVID-19 and the associated stay-at-home orders have caused a domino effect of late payments across the economy, with SMEs especially hard hit. As cash reserves run dry, many SMEs have been unable to pay suppliers, as they simply don't have the cash on hand. This has left suppliers unable to pay their own bills due to these late or missed payments.
b. Responding to our customers' feedback, we accelerated the development of Plastiq's Plastiq Accept card acceptance product in order to reduce cash flow burdens and unblock the flow of vital services and supplies. Plastiq Accept was fast-tracked to help SMEs collect payments faster, keep cash on hand, and still meet inventory needs. SMEs who sign up for the waitlist will receive early access to Plastiq's card acceptance product free of charge beginning May 24, with general availability this summer.
---
3. Plastiq just released new data insights on which SMB industries and segments were hit hardest by COVID-19. What would you say was the most surprising aspect of these results? What surprised you the most? With billions of dollars flowing through our system, we have a unique view of payment and business trends.
a. We were pleasantly surprised to see a spike in purchases of PPE (Personal Protective Equipment) and healthcare-related products by relatively well-established Healthcare providers and non-profits. The increase started in early April and has steadily increased throughout May to more than 3x the volume in February. We're humbled to be able to help in this area.
b. An even more counter-intuitive data-point was the increase in payment volume in the East Coast in the cars/boats/trucks/planes category (14% increase). We had expected these numbers to go down as sheltering in place reduced the number of travel purchases being made overall. However, it appears that on the East Coast, in particular, this hasn't been the case. One hypothesis is that this could be due to the number of heavily concentrated, more public transit-reliant cities on the East Coast. As people are less comfortable using public transportation due to the danger of COVID-19, we may be seeing more purchases of vehicles to get people around for necessary errands. In addition, many SMEs having to make a switch to a delivery model for the first time could be purchasing vehicles in order to stay afloat and meet changing customer needs.
---
4. Results from the data insights revealed that 81% of Plastiq's SMB users continued to leverage Plastiq during the COVID-19 pandemic. What does this represent for the company?
a. We're very encouraged by this statistic – it is a testament to the value customers receive from our products, and also indicative of the heightened need for retaining cash during these uncertain times. Having cash is key for businesses to stay afloat and that is truer today than ever. Many of our customers have also applied for the government-provided loans and are using Plastiq as a way to bridge to those funds.
---
5. What initiatives has Plastiq implemented that can help business owners during these challenging times? What resources and programs are the company putting in place to help entrepreneurs during the COVID-19 outbreak?
a. Plastiq Accept, our new card acceptance product, enables SMEs to accept credit card payments for free, without having to pay the typical 2.5-4% fee that traditional payment services providers charge. By offering a credit card payment option to their customers through Plastiq, SMEs get paid on time and more reliably, unblocking cash flow in the supply chain and getting businesses moving forward again. At the same time, customers' on-time payments through Plastiq helps keep the supply chain moving without delays. Plastiq's card acceptance offerings include reporting integration and a custom payment page, giving SMEs the convenience of a standard merchant account without the traditional fee and integration hassles. Integration with accounts receivables is slated to roll out in the near future.
b. Plastiq has been teaming up with SME influencers such as Gene Marks to conduct webinars on topics including managing cash flow and securing PPP loans.
c. Plastiq also just teamed up with the non-profit Opportunity Fund, a provider of life-changing loans to underserved SMEs, to further help during this trying time.
d. The company also opened a free resource center for SMEs, which includes real-time updates on the pending stimulus package as it relates to SMEs, links to other working capital sources, an online forum of business leaders, and more.
---
5. On a final note, what advice can you give to entrepreneurs that can help them during these challenging times?

We've outlined a number of actions SMEs are taking in our blog. Key points include:
Stay informed and up-to-date: Your employees are looking up to you to make the right decisions for the business and for them. So, please make sure that you're regularly accessing the appropriate sources versus social media channels like Facebook and Instagram where it can be extremely difficult to tell what's credible. The CDC and Johns Hopkins are the sources we monitor and recommend.
Plan for a business slowdown: Take the time to look 45 to 60 days ahead financially. If you need access to short-term cash flow, we recommend:
Communicate with customers and suppliers/vendors: Increase communication with your customers and suppliers and ask them what they're expecting or worried about. If your suppliers' supply chain is getting disrupted, you'll likely see an impact too in the next few weeks. It's important to remember that everyone is in it together, and they'll likely tell you if their business may be impacted.