Black History Month
February, also said to be Black History Month, or African Heritage Month, celebrates and highlights the best of black culture and history to honor the future leaders and ancestors of the black community, their achievements, and the ongoing struggle for freedom. This is also time for all Canadians to explore and reflect on the history of discrimination, black enslavement, prejudice, criminalization, and bigotry of Afro-Americans to remember that a thing like 'racism' still exists.
A Brief History on Black History Month
The first iteration of Black History Month was Negro History Week, established by the "father of Black History" – Carter G. Woodson in 1926. This Afro-American historian dedicated his whole career to studying and documenting the lives of black people. This renowned and reputable historian helped create a field of Afro-American study, and his organization, the Association for the Study of Negro Life and History, encouraged people of every social and racial background to discuss their Black experience. It was an educational and scientific intervention to combat the racist expression or deletion of Afro-Americans in the history of America, which contributed to the disenfranchising and misinformation of the past through a white gaze. Since then, celebrating Black History Month has become a tradition.
Woodson's organization was later renamed ASAALH (Association for the Study of American Life and History) and is now the oldest historical association founded to promote African American history.
Black History Month: Why in February?
February is the day Woodson has chosen to celebrate throughout the week because it coincides with the birthdays of social reformer Frederick Douglass and former US President Abraham Lincoln as reasons for reform and tradition. The two played an important role in the war against slavery.
After the assassination of Lincoln in 1865, the black community together with other Republicans celebrated the downfalling President's birth anniversary. And starting in the late 1890s, the black community across the nation began to honor Douglass. Woodson recognized that members of the black community were already celebrating the birth of Lincoln and Douglass and eager to build on existing traditions. The Association for the Study of the Life and History of African Americans (ASAALH) explained on its website that Woodson asked the public not to create a new tradition, but to expand the study of black history.
When Did the Black History Month Become a National Celebration Month in Canada?
By the end of the 1970s, Canadian cities across the country started to celebrate Black History week, in part thanks to the civil rights movement and increased awareness of the black population. Eventually, the event became Black History Month on numerous college campuses.
In 1978, the OBHS (Ontario Black History Society) was formed. Founders, Wilson O. Brooks and Dr. Daniel G. Hill petitioned the city of Toronto to officially declare February as Black History Month. In 1979, Toronto issued its first Canadian manifesto.
In 1988, Nova Scotia first observed Black History Month. 1n 1996, it was renamed African Heritage Month.
In 1993, the Ontario Black History Society launched a petition in Ontario to designate February as Black History Month. Following this success, OBHS President Rosemary Sadlier introduced the idea of celebrating Black History Month in Canada.
The House of Commons in December 1995, at the suggestion of Dr. Augustine, officially recognized Black History Month in February. The bill was unanimously supported by the House of Commons. It was proposed by the honourable Jean Augustine, who was elected the first black Canadian woman to the Parliament. Black History Month was formally launched in February 1996 in Canada.
Senator Donald Oliver, the first black person to be appointed to the Senate in February 2008, introduced this motion to recognize the contributions of black Canadians and made February as the Black History Month. It was unanimously approved and embraced on March 4, 2008. The embracing of this motion completed the Canadian Parliament's position regarding Black History Month.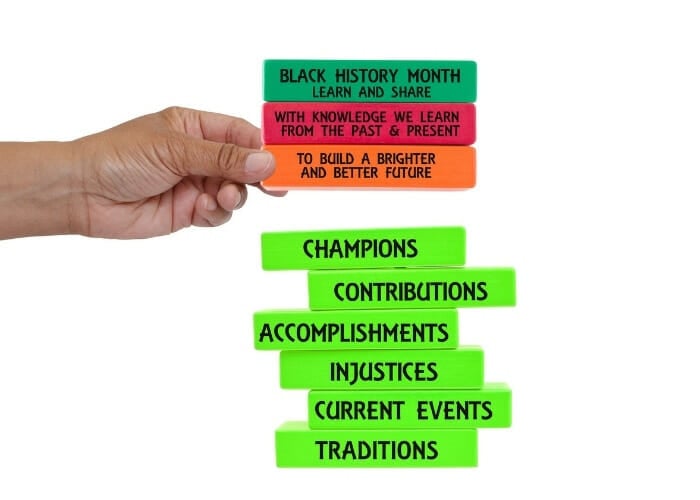 2022 marks the 26th anniversary of Black History Month's nationwide observation in Canada.
Why and How Is Black History Month Celebrated?
Originally Black History Month was a way to educate students and youth about the contributions of black and African Americans. Such stories were largely forgotten and ignored as part of the national narrative.
Today, it is considered as a celebration of those, who, with their activities and achievements, have influenced not only the country but the world. In Canada as well as the USA, February is the month of attention since it's an opportunity for people to learn about black history and go beyond the discussions of slavery and racism, and to talk about Black leaders and their achievements.
People of Canada beautifully mark this awareness month by making sure the voices and stories of Black people are present in every subject area, especially in social studies. Educators have a responsibility to teach black history fairly and truthfully, and simply pass the legacy of numerous brave black stalwarts who fought and took a stand for freedom.
Many schools and colleges instruct students about notable historical figures like Martin Luther King Jr. (Civil rights leader and minister), Rosa Parks (bus boycott activist), Nelson Mandela, etc. Students are educated to make them know that the US was racially segregated once (still exists though) and racism needs to be stopped for the world to be a better place. The month-long celebration of Black History Month provides an opportunity to rethink the possibilities that lie ahead.
Significant Figures in Black History Month
One can learn about popular black leaders and innovators, like the two examples stated below:
Martin Luther King Jr. was famous for his role in many civil rights protests. He used this experience as a preacher to give the longest-lasting speech people know today. Spearheading the Montgomery Bus Boycott and launching non-violent civil rights protests are just some of the ways he had a profound impact on history before his assassination on April 4, 1968.
Rosa Parks was against unfair racism. On the bus. In the 1950s and 1960s, public transportation was divided into a 'black section' and a 'white section'. On December 1, 1955, she placed herself in the front seat of the black area at the back of the bus. The front of the bus started to fill up, and in the end, there was no seat in the 'white' section. Rosa was asked to move back and go to the back of the bus to make room for white passengers. She refused and the police were called. Together with Martin Luther King Jr, she helped with the Montgomery Bus Boycott that lasted more than a year.
Black History Month 2022 Theme
Every February, Canadians are invited to participate in events and festivities related to Black History Month in honor to appreciate the heritage of Black Canadians and their communities. This year the theme is "February and Forever: Celebrating Black History Today and Every Day". The theme for Black History Month was announced on Lincoln Alexander Day in Canada, which is on January 21, 2022.
How Can One Take Part?
There are many activities held throughout Canada during this particular month like concerts, activities, and performances for kids and adults. All one needs to do is ask their local library or school about the festivities that are going to take place in their communities.
To Sum it Up,
CanadianSME believes in actively dismantling every form of anti-black racism, free Blackness, affirming the existence of blacks, and creating freedom of self-determination and love. CanadianSME also believes in working in solidarity and building important connections with the black community when it comes to dismantling every form of state-sanctioned oppression, violence, and cruelty carried out against Black communities. CanadianSME aspires to create spaces for building thriving communities.