Corrine Anestopoulos, who was born and raised in Toronto, is influenced by nature, modern design, and unique antiques from across the world. Corrine, the woman behind BIKO, has become an inspiring mentor, entrepreneur, as well as colleague to many innovative businesses across North America.
---
A Brief about Corrine Anestopoulos' Entrepreneurial Journey
Corrine Anestopoulos describes her Biko jewelry collection as a "passion turned business." In fact, prior to launching her collection, Anestopoulos didn't wear much jewelry. All of that changed when she wore earrings to a photoshoot at Ryerson University, where Corrine was studying new media.
Corrine had sufficient pieces to go to a business on Queen West after a visit to a bead store and hours of tinkering using pliers. The line has changed nearly 17 years later. From cuff bracelets to enormous studs, she designs mixed fluid forms with streamlined metal to create unique pieces that are supremely wearable.
Her work incorporates attention to detail, a variety of materials, and symbolic design aspects. The designer travels frequently in search of fresh sources of inspiration for her jewelry collection. With a keen eye for detail, a one-of-a-kind combination of materials, natural stones, and significant design elements that tell a narrative.
Every item of hers is handcrafted in Canada. Corrine sought craftsmen to assist her with manufacturing after years of doing it alone so that she can pay attention to strategy, design, and social media for her company. She now has a staff of seven tradesmen working for her, ranging from an assemblywoman to a model maker.
---
What Makes BIKO Jewelries Unique?
Being a modern-nostalgic jewelry company, BIKO offers timeless, upgraded classics for everyday wear. Biko is entirely created and manufactured in small batches in Toronto. Each piece is also produced in a sustainable and ethical manner. I individually gather parts of nature, like seashells, stones, and pearls, for each collection, which Corrine casts into metal, making her BIKO components absolutely unique, also which tells a tale.
---
Corrine Anestopoulos – The Jewelry Designer on a Roll
Click To Tweet
About the Target Customer of BIKO
In every Biko collection, there is something for everyone. They have large statement pieces for individuals who like to make a statement with their jewels, as well as smaller, more delicate pieces for people who wish to seem polished but discreet. They have sold items to men seeking pendants as well as mothers and daughters purchasing many pieces for special occasions. This demonstrates to Corrine over and again that Biko truly spans years, genders, preferences, and styles.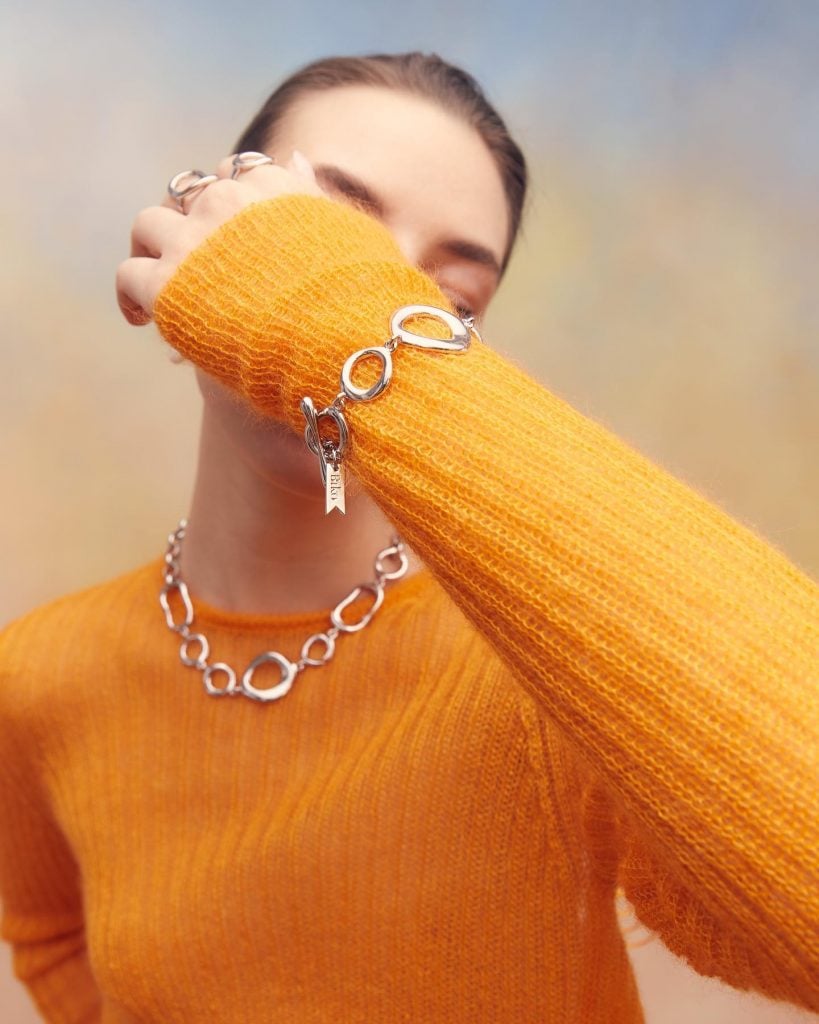 ---
A Few Lines about the Brand – BIKO
BIKO is a contemporary jewelry company developed and handcrafted with passion in Toronto by a small team directed by Corrine Anestopoulos. The label is noted for its high degree of workmanship, luxurious materials, and ageless, fun style, which is inspired by nature, modern art, travel, and architecture.
Corrine has partnered with shops like Hudson's Bay Company and Nordstrom, celebrities like Bianca Andreescu and M.I.A., and worldwide organizations like Mattel for the 60th Anniversary of Barbie since starting BIKO in the year 2015. The company has adorned the covers of ELLE, Rolling Stone, and InStyle, and remains committed to giving back via continuous collaborations with philanthropic causes like RETHINK Breast Cancer.
BIKO is honoured to have been nominated for three years in a row (2018, 2019, and 2020) for the Canadian Arts & Fashion Accessory Designer of the Year Award.
---
SUBSCRIBE NOW
Our content acknowledges the strength of the ardent entrepreneurs and their lifelong experiences of the marketplace that help them build successful business empires. Our belief in productive learning and providing inclusive content is why we have plans for a wide spectrum of activities that incorporate everything from reading to prolific networking.
Corrine's Pieces of Advice to Upcoming Store Owners
The advice that Corrine Anestopoulos would give to someone who wants to launch their own business is to simply jump in. She believes that people should listen to their heart since by listening to the inner soul, people can be really fantastic at their job. She also believes that a particular drive will propel them further than everything else. Also, it requires hard work and devotion, but if this is the ambition of people, she thinks they should not be afraid to pursue it.
If you want to buy BIKO products, you can simply visit their official website, www.ilovebiko.com. Also, to stay up to date on the latest collections, exclusive discounts, and more, you can even follow them on their Instagram channel @biko_official.