Meg Labaziewicz has always had an eye for the details that make a difference. After over a decade of working in financial planning, she did a career pivot and launched Inspired Interiors by Meg.
In 2016, the business began with one goal in mind: Meet the clients' design needs while staying within their budget. Needless to say, she did just that.
Meg quickly grew from being the go-to person for family and friends looking for a home refresh to working on home staging, business designing and even decorating internationally.
"I'm trying to build a business that I can hand down to my family, so I'm working mindfully," she says.
While she's living life in glitter and gold with a successful business now, Meg will be the first to share that the road as a small business owner wasn't the least bit easy.
"One of the problems I faced was not being able to consistently market," she says. "Not only that, I faced trying to make all these decisions alone, which was really overwhelming."
With a serious uptick in work, Meg struggled to manage her busy calendar and keep up with her social posts.
"I needed a partner I could rely on, on a regular basis," she says. So, she sought out software designed to enhance her business.
"When I met the account executives at Thryv, and I learned about what they did, I realized quickly that's exactly what I needed."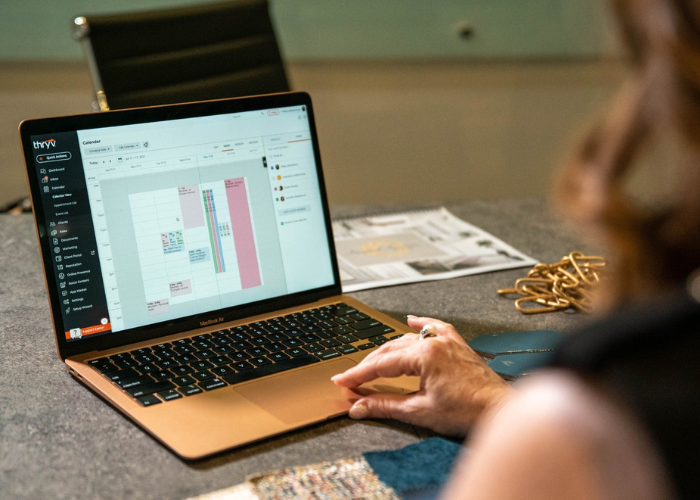 Suddenly, with the help of the software, Meg had extra time in her day, easier management processes and was able to connect with customers more as her business grew.
---
With Automation, Meg's Business Soared
By automating her processes to remove day-to-day manual tasks, Meg had much more free time. As a result, she increased her business's earnings by 400%.
The Inspired Interiors social media followers have increased by 60% now that Meg has tapped into an automated posting schedule on Facebook. The posting schedule allows her to be present on social media and engage with her customers even when she's busy.
The business is taking on not only more projects but larger projects. This tremendous growth is manageable now that meetings and appointments are in sync with her and her staff's calendars.
"I have all my appointments online and I save so much time being able to go back and forth in Thryv," Meg says.
And clientele is booming. By using a CRM with client notes, custom Tags and Fields, Meg is able to capture and organize client information and design details. When she's ready to double-check a design decision, she can quickly refer to those notes as needed to craft the space her clients have dreamed of.
"My business has transformed a lot and I really attribute that to the work I've done with Thrvy," she says.
As a result of taking care of her clients so well, Meg's increased her referrals, which is aiding in her never-ending cycle of success.
She's learned that pinpointing the perfect system for run your business will help remind you of the reason you started in the first place. By cutting down on time- and labor-intensive tasks, Meg is spending more time pursuing her dream of creating stylish environments for others to love.