In 2021, a group of talented women Shopify employees, including former and current employees, officially formed an angel investment collective named Backbone Angels, which is focused on funding startups led by women. Their prime goal is to provide opportunities for those who are typically excluded due to implicit bias and a lack of opportunity since angel investing tends to be male-dominated.
On March 8, 2021, that is on International Women's Day, a group of current and former Shopify executives announced the formation of an angel investing collective that would invest in non-binary and women entrepreneurs, with an emphasis on Indigenous, Black, and Women of Colour-owned companies.
Backbone Angels is a group of 10 women investors who have all spent years building one of the world's largest technology firms as well as Canada's most productive publicly traded company.
The group had been operating as an informal network, offering support, discussing opportunities, and soliciting industry-leading advice to assist the entrepreneurs they were personally helping prosper.
Instead of an investment fund, the Backbone Angels use their own money. They prefer to invest with a colleague, although they may occasionally do it alone. The usual deal amount ranges from $10,000 to $50,000.
They have funded over 42 firms and invested more than $2.3 million to female founders since March 2021, and they are only getting started. They think that there is room for many founders to flourish and prosper, and they are aware that access to the resources needed to succeed is not allocated fairly. Thus, Backbone Angels wish to contribute to closing that gap.
---
About the Investors
Backbone Angels is a group of females in technology united around the same mission: to fund and empower more diverse and women-led companies that make a change.
They found one another at work. They have built teams together, and they have been at the forefront of scaling one of the largest technology companies in the world, as well as being the backbone of innumerable companies. Most importantly, they always had each other's back. By merging their passion and power, they transform the spaces in which they operate and support each other in doing so. They also realized that this was something one-of-a-kind and unfortunately rare.
---
Alexandra Clark, VP, Strategic Initiatives at Shopify
Alexandra Clark, currently the VP of Strategic Initiatives, joined Shopify at a time when the firm was expanding its public presence to launch the government relations unit. She swiftly worked with government groups, managed strategic communications, and assisted in the delivery of major projects that established Shopify as a worldwide leader.
As a consequence of her influence, Alex was appointed Chief of Staff to Shopify's CEO, where she built the office from the bottom up. She is a strategic problem-solver who motivates others and gets things done. Alexandra seeks companies that provide something unique to the market and have a solid business plan.
---
Anna Lambert, Director, Product Acceleration at Shopify she/her
Shopify's Director of Product Acceleration, Anna Lambert focuses on investments, M&A, portfolio management, and integration. She was the Director of Talent Acquisition for the preceding eight years, during which time the firm grew from 100 to over 6,500 employees. Anna basically had every outlandish interview possible. But she tales satisfaction in bringing in and then nurturing, the greatest and most varied talent in order to help them succeed.
Anna Lambert was the brains behind "Beyond the Code", which is a technology conference that was released in 2015 and as a reaction to innumerable others she has attended has emerged with very few females and even fewer speakers/panellists of colour.
This particular philosophy similarly guides Anna's investment style. She comes from a recruiting background and is founder-oriented. She is interested in exactly what a founder is trying to accomplish and how their background has influenced that. She works with founders to discover projects and also planets unknown to her.
How Backbone Angels are Empowering Female Entrepreneurs of Today and Tomorrow
Click To Tweet
---
Arati Sharma, Entrepreneur & Angel Investor
If people are looking for someone to help them think bigger, Arati Sharma is their go-to resource. Arati has spent a lot of time as an operator and is now a founder herself. She is an example of why operators make robust angels. Being the co-founder of skincare brand, DTC, Ghlee, along with her brother and sister, Arati Sharma is founder-oriented when it comes down to investing.
Although she spent eight years at Shopify being the Director of Experiential and then built global product marketing from scratch, as Director of Product Marketing she spends a lot of time thinking about people's brands and positioning. Because of this, Arati has a love for consumer goods and fine storytelling.
After backing more than 30 companies and numerous funds in a year, she was named by NACO as Canada's Angel Investor of the Year in 2021.
---
Atlee Clark, Shop @Shopify, Founding Partner @backboneangels, Co-Founder @pikalayers
People probably already know Atlee Clark or her work. It's probably on everybody's phones, because being the Director of Operations for Shopify's newest product shopping application, Atlee has helped connect the world's shoppers with their most-preferred merchants around the world.
In addition to Atlee's seven years at the tech giant, a majority of which has been spent scaling and building products and partnerships. Atlee was Executive Director of C100, a Silicon Valley-based organization that serves Canadians in the Bay Area and connects them with Canada's largest technology startups. She is also the co-founder of Pika Layers, a DTC brand of baby clothes that she started with some of her best friends.
A career in technology alongside a start in government relations in Washington, DC means she's a pro at tracking gaps and needs of a company before the leap to help them bridge and prepare for the next step. While some angels look to the stars when investing (something Atlee admires), she tries to address issues that she personally faces every day.
---
Brittany Forsyth, Advising founders & Active Angel Investor
Brittany Forsyth has a quote that she has come up with many times throughout her career: "One doesn't build great products by just building great products, one builds great products by creating an ecosystem in which great products are built." It is an ethos that has guided Brittany throughout her 11 years at Shopify being the Chief Talent Officer.
Prior to leaving in 2021, she built the technology company's talent function from the ground up, growing the team from nearly 20 people to more than 10,000 and fostering an environment and culture where employees could thrive.
During that time, Brittany was an important executive in the company's IPO and helped fuse eight companies into Shopify while growing the talent footprint in more than 15 new locations globally. She supports talent-related companies and always aims for success, with a love for bringing positive change.
---
Erin Zipes, Founding Partner, Backbone Angels
When people first think of corporate law, they probably think of grey suits, rigid rules, and harsh office lights, but Erin Zipes thinks about art. But not necessarily in the style of Kahlo or Picasso.
Initially, she was attracted to law because of its straightforward rules, boxes, and procedures. She spent six years mastering her craft and two national law firms prior to moving internally and spending her next ten years being an Assistant General Counsel for cross-listed public companies, Nordion and Shopify, mastering her craft and maximizing her experience and overall knowledge base.
During Erin's time at Shopify, she founded the corporate legal team built and scaled from pre-IPO to a mega-cap company. This ability now helps Erin as an angel investor as well as an advisor, providing a balance to pie-in-the-sky thinking. She currently serves on the boards of Mindbridge, which is a provider of the world's leading risk identification platforms for financial integrity, as well as the Ottawa University Heart Institute Foundation.
---
Konval Matin, Founding Partner at Backbone Angels
A problem-solver, Konval Matin, got her career started as an intern in Shopify. Being the Director of Culture and Talent Development, she spent six years shaping the human experience for employees, designing digital and physical spaces that empowered them to do their best work.
Making Shopify's intangibles tangible, and more importantly, something that employees wished to be a part of. Matin scaled the company from 100 to over 4,000 employees and then supported product development discipline as Chief of Staff to the CPO.
In Konval's most recent role at the technology giant, she served as the Director of Merchant Storytelling, where she assisted Shopify to explore and share stories that resonated with the people behind its 1.6 million+ merchants.
As a business angel, she is interested in founders who are searching for real-world problems and want to deal with them.
---
Lynsey Thornton, Founding Partner, Backbone Angels
Lynsey Thornton would probably be classed as a risk-taker, though she's never seen herself that way. With a background in engineering, design, and business, her focus is on customer-centric design.
Lynsey learned the hard way the importance of being customer-centric in her initial career at a gaming company, after countless failed launches. Beginning with Shopify as the company's first researcher in 2013, this strategic customer focus has been a continuous line as she tracked opportunities for the company to play a major role in their customers' businesses.
During Lynsey's eight years at Shopify, she was the leader and driving force of the UX team, spending her days with everyone from the vocal critics to the CEO of the company. She championed Shopify's customer-centric mindset, growing the company's design teams from 10 to over 450 people – the largest native design team in Canada and recognized as one of the best in the world.
Along the way, she was the first general manager of Shopify's core product for four years, where she led the leadership and teams that built Shopify's flagship back-office product. In her senior year, she made a major leap into a new field, becoming the company's first General Manager for the US West, where she built sales, advertising, support, marketing, and PR for their largest region. Lynsey's favourite part of Backbone is by far finding and collaborating with founders.
---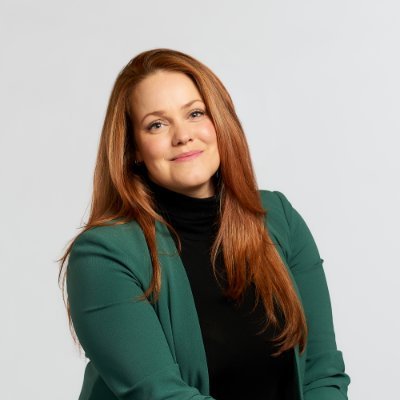 Marcie Murray, Founding Partner, Backbone Angels
Marcie Murray, currently the President's Chief of Staff at Shopify knows what it takes to be a resilient entrepreneur since she was raised by a family that had a manufacturing business for more than 45 years in Ottawa. She brings years of experience building Shopify in order to assist the senior leadership team.
Earlier, Murray was the Director of Operations for Shopify's Ecosystem, where she paid attention to building a capability that aids each developer in the world in order to create value for merchants with goods and services. Prior to that, she led customer support for Shopify for eight years as Director of Global Support.
Marcie is credited with scaling the unit from 12 to 2,000 employees worldwide and establishing an industry-leading and people-centric approach to customer assistance. This particular experience equipped her with a further understanding of what it is like to be a founder and to create something from the ground up and try new and scary things, not always with the guarantee of prosperity.
As someone who sees nourishing those around her as the language of love, she is attracted to founders who merge access to agriculture and food with technology.
---
Solmaz Shahalizadeh, Vice President and leader of Shopify's data team
If there is an area in technology and data, Solmaz Shahalizadeh likely played a role in shaping it, or at least contributed significantly to it. Most recently, as vice president and leader of Shopify's data team, Solmaz built the company's entire machine learning portfolio and led a team of 500+ data scientists, engineers, and product managers who help leverage data to ensure Shopify merchants and to extract the most from the overall company's scale.
When COVID struck, she along with her team assembled a task force to measure the pandemic's impact on trade, which led to a change in how they supported their entrepreneurs. In 2020, she was recognized by The Globe and Mail as one of Canada's 50 Best Leaders for her work during COVID-19.
Prior to Shopify, she had a comprehensive career as a data scientist as well as working as an analyst at McGill University and Morgan Stanley. She also contributed to cancer research by leveraging artificial intelligence methods to develop predictors of breast cancer.
Solmaz, being a "Gen-Zero" immigrant from Iran, is passionate about assisting diverse businesses founded by women.
---
SUBSCRIBE NOW
Our content acknowledges the strength of the ardent entrepreneurs and their lifelong experiences of the marketplace that help them build successful business empires. Our belief in productive learning and providing inclusive content is why we have plans for a wide spectrum of activities that incorporate everything from reading to prolific networking.
A Few Lines about Backbone Angels' Collective
Backbone Angels make individual decisions, but they work together to promote each founder in their portfolio. Whether one of them has committed funds for all of them, the entire group is involved in the success of a business.
Each angel spends its own money on the firms they choose to support based on its own preferences and criteria. Every investment is unique, but they all share one thing in common: strong confidence in the founding team and the challenge they are attempting to address.
People may discover that either one or all 10 Backbone Angels opt to contribute funds to your company, but the upside is that even if only one of us invests, entrepreneurs will have access to the collective knowledge. Backbone Angels can assist you in scaling by leveraging their knowledge and skills gained over many years of operating at the forefront of a fast-paced, cutting-edge business as well as being founders themselves.
They believe in the strength of the group and look forward to contributing their knowledge and expertise. Businesses will have access to experience in UX, marketing, product data, legal, strategy, and operations being a founder. Also, women will have at least ten people cheering them on.
For information regarding how the investment works, you can click on this link and learn more.
For more information regarding Backbone Angels, you can scroll through their official website and explore more.