It is tempting to think of technology as a one-size-fits-all answer to many of your company's problems. However, the main issue with technology is that it offers a plethora of alternatives and solutions, and the trick is to pick the "perfect" answer for your requirements. And when it comes to small businesses, it is critical to make the most of your tech resources. That's when CDW Canada comes in, empowering your small business with custom solutions and the correct tech stacks to keep it operating seamlessly and maximizing its potential. CDW assists you in accomplishing this through a mix of services, answers, and technology product offerings that empower your small business to function smoothly and increase business outcomes while remaining within your budget.
---
CDW is a prominent multi-brand provider of IT solutions to government, business, healthcare and education customers in the US, Canada, and the United Kingdom. CDW, a Fortune 500 firm and S&P 500 Index member, was formed in 1984 and employed around 13,900 people. The company earned approximately $21 billion in net revenue for the fiscal year ending December 31, 2021.
Their extensive product and service portfolio includes everything from software and hardware to integrated IT solutions like cloud, security, digital experience, and hybrid infrastructure.
---
What Does CDW Canada Believe?
At CDW, everything they do revolves around addressing their client's requirements. Here is how they keep becoming a wonderful company for its teammates and customers.
Mission: CDW's mission is to make technology function so that people may do amazing things.
Dedication: CDW's dedication to diversity extends to its workforce, customers, supplier connections, and communities.
---
Why Choose CDW as Your Tech Partner?
CDW's full-stack experience assists you in designing, orchestrating, and managing technologies that steer business success. All they want you to do is create an account so that you'll be able to save up to 5% on your purchases right away. CDW's self-serve features exclusively developed for companies provide clients with the confidence they need when purchasing. Also, you get to access a committed account team as and when needed.
Expertise and Experience: CDW have IT specialists who excel in education, retail, government, healthcare, and other industries, so whether you are a small business owner or running a large-scale enterprise, they can help.
Future-Proof IT: Based on your needs, your CDW account team assists you in planning for the future by providing information on new and upcoming technologies.
A Personal Team: Your account team will put you in touch with IT specialists who will act as an extension of your staff.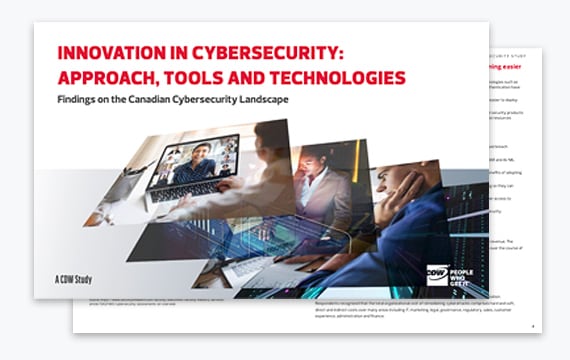 Online and Offline Support: Online, you can reach out to your account team at any moment. Alternatively, CDW brings the professionals to you via its network of field technicians located in North America and worldwide.
For more information regarding CDW advantages, you can visit https://www.cdw.com/content/cdw/en/why-cdw.html.
---
How CDW Canada Maximizes the Potential of Small Businesses in Canada
Click To Tweet
About CDW Canada Services
CDW Canada puts forward a lot of cutting-edge services for small businesses, including:
Custom IT Solutions: As a small business, you must find the best methods to use technology to speed up operations and increase business outcomes. CDW's Amplified Services can consult with you to offer exactly what you need, whether it's improving security, outsourcing IT support, or collaborating with an expert to design a cloud platform, particularly for your organization.
Small Business Solutions for Working from Anywhere: For small firms, facilitating a dynamic hybrid work environment in which workers may work in an office, from home, or remotely is more crucial than ever. You should consider the infrastructure and technologies your organization needs to allow successful collaboration and productivity from anywhere to remain nimble, increase resource utilization, and stay connected to people.
The option to work from anywhere is now available, and CDW works with your company to develop a personalized hybrid office solution that matches your specific demands while remaining within your budget.
Productivity Solutions: Making the most of one's time and resources is crucial when running a small business. You should consider technological solutions that boost productivity and help automate ordinary corporate chores. Complete productivity solutions can provide your company with tools for cooperation and efficiency.
Cybersecurity: With small businesses becoming increasingly exposed to cyber threats and possible ransomware attacks, it is more necessary than ever to increase cybersecurity measures. Small companies should be proactive when it comes to security. You should consider cybersecurity solutions that shield against these weaknesses to secure your company's critical information and client data. Whether you need a web or email security solution or frequent monitoring of your sensitive data, CDW works with you to keep your data safe.
Public Cloud Solutions: Small businesses may find it more difficult to install and maintain cloud solutions in an increasingly complicated ecosystem of cloud environment possibilities. By keeping vital data online and optimizing cloud resources, public cloud services may help small companies save time and money.
SUBSCRIBE NOW
Our content acknowledges the strength of the ardent entrepreneurs and their lifelong experiences of the marketplace that help them build successful business empires. Our belief in productive learning and providing inclusive content is why we have plans for a wide spectrum of activities that incorporate everything from reading to prolific networking.
CDW collaborates with your company to build, deliver, and maintain a flexible solution tailored to your needs, including multi-cloud possibilities customized specifically for you. To fuel your public cloud needs, they have long-standing agreements with Amazon Web Services, Azure, and Google Cloud Platform and next-gen backup providers like Veeam to ensure that your vital data is never lost.
For more information regarding CDW Canada and its top-notch tech services, you can simply scroll through its official website by visiting https://www.cdw.com/.