If a picture paints a thousand words, Samsung Canada display technologies paint millions. With digital transformation at the forefront of business conversations in recent years, innovative display solutions have surged in quality and uptake, with more companies leveraging the tech to improve operations and performance, while significantly reducing costs.
Over the last two years, the use of tech to transform the customer experience has never been more important as the business's need to offer in-store services that inform and support visitors while maintaining a safe environment became dominant across Canada. Small businesses have borne the brunt of the change to keep from closing their doors and entrepreneurs have had to source new solutions to help them ride the unpredictable economic landscape.
As the economy continues to reopen across the country and adapt to new protocols, Samsung Canada display technologies are optimal solutions for in-store experiences that preserve customer and employee safety while pushing businesses to the next level.
For businesses, there is no one-size-fits-all answer to tech needs. From retail to hospitality, every operation has a unique set of challenges and goals, with different processes for managing employees from home or office. Restaurants look for ways to entice customers and communicate offers while offices require new ways to hold large board meetings and manage workflow. Samsung Canada has a range of digital display products that can help small businesses meet their needs.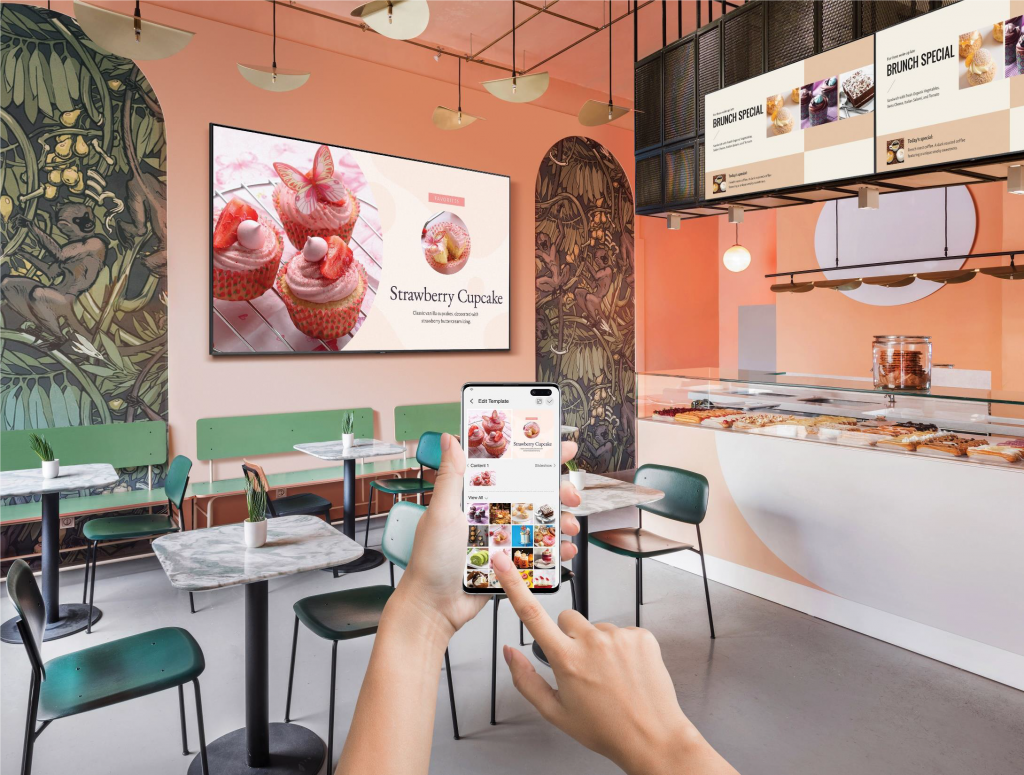 ---
The innovative display of the Samsung Business TV engages customers with eye-catching visuals. Samsung designed the product to help restaurants, retail stores, salons, and other consumer-facing businesses with innovative and high-impact digital signage. TheBusiness TV has more than 100 pre-loaded templates for businesses to up the ante in stores. Businesses can also trim traditional marketing costs with TVs, which allow owners to update the displays directly from their own phones without printing menus or promotional materials.
In the age of "contactless" experiences, the Samsung Kiosk offers space-saving and compact design to cater to employee and customer needs. The Kiosk, an intuitive all-in-one payment, and ordering system curtails the one-to-one interactions with the customers and provides an enhanced service experience.
---
Gone are the days when all office meetings were confined to conference rooms. With an increasingly virtual and hybrid workforce, more people clock in from home and participate in virtual meetings, which can all be facilitated more easily with the Samsung Interactive Display Flip 3.0. This innovative display simplifies teamwork, allowing users to share notes, sketch out and brainstorm new ideas, present plans, and collaborate with ease. The interactive display's 4K UHD picture quality renders teamwork in vivid, eye-catching quality and can be synced with personal devices to share real-time content.
Leading the way in tech solutions for an ever-changing business landscape, Samsung continues to evolve its products and prioritize small businesses with adaptable technology for any environment. Its digital displays are the latest way in which the tech innovator has enhanced experiences for not only the business owners but also their customers.
To learn more about Samsung Display Solutions, visit samsung.com/ca/business/displays.
Also, to know everything related to small business in Canada, subscribe to the CanadianSME Small Business Monthly Magazine