To bolster Canadian fintech growth by accelerating and driving the next generation of digital payments, Visa recently announced an expansion to its newly-launched fintech Fast Track program. New program elements which further enable fintechs to roll out solutions in support of rebuilding the global economy include:
A Partner Toolkit specifically designed to onboard fintech partners and help them accelerate growth and better serve customers
A Visa Ready certification program that makes it easier for fintechs to quickly connect with certified partners for digital issuance and other key services
Fast Track participation has grown 360% year-over-year and Visa has welcomed hundreds of fintechs who are actively engaged in the program, including three newly announced Canadian fintechs i2C, Galileo and Peoples Trust.
Visa data revealed that the total number of Canadian contactless transactions in September 2020 increased by more than 12M+ from last September. Similarly, Canadian digital wallet transactions increased by more than 3.9M+. In light of this exponential growth in digital payment adoption rates, Visa's expanded Fast Track program is a timely offering that will further arm fintechs with the tools to digitize financial services and positively impact their consumers and business partners – vital in helping to restore and rebuild the global economy.
CanadianSME recently had a chat with Brian Weiner, Vice President and Head of Product for Visa Canada.
---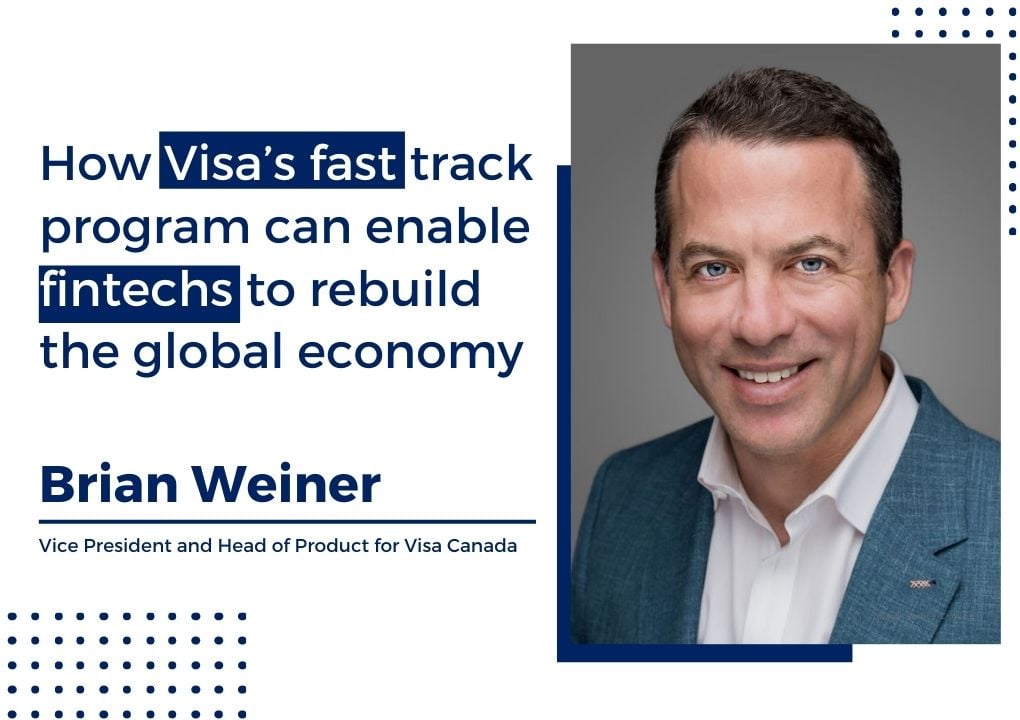 Brian Weiner is the Vice President and Head of Product for Visa Canada. His organization is responsible for the development and rollout of Visa's full Canadian product suite, including its traditional credit, debit, and prepaid products, as well as its expanding array of digital products and capabilities.
Since 2006, Brian has been an active member of Visa's leadership team, responsible for shaping the organization's strategy through one of the most dynamic periods in the history of the payments business in Canada.
Looking ahead, Brian and his team are focused on re-imagining the future of payments in collaboration with many partners across the payment's ecosystem in Canada and around the world. Brian has 56won multiple awards for his work in evolving electronic payments in Canada, and he was recognized as a global winner of Visa's Go Beyond program.
Brian has been in the Canadian financial services industry since 1997. He holds an MBA from the Schulich School of Business and a Bachelor of Commerce from Carleton University. Brian lives in Toronto with his wife Shelley and their two daughters.
---
Visa recently announced an expansion to its newly-launched fintech Fast Track program. Can you share more information about this program and how it aims at rebuilding the global economy?
As more people and businesses manage their money digitally, fintechs are arguably more important today than ever before. They're becoming a pivotal part in helping to restore and rebuild the global economy, and providing a way for people to regain some financial control by being able to move their money with a tap or a click.
But we know that for many emerging fintechs and start-ups, scaling their business is difficult, as can be catching the attention of large organizations. That's why we developed Visa's Fast Track program, launched globally in 2019, which allows fintechs to more easily leverage the speed, security, reliability and reach of the Visa network, helping them grow faster. It provides them access to everything they need to get started online. The program is growing at an incredibly fast pace. This year, we saw 360% growth globally year-over-year, with hundreds of fintechs now part of Fast Track. We have recently added three new Canadian enablement partners – i2c, Galileo and People's Trust – to the program.
We recently announced two new resources to the Fast Track program. One is the Fast Track Partner Toolkit, which is designed specifically for fintech partners who onboard with the program. It provides our partners with access to educational resources, as well as Visa's experts in marketing, design, and risk management, to really help them accelerate their growth.
The second addition is Visa Ready for Fintech Enablers, our latest solution to simplify the process of getting to market with the best partners possible, all certified by Visa. This certification is designed to help tech companies build and launch payment solutions that meet our global security and functionality standards. These companies then help fintechs build their own products by providing the solutions and expertise they need to get up and running.
---
What are the benefits of this program for small business owners?
We have many fintech partners in the Fast Track program focused on providing solutions for small businesses. UK-based digital lender Capital on Tap, which provides credit cards and loans to over 60,000 SMBs, and U.S.-based Fundation, which provides an application processing platform for banks and small business lenders, are part of the program. Konfio, a Mexico-based startup that uses a data-first approach to enable fast credit assessment for SMBs, and Neat, a Hong Kong Fintech startup enabling SMEs to grow their business globally, are also standout members creating new B2B innovations from across the globe.
---
How can a fintech company get started with implementing the Partner Toolkit and Visa Ready components of the program?
The Fast Track Partner Toolkit is available for all fintech partners who onboard with the program. Companies can learn more about the Fast Track program and the new Visa Ready for Fintech Enablers solution by visiting partner.visa.com.
---
What other initiatives has Visa implemented during the pandemic that has benefited entrepreneurs?
Visa supports millions of small business owners around the globe who are keeping our communities running. Earlier this year, Visa announced a global commitment from the Visa Foundation to provide $210 million in COVID-19 relief funding to address the longer-term needs of small and micro businesses over the next five years by digitally enabling 50 million businesses to power recovery in communities worldwide. We also launched the new Visa Canada Small Business Hub which includes access to tools, partner offers, actionable tips and more for entrepreneurs at all stages of business growth.
At the start of 2020, Visa Canada supported the increase of contactless transaction limits from $100 to $250, to allow consumers to shop safely at businesses that provide essential goods and services to Canadians.
Through the Visa Back To Business Study, we uncovered that one-third (33%) of Canadian small businesses do not consider their local community supportive of their business during the pandemic. That's why we launched our national #MySmallBizReco campaign, encouraging Canadians to recommend their favourite small businesses to help them attract more exposure and new customers. We also highlighted hundreds of small businesses on Visa's social channels.
Finally, the Visa Back to Business Study, Holiday Edition revealed that while more than four in five (85%) Canadians will still be shopping this holiday season, nearly one-third (28%) of businesses feel unprepared for the influx of sales. That's why we developed five tips for small businesses to help businesses prepare and maximize sales.
On a final note, what is your advice to small business owners during these challenging times?
The pandemic has changed the way we shop, with a huge shift to e-commerce and contactless payments. Small businesses looking to reach their customers and grow their business need to adapt to these changes. Taking creative and actionable steps to swiftly pivot with the times and respond to the demands of consumers can help many small business owners thrive and innovate despite the circumstances. In fact, most small business owners remain optimistic about the future (77%).
Visa is committed to helping small businesses bounce back, and we encourage small business owners to take advantage of Visa's insights, tools and resources by visiting the Visa Small Business Hub.