Since the start of the COVID-19 crisis, we have heard a clear message: you need help now. The Toronto Region Board of Trade is where you will find it.
The return to physical workspaces poses several challenges for small and medium businesses. Our Digital Toolkit for Returning to Physical Workspaces will help you navigate welcoming your employees and customers back to your workspace safely.
We know that nothing matters more to you than a safe reopening of your business. Yet, because small and medium businesses are facing so many new and unique concerns due to the pandemic, it can be hard to know where to start.
The Toolkit is a one-stop place to find the resources, tools, and critical support programs you need to recover, grow, and manage your business throughout these challenging times.
---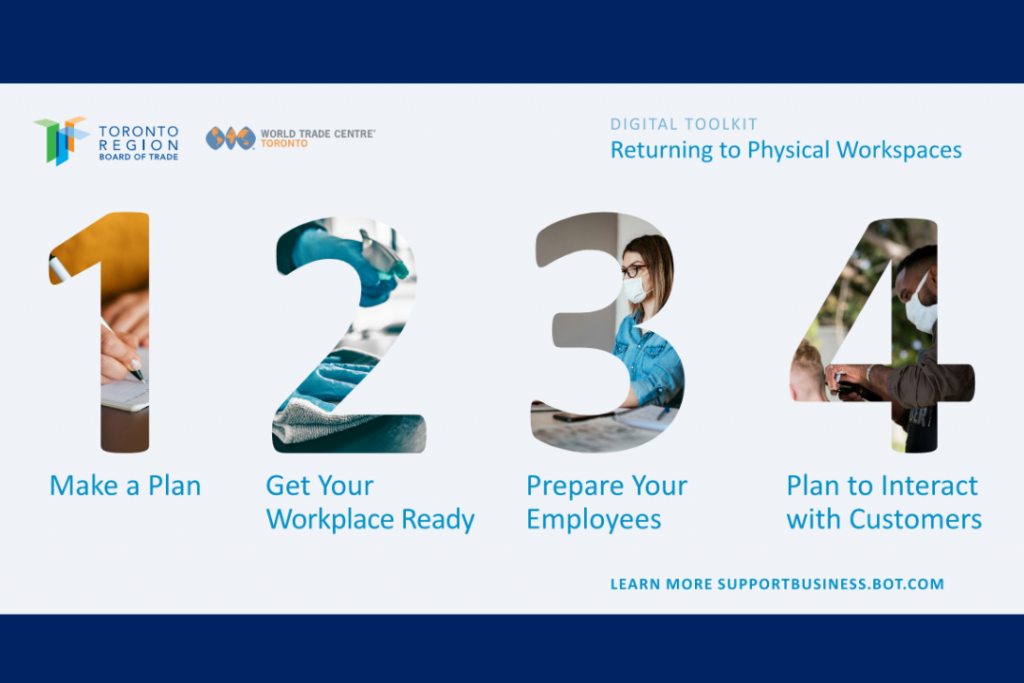 Our Digital Toolkit lays out a step-by-step path to reopening your business:
Step 1: Learn how to formulate your plan for reopening, including how to form your planning and response team. You can also access essential government and industry safe return to work guidelines to help you get started.
Step 2: Learn more about making your physical workspace ready for the safe return of employees and customers. Access information about physical workplace retrofits to consider, protective equipment requirements, and cleaning schedule best practices.
Step 3: Learn more about how to prepare your employees to be partners in workplace safety during the pandemic. Get the latest information on public health recommendations, make plans for a phased return to work, and keep employees up to date about changing public safety rules that might impact their commutes.
Step 4: Learn about how to safely interact with customers as you welcome them back to your workplace. Access resources to help plan a safe flow of customer traffic, learn how to manage in-person transactions safely, and find government resources available to businesses such as directional and safety signage.
The information and resources gathered on the toolkit are drawn directly from all three levels of government and other expert advice on navigating the workplace during the pandemic.
Visit supportbusiness.bot.com to access the easy-to-use tools available through our step-by-step process, allowing you to focus on what matters most: reopening your business while keeping everyone safe.