Nancy Tichbon is Managing Director for Sage Canada. Nancy is passionate about helping entrepreneurs realize their dreams by empowering them with the tools needed to thrive in today's challenging business climate. She brings over 20 years of visionary leadership to her role, nurturing key relationships that drive exceptional experiences for Sage colleagues, partners and customers. Consistently providing strategic vision and developing capable teams,
Nancy has demonstrated a strong track record of driving complex change, exceeding sales expectations, building customer loyalty and driving maximum profitability at Canada's top tech companies. Previously, Nancy was VP, Sales for Bell Mobility and Bell Residential and also served as VP, Customer Experience at Bell. As a customer success leader, Nancy built and managed Customer Operations at tow Virgin Mobile start-ups, while leading Virgin Mobile Canada to win multiple, national-level customer satisfaction awards.
---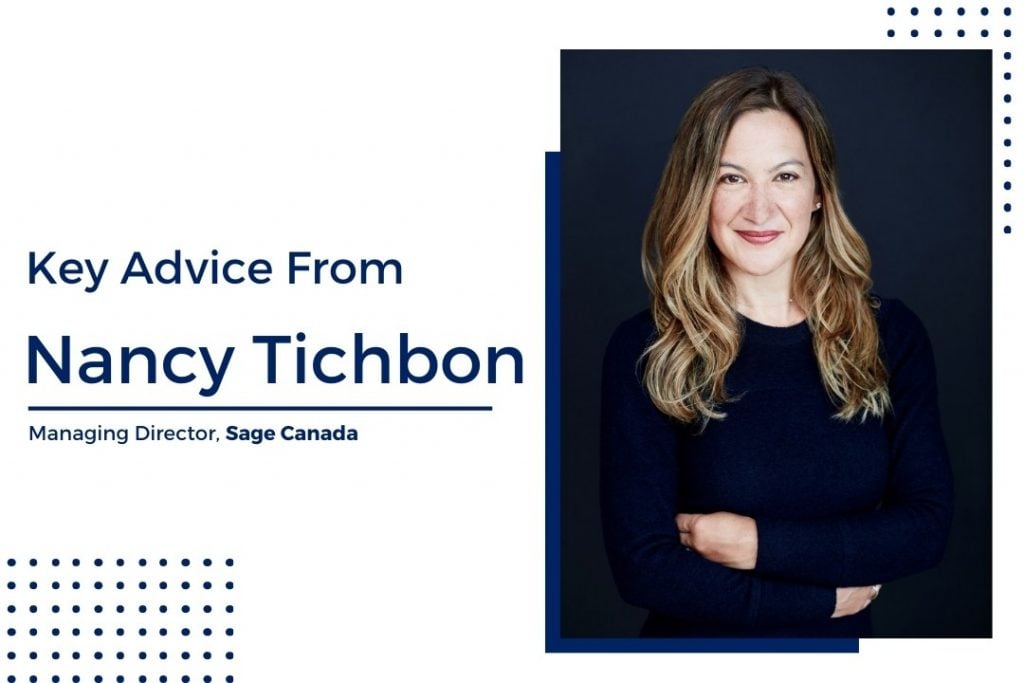 What is your key advice to small business owners during these challenging times? And what steps should they take to keep their small business afloat during the current crisis?
I believe that now is the perfect opportunity to pause, reflect, reevaluate, and reimagine the future.
There are many wonderful examples all around us where companies have pivoted to serve their customers best. I am inspired by the small businesses who have been able to adapt quickly to the new reality that we are faced with. This year has brought disruption to traditional sectors that have pivoted to serve customers in a virtual world, seemingly overnight. Take for instance, five-star restaurants now offering meal delivery kits, personal trainers leveraging videoconferencing tools to serve clients around the world, and retailers providing curbside pick-up. These real-life examples show how critical it is for companies to embrace the unique opportunity before them and discover new ways for customers – new and old – to engage with their products and services like never before.
In fact, never have small businesses needed their time back more than today; no one ever started a business hoping to do manual data entry every month. Daily paperwork is cumbersome when operating a small business and takes up a lot of time and energy better spent elsewhere, like building relationships with customers. Reducing the amount of time spent on tasks such as accounting will enable business owners to spend more time getting their business back up and running.
Small businesses can eliminate manual data entry with Sage AutoEntry, an innovative solution that automates the extraction and processing of receipts, bills, invoices, expenses and statements and uploads them directly into the cloud. Through this automation, small businesses can simply email, scan and upload documents, or quickly snap with a mobile app, and they're done.
I urge small businesses to pause now and build a realistic action plan with a measured approach so that they can reimagine and reinvent themselves for a successful future.