Colin McIsaac – General Manager, Lenovo Canada
As Lenovo's General Manager of Canada, Colin is responsible for sales, operations, culture, strategy and customer satisfaction of the region. He has overall P&L responsibility for Commercial, SMB and Consumer products through all major routes to market. Colin's 23 years of experience spans multiple roles, opportunities, and experiences in the technology business. He has held numerous key leadership positions in both Canada and the US at both Lenovo and IBM. He is passionate about driving broad market engagement and has a strong desire to help enable the customer journey to successful business outcomes. Colin has a Bachelor of Commerce degree from the University of Toronto, Canada and sits on the Board of the Information Technology Association of Canada (ITAC) and First Robotics Canada.
---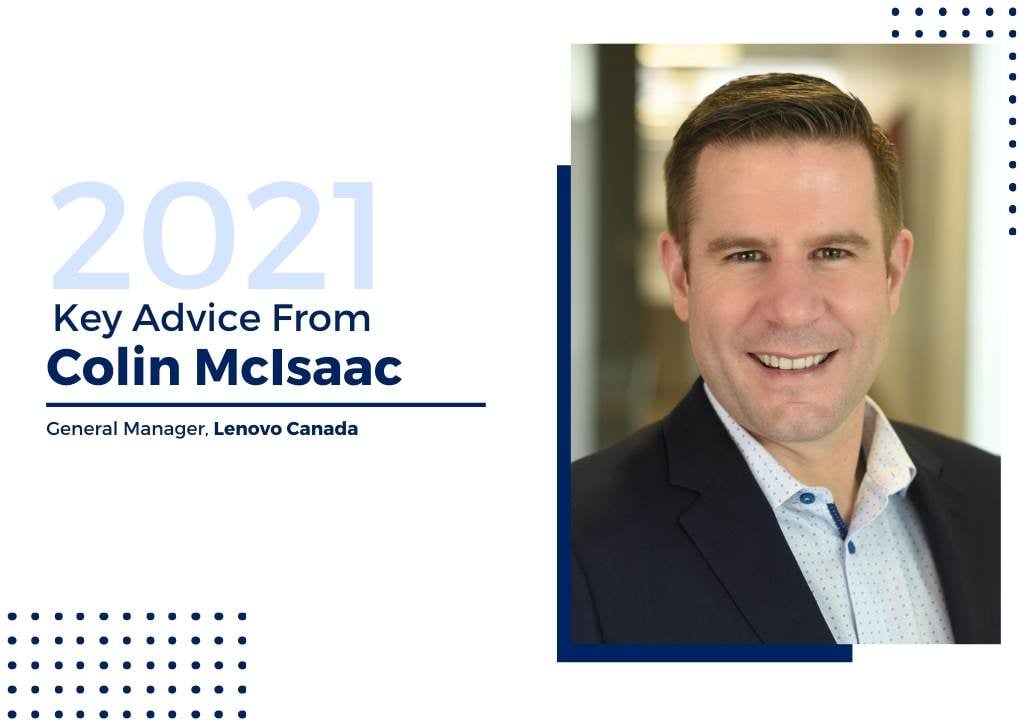 What is your key advice to small business owners for 2021?
With a challenging year behind us, it's important to reflect on its value the lessons learned, and what this means in 2021 and beyond. The pandemic forced businesses to adapt and innovate quickly, forever impacting the work environment.
Businesses of all sizes had to re-examine the functionality of the workplace and recalibrate to accommodate meet a remote or hybrid workforce – a change that is here to stay.
As some companies are returning to their offices, small businesses need to examine how a hybrid work model can enhance collaboration and employee satisfaction long-term. Traditional office environments will transition to business hubs, as home offices become the day-to-day workplace. The typical office setting will move from many desks, conference rooms, and shared amenities, to a cooperative business center. Configurable workstations with nimbler and more portable tech will allow employees to readily adapt to their surroundings as needed.
As a result, employers will need to equip their workforce with the right technology tools, deployment, and IT support to maximize productivity and collaboration – both while working from home and in the workplace office. To prioritize smart collaboration, companies will need to shift spending to improve IT infrastructure and basic employee needs, such as PCs with an enhanced camera and audio capabilities, to ensure employees can be productive, regardless of location.
For small businesses, this may seem daunting, as many don't have a dedicated IT department to manage this process. Everything-as-a-Service (XEaaS) will accelerate into the SMB space, shifting capital expense to operational expense as companies gain access to more tech tools, IT services, and security at a more affordable price.
If 2020 showed us anything, it's that small business and their employees enhance their chances of success when they are nimble, adaptable, and collaborative. It's imperative to have the right IT infrastructure and expertise in place to support the workplace of the present and future.