Sheri Somerville, BPR, BBA, SCMP – CEO, AtlanticChamber of Commerce Inc.
"Do something that matters and try to help a few people along your way.
Sheri Somerville is CEO of Atlantic Chamber of Commerce (ACC), the largest accredited business association in Atlantic Canada representing more than 16,000 businesses through its network of 94 chambers and 29 corporate partners. She is a globally certified communication professional with more than 23-years of multi-sector business experience, and partners with her members to influence an environment in Atlantic Canada where business succeeds.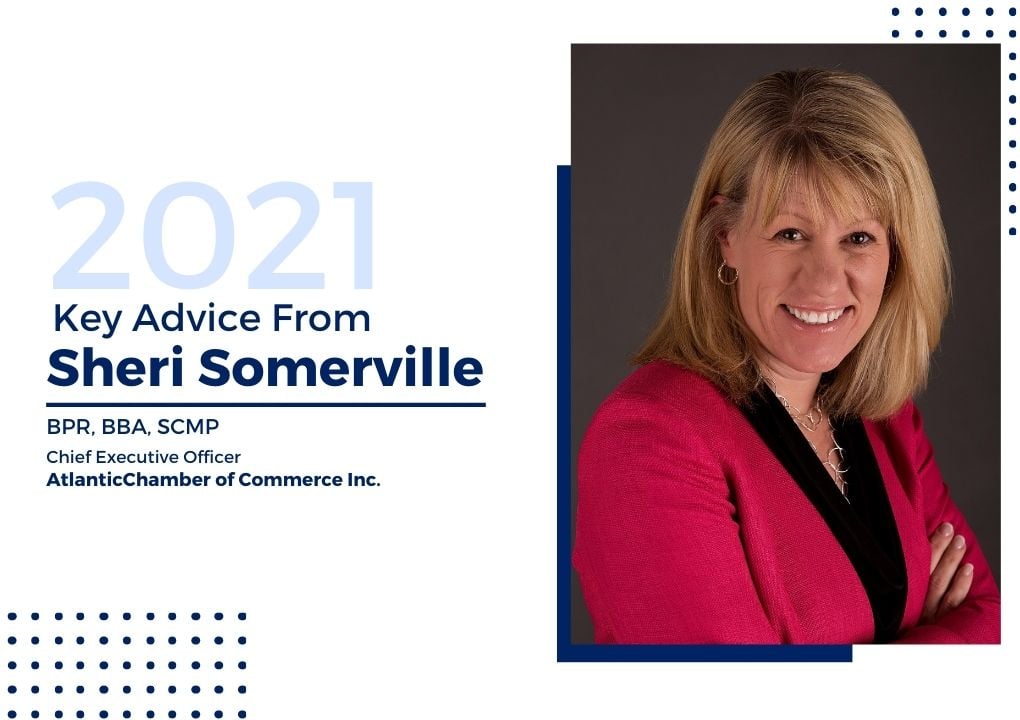 A successful entrepreneur, leader, and award-winning PR consultant to some of the nation's leading companies, Sheri took the helm as CEO in 2017. Since then, she has worked to create a chamber vision to serve the next generation of Atlantic Canadian businesses, cultivated new sources of revenue for the chamber and its members, spearheaded new programming, enhanced governance, and operational productivity, levered strategic partnerships, and elevated the Chamber's corporate reputation and membership as she and her team work to shape and support a strong, resilient chamber network for the future.
---
What is your key advice to small business owners for 2021?
In a normal year, business owners are used to solving problems as they arise. But as 2020 unfolded, nearly all small businesses were impacted and likely felt trapped in a continuous game of whack-a-mole with a torrent of near irresolvable issues and new regulations popping up—all seemingly fixated on defeating their business.
The one constant in 2020 was uncertainty, a trend that appears will continue as we enter 2021 and the ground below us continues to shift. Most will likely take a conservative approach in 2021, focusing on profitability and rebuilding. To create stronger businesses that withstand sudden changes, it's important to take stock of your customers and operations, optimize processes and automate tasks, and consolidate systems or outsources services to optimize your productivity and efficacy.
I would recommend starting with what drives your business and processes, your customer. Make sure you know them or get to know them again because their needs and preferences may have changed, and you may need to adapt to meet those new needs. Also, take advantage of the Shop Local trend because many want to support their local economy.
Change often reveals new customers and market prospects. So, look for any new opportunities that may exist for your product or service. If you need help, your local Chamber of Commerce can make connections in your community, nationally and internationally.
Often the best solutions and innovations come from within, so look to your internal teams for ideas, by creating an open culture that encourages this. Leverage their expertise to identify ways to increase your agility, as well as shore up any gaps uncovered in 2020 to ensure you're ready for future challenges.
Routine tasks often eat up time unnecessarily and that's unproductive. Leverage technology to help automate those processes so you can focus on other priorities. Even the smallest improvement can increase your efficacy, agility, and ability to respond quickly in situations.
Take advantage of the supports currently available from governments and organizations like the Business Development Bank of Canada, Atlantic Canada Opportunities Agency, local Community Business Development Corporations—we're hearing that these organizations and supports are not being fully utilized.
Finally, reach out to your local Chamber or Board of Trade. Their teams can help you with guidance, information, and connections to programs, and services that may be beneficial for your business, but they also can leverage the network across Canada to support local business.