Recently, CanadianSME Small Business Magazine got a chance to have a profound chat with Kim Knight and Shanelle McKenzie. Both of them are the founders of The Villij. And being the Women of Colour, Kim Knight and Shanelle McKenzie were self-motivated to start their journey as strong entrepreneurs in the wellness sector given the apparent lack of opportunities and representation in the WOC community. Our discussion with them ranged between what made them choose the path of entrepreneurship and what struggles they had to face during their journey. We have also discussed their organization, The Villij, that puts forward a digital wellness membership including on-demand and real-time virtual fitness and yoga sessions, mental health workshops, and guided meditation, creating an accessible, culturally appropriate and cost-effective well-being option that focuses on the experiences of WOC. Read on to know more about them and their organization.
---
What are the key findings on the goals and barriers of Black business owners and workers in Canada for 2022?
The pandemic's impact on Canadian business owners is undeniable, but Black business owners have especially felt the effects. According to Intuit QuickBooks' Black Wellness Data Report, more than one in three Black business owners and workers say their personal finances got worse during the pandemic. What's more, of those surveyed who do not currently have positive financial well-being, only 55 percent report feeling positive about their mental health. You can't pour from an empty cup, and yet we see many are deprioritizing their own self-care because they are putting other people or responsibilities first.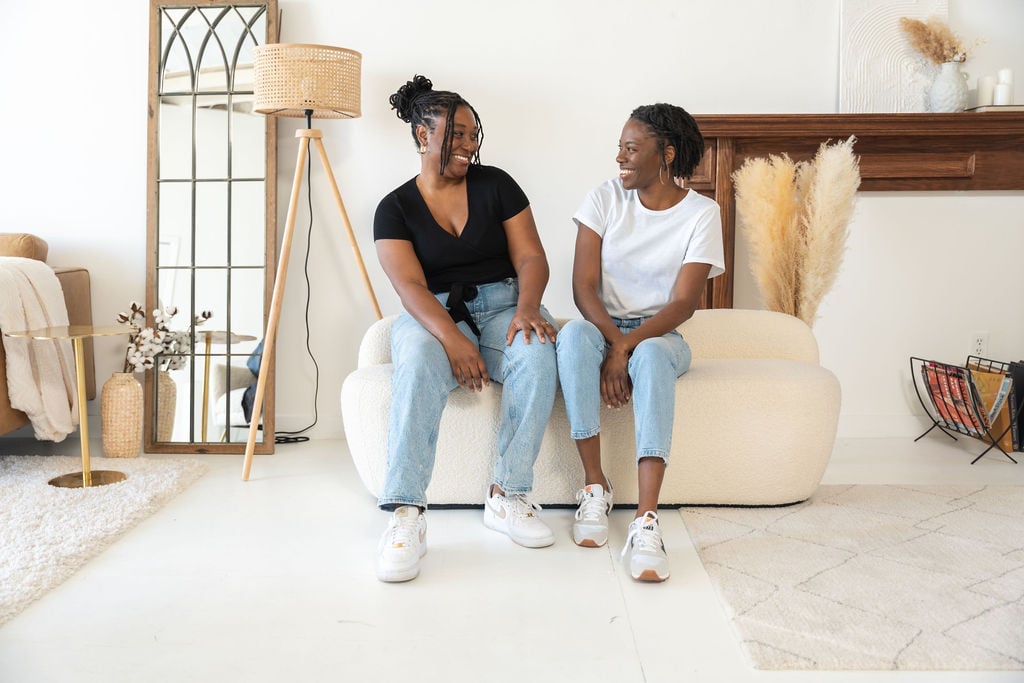 As small business owners, we know this pace is unsustainable and it can be challenging to shift focus not only for the survival of your business but for yourself. That's why we're thrilled to see almost half of the Black business owners (48%) are placing a higher priority on well-being because of the pandemic, and more than one in five (22%) making it a "significantly higher priority". The study also revealed the top two priorities for improving personal well-being are maintaining mental health and boosting income. Achieving financial and health prosperity goes hand-in-hand, it's impossible to realize one without the other. By checking in with ourselves, we give our minds a chance to reset and recharge, so we can continue to innovate and become our best selves, both personally and professionally.
---
How do you ensure that your team members are maintaining their mental, emotional and physical health?
As entrepreneurs in the wellness sector, we strive to support our team members by putting their overall health at the forefront. We begin by facilitating access to tools in the form of fitness, mental, and emotional health courses led by accredited professionals. As such, each member has an invested interest in improving and maintaining their overall well-being.
Self-advocacy is also encouraged and celebrated in our organization. Upon onboarding, we support our team with setting clear boundaries for themselves and with others. We urge each individual to communicate when they feel overwhelmed, depleted or need an extension on a deadline. Each member takes regular time away from their routine tasks to recharge with activities that bring them joy. Our aim is to reduce the instances of burnout and stress and create a firm work/life balance ethos.
---
SUBSCRIBE NOW
Our content acknowledges the strength of the ardent entrepreneurs and their lifelong experiences of the marketplace that help them build successful business empires. Our belief in productive learning and providing inclusive content is why we have plans for a wide spectrum of activities that incorporate everything from reading to prolific networking.
Are there any particular methods or practices that have been helpful in managing stress and anxiety for you and your team?
Like any small business, we are often pulled in various directions so we like to prioritize our to-do list to focus on the most important items. We begin by taking a full inventory of our day-to-day tasks and deadlines. This way, we are able to keep track of progress and create with a clear mind. Maintaining a realistic workload and organizing to-do's have kept the stress at bay during the busiest of seasons.
We use various organizational and customer relationship management tools to make processes easier and more efficient. Leveraging technology also takes care of the mundane and repetitive tasks so we can spend our time focusing on more important things to our business. Solutions such as QuickBooks have helped our team stay on top of our finances as we continue to grow, enabling our team to carve out meaningful time to decompress and focus on their life balance between tasks.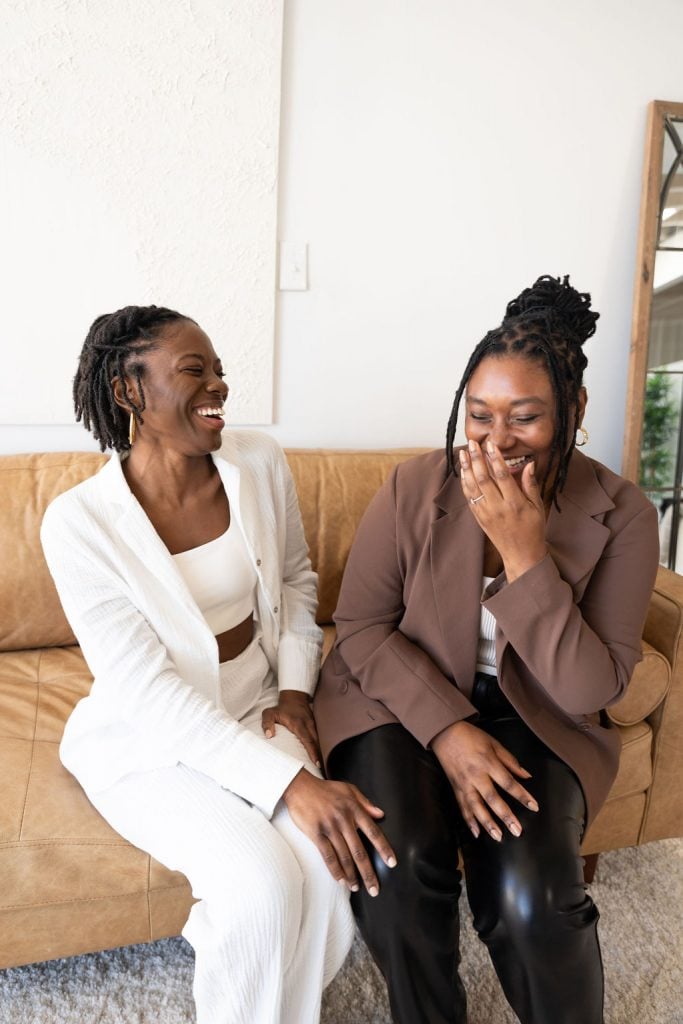 ---
What role do you think mental, emotional and physical health plays in the success of Black businesses?
As Black business owners, nurturing our well-being is pivotal to our success. We experience systemic barriers that have a direct impact on our decision-making. When we first started The Villij in 2017, we faced challenges gaining access to capital and finding supportive business networks. Hence, we had no choice but to figure everything out ourselves.
We know what it is like to have great ideas but no funds or advice on how to execute them. These types of stressors affect our thoughts, our emotions and our bodies. It is a challenge to take care of yourself when stressing about your business' success. And how many small business owners can afford therapy? We certainly could not. We learned to tend to our health through accessible practices such as finding community, setting boundaries, making time for daily movement, and rest.
---
Kim Knight and Shanelle McKenzie – Empowering WOC by Taking an Organic Approach 
Click To Tweet
What advice would you give to entrepreneurs who are starting out and trying to build a healthy foundation for their business?
Show yourself some compassion. Throughout your entrepreneurial journey, you will fail, you will feel lost, you will compare your success, and you will feel like throwing in the towel. You will also have great moments, and we believe it is important to hold space for the entire journey. Life is a practice. And, the success of your business is not an indication of your self-worth. On the not-so-good days, become your own best friend/cheerleader that will encourage you to keep going. Make it a habit to celebrate your wins, both big and small.
---
About The Founders : Kim Knight and Shanelle McKenzie
Kim and Shanelle met at work in 2016. Through conversation, they realized that they were not alone in their feelings of exclusion, isolation and overwhelm while navigating health and wellness spaces.
They believed there was a better way to help women like them take better care of themselves and their communities.
Less than six months later, The Villij was born.
Kim Knight (@bykimknight) is an educator, writer, and Co-Founder of The Villij. Using her background in user experience design, Kim cultivates mindful wellness tools and social networks that center equity and culturally affirming practices. In between achieving her goals, Kim spends time connecting with her Caribbean roots through food and travel. She is currently writing her first recipe book that weaves together culture, creativity, and affirmations for nourishment.
Shanelle McKenzie (@thecolorsofwe) is a Program Director, Wellness Activist and Co-Founder of The Villij. Raised in the USA, she returned to Canada as a young adult and quickly realized that wellness spaces were non-representative of her community. She became passionate about breaking generational curses and providing access to wellness and mental health advocacy for women of colour. Today, Shanelle is bringing awareness to the importance of well-being through curating intentional spaces.
---
About The Villij
We are a wellness club designed to help women of colour nurture their mental, emotional and physical well-being.
Our mission is to help women of colour nurture their well-being through affirming wellness education, experiences, and support.
The Villij Channels
https://www.instagram.com/thevillij/