Oongalee delivers the only guest-facing device a restaurant will ever need and offers a revolutionary and comprehensive platform for advertisers to reach audiences like never before
Toronto, April 11, 2022 — Oongalee, a leading Canadian technology company specializing in innovative and human-centered technology solutions, today announced the official launch of its patented tabletop charging Gateway portals. This new technology will help restaurants — an industry that is traditionally slow to adopt new, innovative digital solutions —digitize and elevate their guest experience while helping to increase sales and create an additional stream of revenue through its revolutionary out-of-home advertising network.
"In our increasingly ever-connected world, the restaurant and hospitality industries have been forced to look beyond the traditional," said Amrit Sagoo, Chief Executive Officer, Oongalee. "Our interactive Gateways are designed to meet consumers' modern-day demands while being able to transform and adapt as these demands shift. We enhance the guest experience, provide technology-focused marketing and cost-saving solutions, and create an intimate and meaningful way for advertisers to connect with audiences. Our content-driven platform was built to help businesses and brands build stronger relationships with customers."
Technology and the ability to pivot towards digital solutions are what have helped, even saved, restaurants as they transform their operations to not just survive, but thrive, in the all-digital era.
"Since launching Oongalee Gateways at our locations, we have seen an increase in dwell time, which has led to increased bill spend of around 10 per cent," said Darren Malko, Vice President of Operations, Century Hospitality Group. "People are enjoying themselves at our restaurants for longer — it could be because they're staying for another round of drinks, an extra order of food they saw promoted on the Oongalee screen, or even because they needed a little more battery life in their phone before heading out for the night."
Oongalee offers an easy to integrate and affordable way for establishments to enhance their guest experience. The company's business model was strategically built to support the business and operational needs of restaurants. Since launching in 2020, Oongalee Gateways have expanded into more than 250 locations across the country. This fast-paced growth is a testament to the need for solutions like Oongalee.
The company is also completely vertically integrated — from software to manufacturing. Oongalee also continues to conduct rigorous research and development on its product, platform, and services.
Oongalee launches new technology to modernize the restaurant guest experience and challenge traditional out-of-home advertising 
Click To Tweet
Revolutionizing out-of-home advertising, delivering unmatched intimate dwell time
Guests sit in front of Oongalee Gateways for an average of one hour, offering advertisers the best dwell time in advertising. The long dwell times at Oongalee partner locations across Canada increase the quality and the amount of impressions:
● Ads delivered through Oongalee's network are seen a minimum of 36 times per hour, per screen — no other traditional form of out-of-home advertising can deliver this type of intimate dwell time
● Advertisers can serve story-driven interactive content, creating a truly unique and human-centric brand experience that no other platform can offer
● Advertisers can measure their campaigns using meaningful metrics — testing different calls to action thanks to the variety of ads that can be served in just one campaign i.e. QR code scans, engagement on ads served, etc. (utilizing QR codes creates traceable metrics for interaction with ads)
● Thanks to the reach of Oongalee's extensive network through its restaurant and bar partners, advertisers can customize packages ranging from local, regional, national
● Restaurant and ad content can be updated instantly and be scheduled to release on certain times, days or during special events
● Advertiser content can be scheduled in advance and can be targeted to different areas of the establishment. For example, restaurants can serve family-friendly ads/content during certain times and days of the week and even to specific areas in the restaurant.
Already through its partnership with several prominent national restaurant brands, more than 5,000 screens have been or will be deployed across the country yielding:
● A viewership of at least 1.4 million monthly customers/viewers of each ad
● Content plays of 70 million times per month
Not only do Oongalee Gateways provide advertisers with an intimate and meaningful way to reach its target audiences, they also create a new revenue sharing stream for restaurant partners. This new revenue stream is derived from Oongalee's third-party advertising partnerships and creates passive income for establishments.
SUBSCRIBE NOW
Our content acknowledges the strength of the ardent entrepreneurs and their lifelong experiences of the marketplace that help them build successful business empires. Our belief in productive learning and providing inclusive content is why we have plans for a wide spectrum of activities that incorporate everything from reading to prolific networking.
Simple scalability
Oongalee's platform was built to manage multiple locations across several markets. Oongalee can easily deploy units and streamline content schedules with restaurant partners with a national and even international reach. Content can be updated instantly and targeted to align with the demographics and promotional needs of individual or market-specific locations.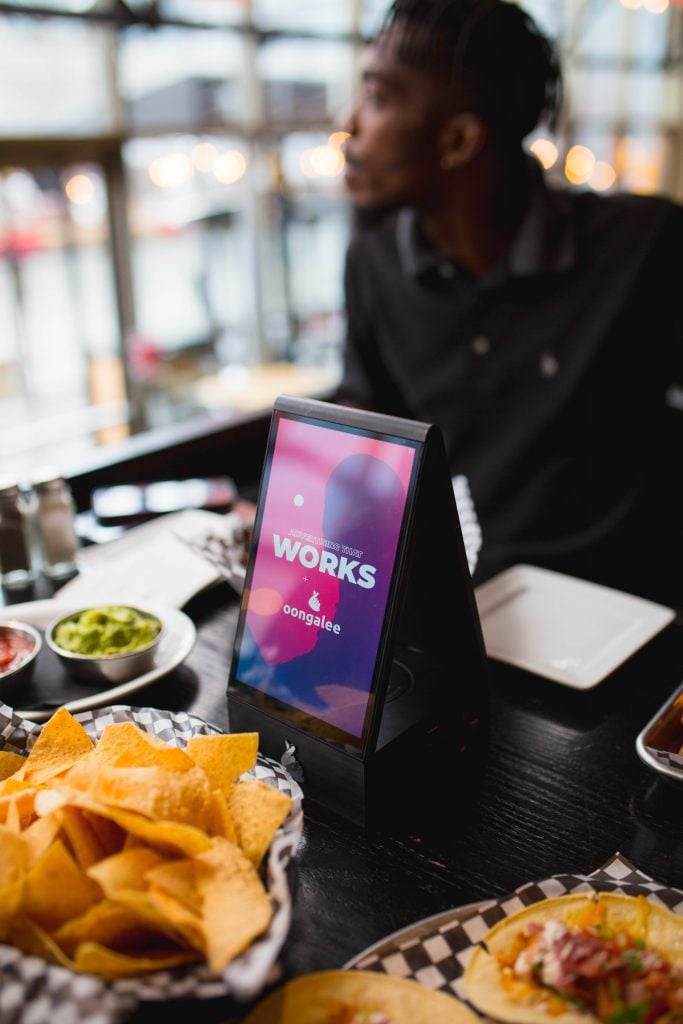 Staying powered-up and connected
Featuring two multi-tip charging cables and wireless induction charging to power multiple devices at once, Oongalee Gateways are the ultimate solution for keeping everyone's phone charged.
In our heavily connected and bustling world, Canadians deem having a charged phone an asset. According to the 2020 Canadian Internet Use Survey:
● Two in five Canadians checked their phone at least every 30 minutes
● The vast majority of Canadians (84 per cent) relied on a smartphone for personal use in 2020 to communicate, to do research, or for entertainment
● During a year when brick and mortar stores were not always an option, many Canadians turned to the Internet to shop. More than four in five Canadians (82 per cent) shopped online in 2020, up from 73 per cent in 2018
Gaming on the Gateway
Oongalee Gateways are an excellent way to gamify a guest's visit through Oongalee's legal gambling partners' Gateway campaigns. Through this feature, establishments can build excitement and drive engagement for live sports events:
● See live odds and place bets in real-time
● Interact with gambling partners' websites through guests' mobile devices, triggered through QR Codes from Oongalee Gateways
Interactive Content
Oongalee is a content-driven platform and through its strict content quality standards, the team works with partners to ensure that all creative that is delivered to guests on the Gateways are designed to be highly engaging and interactive.
OongaleeTV
Guests will appreciate being able to watch live events and streamed content right from their table. Sporting events, movie nights, weekly television episodes, etc. Thanks to Oongalee Gateways, there will never be a "bad seat in the house" again.
A dining experience designed by the diner
Oongalee's 'Excuse Me' feature offers guests a polite way to call their server. This increases customer satisfaction, decreases service wait times, and puts the dining experience into the hands of the customer.
The platform's 'Bill Please' feature gives diners the ability to review, split, and pay their bill at the table through their mobile devices.
Restaurants and bars can get guests excited about daily specials using Oongalee's Happy Hour Countdown feature. This option also serves as a way to increase bill spend, as most patrons will be motivated to stick around for one more drink at happy hour prices.
Paperless menus, powerFULL displays
Digital menus displayed on Oongalee Gateway full-colour, high definition screens create an interactive touchpoint for diners. This also eliminates printing costs for establishments. By converting to on-screen digital menus, restaurants and bars can make changes and updates instantly. Daily specials, drink menus, and special event items are all a touch away for guests. To reduce touch-points, QR codes can also be utilized to bring digital menus onto customers' phones.
For more information about Oongalee, please visit www.oongalee.com.
About Oongalee
Oongalee is a Canadian media and technology company based in Toronto, Ontario. Its tabletop charging Gateways are designed to keep everyone's phone charged while providing a high-definition portal to businesses and its services through digital advertising. Oongalee's advertising network provides a completely unique platform. The company's focus around impression time and targeted reach ensures that brands are recognized and remembered and its exclusive restaurant network provides uncomparable exposure. Oongalee's charging Gateway provides the ultimate phone charging solution for diners while offering a revolutionary platform for advertisers to reach people intimately and meaningfully like never before, redefining how brands speak to the masses. www.oongalee.com | @oongalee