Attracting and Retaining a Diverse Workforce is Crucial to the Sector's Success
Ginette Adragna has been an instrumental part of the CDW Canada team for over two decades. She has demonstrated her expertise in the tech industry and served as a vital mentor to countless women in the sector. As a strong advocate for gender parity, Adragna's commitment to cultivating an open and supportive work culture has empowered women in her workspace and set an example for the IT sector.
CDW Canada, a renowned technology solutions provider to corporations, government organizations, healthcare providers, and educational institutions, has provided Adragna with the ideal platform to share her knowledge and encourage countless other women in the sector.
Though famed for innovation and early adoption, Canada's tech sector struggles with gender diversity and inclusion. As a matter of fact, despite numerous efforts like diversity pledges, initiatives, and policies, the sector still lacks gender parity. Recently, the Tech and People Network, a non-profit network of more than 900 people and culture leaders across 250 Canadian tech businesses, found that 36% of the tech sector is female. Given the industry's recent rise, this mismatch is concerning.
While some progress has been made, it is clear that more needs to be done to address the gender gap in the tech industry. It requires a collective effort from tech companies, industry leaders, policymakers, and the wider community to create a more inclusive and welcoming environment for women in the sector. This entails addressing recruitment and hiring bias, providing mentorship and career development opportunities, promoting flexible work arrangements, and fostering a workplace culture that values diversity and inclusion.
---
Equality Begins with Education
Despite significant efforts to address gender inequality in the workplace, the root of the problem lies in the lack of female representation in STEM fields. Research indicates that fewer girls select science, technology, engineering, and math (STEM) subjects in secondary education, with technology being the least favorite among young women. The underrepresentation of women in STEM education results in a dearth of female talent in these fields, which exacerbates the gender pay gap and gender inequality in the workforce.
Statistics Canada reveals that only 34% of Canadians with a STEM degree are women. Although women have made some progress, continued efforts are necessary to ensure gender parity in STEM fields. The challenge begins early in the classroom, where hands-on training, exposure, and encouragement can make STEM more accessible to everyone, regardless of gender.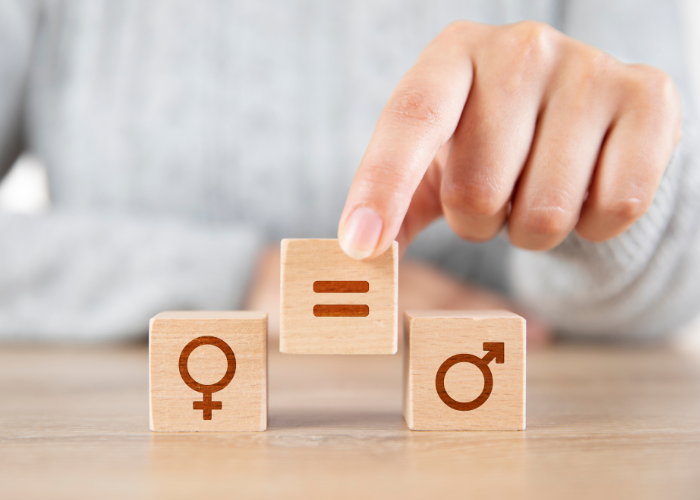 Educational institutions need to create equal opportunities for girls in STEM by offering career counseling, mentoring, and exposure to female role models. Inclusive STEM courses that consider learning styles and interests should be designed. Supportive school environments that use technology to motivate and inspire girls are vital. Early education efforts can enhance female participation in STEM, leading to gender parity in the workforce.
---
Mentorship Can Make a Meaningful Difference to DE&I
While large technology companies have advanced recruitment strategies to improve gender diversity, smaller organizations struggle. Women are underrepresented in STEM leadership roles, with only 15% of management roles in science, engineering, and technology being held by women in Canada.
Adragna rightly points out, "Organizations need to create a culture where women not only feel welcome, they also feel there is a future for them." She adds, "take time to connect with the women in your workplace and help them shape their careers with you. A little effort can go a long way."
Diversity fosters creativity, productivity, and profitability, so a holistic diversity, equity, and inclusion strategy is crucial. Retention is a key issue, and mentorship programs, career development opportunities, and community-building can help. Like CDW Canada, organizations should commit to leadership and strategic emphasis to foster a culture of belonging.