David Gaucher and Johnathan Bonnell, the founders of Wholly Veggie, share their transformative journey from being organic meat executives to creating Canada's fastest-growing vegetable food company. Discover the insights and experiences that reshaped their perspective on the food industry, and how they revolutionized frozen foods by focusing on health, taste, and convenience. Learn about their innovative marketing strategies, product development approach, and valuable advice for aspiring entrepreneurs navigating their own growth in the industry.
David Gaucher , Co-Founder and Co-CEO of Wholly Veggie
David Gaucher is a former engineer-turned-entrepreneur, who sought out a plant-based lifestyle after working in the organic meat industry. Today, he's the Co-Founder and Co-CEO of Wholly Veggie with Johnathan Bonnell, and creator of plant-based meals and snacks that champion the veggie! David formerly oversaw operations for a company in the animal agriculture industry. Having spent time on the frontlines of that industry, he realized the current food system wasn't sustainable. Along with his former colleague John, they decided to quit their jobs and use the knowledge they had acquired to build a company focused on building a more balanced agricultural system by encouraging people to eat more vegetables.
Johnathan Bonnell, Co-Founder and Co-CEO of Wholly Veggie
John Bonnell is Co-Founder and Co-CEO of Canada's fastest growing vegetable food company, Wholly Veggie. John formerly oversaw marketing for a company in the animal agriculture industry. Having spent time on the frontlines of that industry, he realized the current food system wasn't sustainable. Along with his former colleague (now business partner) David Gaucher, they decided to quit their jobs and use the knowledge they had acquired to build a company focused on building a more balanced agricultural system by encouraging people to eat more vegetables.
---
Your journey from being organic meat executives to founding Canada's fastest-growing vegetable food company is indeed inspiring. Could you share the moment when you decided to leave the industry and embark on this new venture?
John: It was a series of events that left me disillusioned with the animal protein industry, and in search of a way to utilize the skill sets that Dave and I had learned for a more positive outcome. But I would say the trigger was in March 2016. I knew my future wasn't in the meat industry: one lacking innovation, tied up with monopolies, and disconnected with how to feel the planet sustainably. I hopped on a plane to head down to the Natural Products show, Expo West, and was inspired. After walking the halls on my own, I discovered a sausage made entirely from plants. It needed work in terms of taste and texture, but a lightbulb went off. It was possible to produce a protein alternative made from plants. I came back from the show inspired about a new possibility and told Dave that it was the future.
Dave: It was a gradual process on my end. When I joined an organic meat company, I had always been a heavy carnivore, but I'd never been exposed to how our food industry operates. By being on the frontlines of that business I kept uncovering realities of how industrial animal farming works, and it made me feel more and more uncomfortable. For example, witnessing how slaughterhouses operate or discovering how this industry is underpinned by a totally unsustainable exploitation of finite resources for a growing global population made it impossible for me to keep ignoring these issues. Eventually this led to me having a change of lifestyle and to decide I wanted to go on a separate journey to support a different way of feeding our planet.
---
In what ways do you believe your company has managed to break the stigma around frozen foods, and how do you maintain the balance between health, taste, and convenience in your products?
John: While some of the negative attributes of frozen food still exist for consumers (high sodium, low quality, cheap alternative to restaurants), we are seeing the tide beginning to shift. Covid was a giant experiment for frozen foods, and the data shows that the number of consumers purchasing frozen foods post-pandemic is greater than pre-pandemic. Millennials drive the bus now for frozen food in terms of dollar sales, and as a brand, we're trying to cater to this consumer with healthier alternatives to traditional favourites. That means being big on flavour, international cuisines, and quality ingredients (we only use Non-GMO project verified ingredients). One of the trade-offs for us is that following our ingredients standards means that our items tend to be a $1-$2 premium vs. staples such as Amys. Our hope is that consumers see the health benefit from quality ingredients and choose to vote with their wallet.
Dave: Frozen foods suffer from a bit of a poor reputation today because people still associate them with awful legacy products from the past, such as TV dinners! The reality is that today the technology in frozen food manufacturing has improved the quality of products by light years from where things were, even just ten years ago. At Wholly Veggie, we are obsessed with quality and it starts with our vegetables sourcing. We procure frozen vegetables that offer a more nutritious and tastier product than what you can find in the fresh produce section at your grocery store! Our vegetables are harvested at peak condition and within 90 minutes from being picked on a field they will be blanched and flash frozen in a proprietary method that locks in peak ripeness and nutritional content. We call this fresh frozen! We also use leading edge technology in our frozen manufacturing such as liquid nitrogen enrobing technology for our veggie-full meals line, a process that allows us to lock-in the freshness of our sauces cooked from scratch without having to default to using artificial coloring, flavors or stabilizers.
All this to say that by focusing on offering great quality frozen food, we've helped elevate the experience for consumers and break some legacy stigmas. But the key here is that our cutting-edge manufacturing processes for frozen foods means that we no longer need to view the frozen category as a trade-off between health, taste and convenience, we offer all 3!
---
How have you approached advertising and marketing at Wholly Veggie to stand out in the industry?
John: Brand building can be one of the biggest challenges for a young company, especially as you begin to scale and the distribution you have outpaces your brand awareness. We're no stranger to this problem. With roughly 6000 grocery stores carrying Wholly Veggie products, we're relying on a small scale marketing budget to build brand in both the Canadian and U.S market, while simultaneously supporting our retailers with in-store execution. While it's easy to get sucked up into the day to day "operational marketing" needs of the business, we've tried to maintain a healthy focus on things that can help us punch above our weight creatively: standout packaging, partnerships, and media. After the re-brand of Wholly Veggie in Q4 2021, we embarked on an effort to put our first "campaign" in the market. With a smaller media spend, we knew that our best path to success lay in content that was disruptive and against the industry creative grain. It worked and has served as a creative flag in the ground and something to build off of moving forward.
Dave: We've focused on identifying key consumer insights to drive our strategy when it comes to marketing our brand. We also wanted our brand to approach the category with a unique voice and point of view that would stand out from our competitors. Our first formal advertising campaign, "Ha! Ha! You just ate vegetables"' is the end result of this approach. Our camping uses comedy to highlight the everyday challenge of having people eat more vegetables! By having a limited budget to create awareness on our brand, the creative work had to do the heavy lifting for us, and we've been thrilled to see the campaign go viral on its own!
---
In terms of product trends and innovation within the packaged food category, how do you stay ahead of the curve and ensure that Wholly Veggie continues to remain relevant and attractive to consumers?
John: Innovation is the one area of the business that terrifies me the most. While the journey of product creation is dynamic and exciting, the aftermath of a failed product launch can initiate some serious soul searching and second guessing. Our core tenets are: celebrate the vegetable, keep it healthy, and lead with flavour. Regardless of the hot trend, we feel that our tenets are macro looking enough and allow us to innovate in a sustainable manner and for the long term.
Dave: Our product strategy is fundamentally to offer consumers a better-for-you, veggie-filled version of the products they know and love. We've also learned over the years that innovation can be a blessing and a curse. We joke that a new item that consumers will rave about usually stands atop a graveyard of failed product launches. Through our experiences both good and bad, we've developed an internal process that allows us to quickly vet opportunities we've identified for a new product idea. While there are no guarantees in life, having an innovation process you can commit to usually helps!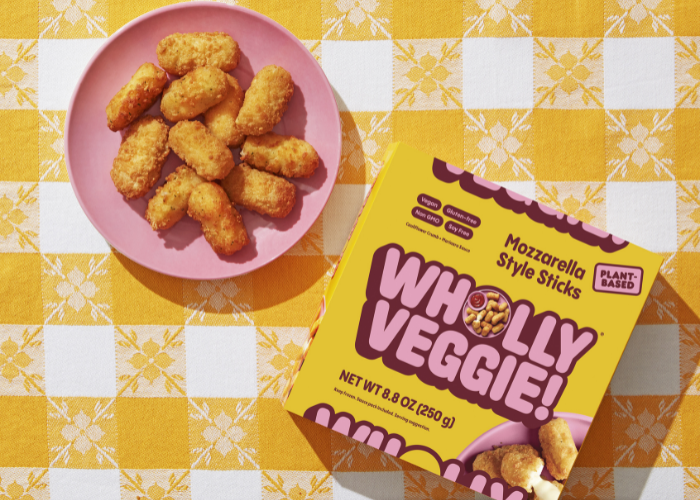 ---
What were the hurdles you encountered on your journey toward achieving this commendable milestone?
John: When we first started the business, we set out ambitious goals based on the limited knowledge we had: be a top 5 player in our category, and be on the shelves of every major grocery store in Canada. The path to getting there was filled with rejections by retailers, investors, and plenty of mistakes with packaging, and products, but we found a way. I think the will and sheer grit of entrepreneurs is a blessing and a curse. We believe in a singular outcome of success so much that when an alternate path gets put in front of us, we refuse to bend or consider it. For Dave and I, we now approach each milestone we set with a sober assessment of if it's possible, and try to learn as much as possible from our past mistakes.
Dave: Like any entrepreneurial story, we've experienced a lot of hurdles along the way, and we still do today! From rushing products to market because retailers are pressuring you, to not understanding the hidden costs of our industry, or working with a few terrible co-packers, being challenged to secure financing, losing sleep over a packaging change, the challenges are pretty much everywhere, all the time! If you don't embrace problem solving and uncertainty, I wouldn't recommend this life!
---
Wholly Veggie is now available in over 6,500 grocery stores across Canada and the US. What advice do you have for other entrepreneurs looking to scale their food business across North America, particularly in terms of building relationships with retailers and distribution?
John: Test, fail and learn as much as possible before scaling in the marketplace. Pivoting a brand or positioning once you are in market is like moving the titanic – trust us, we know! When it comes to retailers, remember that while it's a relationship business, retailers will only keep your products on the shelf if consumers are yanking them off. That means data will become your best friend. Focus on your velocities, and then show the success to other retailers to open things up.
Dave: Our growth journey in this industry is a result of putting ourselves out there and taking advantage of opportunities as they presented themselves. For example, we launched in the US initially with our patties at Target because Beyond Meat had been shorting their orders. We got our first shot with Loblaws as a result of Gardein consolidating their product assortment due to manufacturing challenges at the time. In both cases, we lacked a lot of knowledge about the costs of business with them, but we just kept plugging away and eventually found ways to grow our business with both these retailers. With the benefit of hindsight, I'd say the safest way to approach growth into new markets and retailers in the CPG industry would be for a brand to clearly identify its mousetrap in terms of product market fit and how to best market it locally before considering expansion. Managing extensive distribution without the commensurate brand awareness can be a double-edged sword, and one that we've been maneuvering to the best of our abilities!
---
About Wholly Veggie
Canadian company Wholly Veggie has been shaking up frozen food aisles across North America since its inception in 2017, when two former organic meat execs – John Bonnell and David Gaucher – saw the vegetable market was ripe for disruption.
Bonnell and Gaucher were inspired to create a plant-based frozen product line that celebrates the vegetable. Together they set out to create Wholly Veggie – featuring convenient plant-based frozen
apps and snacks so people can eat their veggies in a sustainable and fun way. The feel-good, restaurant-style dishes help people eat clean, without compromising on flavor.
The thoughtful vegetable-rich foods deliver on nutrition and protein without soy, dairy, or gluten. Wholly Veggie products are gluten-free, dairy-free, and non-GMO. Wholly Veggie offers quality products, free from any artificial colours, flavours or ingredients
Wholly Veggie is available across Canada and the US in over 6000 grocery stores; and is carried at retailers such as Whole Foods, Sprouts, Target, Walmart, Farm Boy, Costco, Sobeys and Loblaws.