Natasha Koifman – President of NKPR
Natasha Koifman created NKPR in 2002 in order to combine her two passions: shining a spotlight on stories of substance and supporting causes that are making a difference around the world. Under Natasha's guidance and leadership, NKPR has established itself as a highly-regarded full-service public relations, artist management and digital agency with offices in Toronto and New York, representing over 40 diverse national and international brands including Mountain Equipment Co-Op, Swarovski, TD, Scotiabank, Thompson Hotel Toronto, Lightspeed, DAVIDsTEA, Marcelle Cosmetics, and Links of London. Launching NK Artists in 2013, NKPR also manages strategic partnerships for high-profile personalities like George Stroumboulopoulos, Sophie Elgort, and Yannick Bisson.
---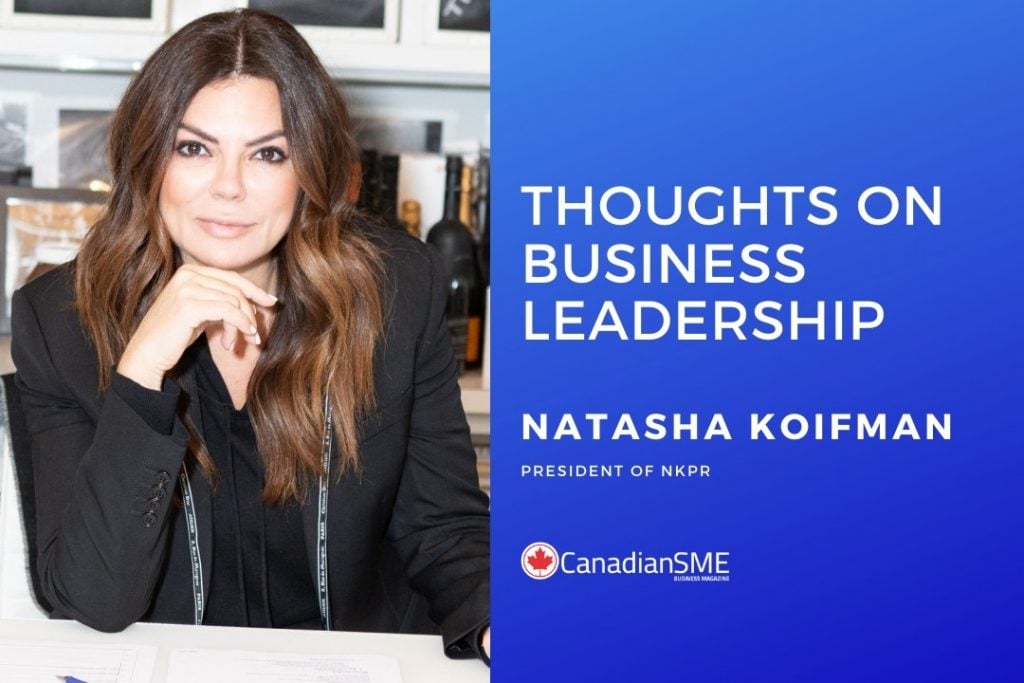 What is your definition of Leadership?
For me, Leadership has always been about setting a positive example for those around you and inspiring the next generation to lead with compassion, kindness, and authenticity. As leaders, we have a responsibility to share our experiences and encourage those around us to have a positive impact on the world.
What are the most important values and ethics you demonstrate as a leader?
Confidence and teamwork are so important during a time like this. As leaders, we need to be right there with our teams doing whatever is necessary to ensure the success of the business as a whole. This also extends to our clients and the community in which we live and work – we are constantly looking at how we can do our part, from supporting small businesses to bringing awareness to the incredible organizations providing for the community during this pandemic.
How do you encourage the development of your employees?
Mentorship has always been an important pillar of NKPR when it comes to team development. With our entire team shifting to a work-from-home environment over the past two weeks, mentorship has been just as important as ever. While we are all working in isolation, we've made sure that everyone on the team gets regular check-ins – we start each morning with full team zoom call and encourage the entire team to take time for themselves during the workday. Personal development is just as important as professional. Right now, in particular, checking-in with team members mentally and emotionally is necessary. Many of our senior team members have been with the company for 7 – 12 years and are a great resource for the rest of the team to ask questions, bounce ideas off of and learn from. We've found that having these open lines of communication (even digitally) has been super important in the team's development.
What is your advice to Canadian business owners during the COVID-19 Pandemic?
It is a really tough time, but what is most important to keep in mind is that we will get through this. All businesses, big and small, have had to make changes to adapt to the current climate. This is a time for creativity, we need to look at new ways to support our businesses in innovative ways. It is important to be sensitive to everything going on and stay updated with accurate information, but people are also craving positivity. Look at how you can use your company's digital channels to reach your consumers, clients, and stakeholders in meaningful ways. This doesn't mean publishing content for the sake of it, but really honing in on what valuable information you can offer your audience at this time so that you can continue to instill confidence as a thought leader.