ROCCO ROSSI, President & CEO Ontario Chamber of Commerce (OCC)
"A successful entrepreneur and business executive, champion fundraiser, and dedicated public servant, Rocco Rossi joined the Ontario Chamber of Commerce (OCC) in 2018 as President and CEO.
Prior to joining the OCC, Rossi most recently served as President and CEO of Prostate Cancer Canada where he helped to advance the research, advocacy, education and awareness of the most common cancer in men.
Mr. Rossi also served as CEO of Heart and Stroke Foundation – one of Canada's largest non-profit organizations – overseeing consecutive years of record fundraising combining for over $600 million in total and launching many new, life-saving initiatives.
His passion for public policy has led him to stand for election both for the position of Mayor of Toronto and for MPP.
Mr. Rossi has held senior positions at the Boston Consulting Group, TORSTAR, Labatt/Interbrew and MGI Software. He is a graduate of McGill and Princeton.
Rossi currently serves as a member of the Board and Audit Committee of TerraVest Industries. A past board member of United Way of Greater Toronto and other charities, Mr. Rossi has been an active community builder. In fact, in 2012 he was awarded the Queen's Jubilee Medal for his Philanthropic and Community service.
A dedicated adventurer, Rocco has walked the legendary Camino de Santiago several times, cycled the 1900 km length of Yonge Street from Rainy River to Toronto, kayaked the 500 km from Toronto to Ottawa, and climbed to Everest Base Camp.
Mr. Rossi has a BA (Hons) in political science from McGill University and a Masters of Arts in politics from Princeton University. He is married to his wife of 30-years, Rhonnie, and they have a 28-year-old son, Domenic John, who is a teacher."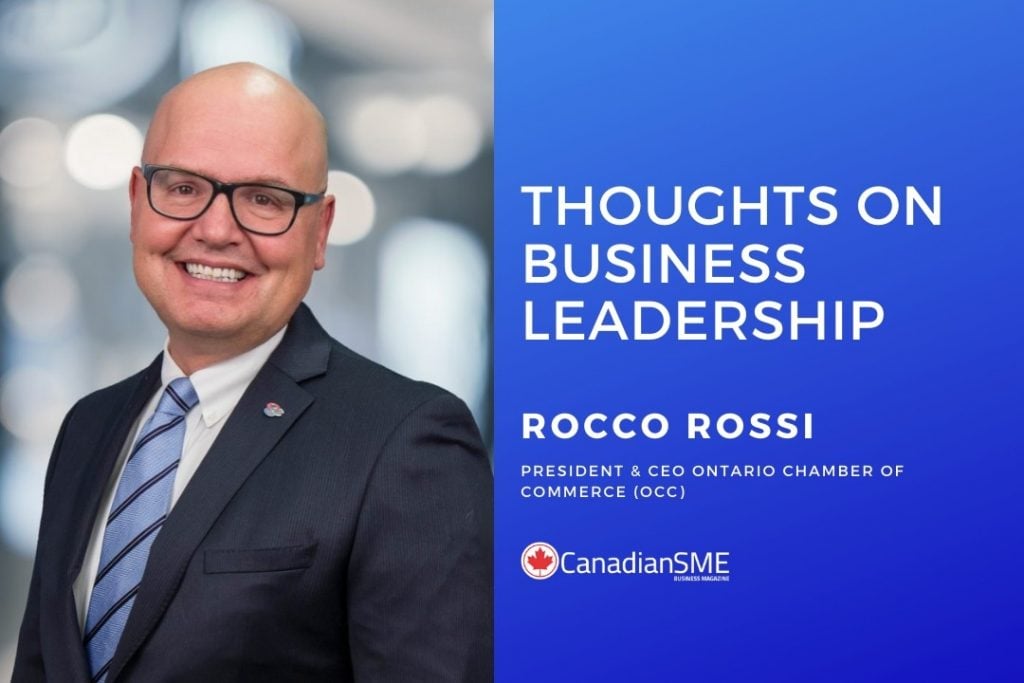 1. What is your definition of Leadership?
Leadership is all about helping your team achieve objectives they didn't think possible, by removing barriers both real and perceived in the mind of your team. A big way to get over the perceived obstacles is to create a vision that helps inspire the team to achieve those objectives.
---
2. What are the most important values and ethics you demonstrate as a leader?
Integrity, honesty, consistency, being approachable, walking the talk, and working as hard, if not harder than anyone on your team.
---
3. How do you encourage the development of your employees?
Three important ways to do that, the first is leading by example. You're always being watched, and people are learning from your example both good and bad every day. The second is providing resources so that your team members can take additional courses and do outside training to build self-development. Third, is understanding that you need ongoing coaching and mentorship. It's not enough to simply do a performance review once or twice a year, you need to be constantly celebrating successes and helping to overcome failures or obstacles along the way.
---
4. What is your advice to Canadian business owners during the COVID-19 Pandemic?
As my father taught me, leadership in easy times is easy. It's the tough times that test us, and this is precisely the time that we earn our position by keeping people focused on the key priorities, such as their health, public health, as well as our members, customers, sponsors and keeping people focused on their tasks in a time of enormous anxiety.
---
5. Final question, what steps are OCC, along with other chambers, taking to help Canadian businesses during this time?
One of the main steps that we have taken is acting as a hub for information, there is so much news and so many announcements. We and our colleagues have created toolkits, a website: https://occ.ca/covid19 and are using social media to provide up to the minute information to our members. We are reaching out to our members to get the best ideas, and the pain points so we can share our ongoing advocacy with the government. We are also celebrating and highlighting the amazing things that so many of our members are doing to help society confront the COVID-19 crisis. From converting manufacturing processes to producing PPE, sanitizers, and ventilators to help support our front-line health care workers. While this is a time of physical distancing, we need to virtually keep people socially connected while they're physically distant.