Jeff Dawley – President and Founder of Cybersecurity Compliance Corp.
In 2017, I found myself once again in the position of Chief Financial Officer taking on an IT department and looking for information on how to assess the department's performance, but more urgently in today's environment, our cybersecurity status.
After several months of research and seminars, it became clear to me that the market was inadvertently conspiring to prevent small businesses from having the ability to engage affordable, stage-appropriate cybersecurity help that would actually provide a full picture of our cybersecurity exposure.
Subsequent conversations with business executives, board members, and industry professionals confirmed that there are two particular barriers that make it difficult for small businesses to find a starting point when dealing with their own cybersecurity needs.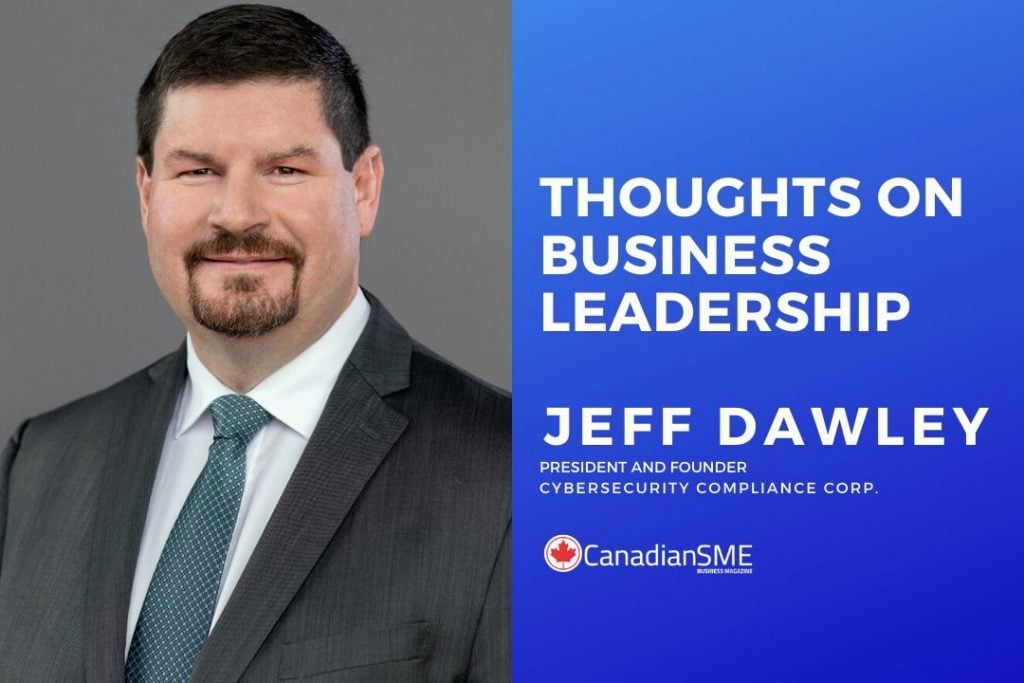 What is your definition of Leadership?
My definition of leadership consists of three key elements. Strategic vision. Leaders have the ability to learn from the past, evaluate the present and see future opportunities, creating innovative, strategic plans for their organizations. Inspiring communication. Leaders must be able to clearly articulate their plans and connect with a variety of audiences. Set an example. Leaders must represent their vision through action, demonstrating commitment, living their values and acting with the level of passion they want to see from their teams.
---
What are the most important values and ethics you demonstrate as a leader?
As a leader, I think it is important to set your values and act in accordance with those values on a consistent basis. First, respect for all stakeholders is a foundational building block for our values and ethics. Respect is the first step to empathizing with your stakeholders. The second value I try to demonstrate is courage. Leadership comes with ups and downs, with challenges and opportunities. Finding the courage to take risks, express and defend opinions and to take on actions that are outside of our comfort zone sets an example for everyone in the organization.
How do you encourage the development of your employees?
Throughout our organization, we encourage everyone to find their own answers to problems before providing coaching or support. We set the "what" and ask our teams to determine the "how" themselves. We also assemble project teams that are cross-functional, creating a learning environment across all aspects of our operations. Finally, we look to our functional experts to provide leadership in their area of expertise, both inside the organization and at events and conferences, online or in person. Encouraging our team to take the lead in their areas of expertise and following them helps us all learn and grow.
What is your advice to Canadian business owners during the COVID-19 Pandemic?
My advice to Canadian business owners during these uncertain times is to prioritize their families and their health first. Set a strong example by staying home and staying safe. I also believe it is critical to reach out to your team members, their families and your broader group of stakeholders to make sure they are safe and know there is a community around them that can help if needed. With respect to your business, create a daily cash forecast, pay attention to relief measures and changes to the laws and regulations related to your business, and look for opportunities to donate your time and resources in order to help others to the extent your financial health allows you to do so.