Tony Chapman is a top communication expert in Canada. He has been dubbed a Marketing Guru by the media, and he is an expert on how to establish brands, and sell strategically, and profitably in today's dynamic market. He has been at the forefront of pioneering modern sales marketing and sales approaches, such as social media, and many see him as a pathfinder for the strategies he has used to rethink how businesses communicate with their consumers and traverse the shifting terrain. Tony Chapman co-founded and sold two internationally recognized advertising firms, Capital C and Communique, as well as co-founded Fresh Intelligence. His agencies have earned over 100 national and international accolades, including the prestigious Agency of the Year.
---
A Brief about Tony Chapman
Tony Chapman's body of work includes being a strategic creator, idea developer, host, challenging debater, facilitator, as well as keynote speaker at conferences all over the world, in addition to his role as founder and CEO. He is a well-known radio and television commentator, with weekly appearances on radio and prime time television, and has been in documentaries on the BBC, CBC, and Australian television.
He lectures on a variety of topics, including corporate strategy, consumerism, politics, economics, as well as branding, marketing and sales, and he is provocative, passionate, relevant and opinionated. Tony is a mentor who shares his expertise with students and invests in the future generation of business success owners.
---
About Tony's Achievements
Tony Chapman draws on his thirty years of experience building award-winning strategies for clients all around the world and was instrumental in the development of campaigns such as Pepsi Pop Life, Land of Cadbury, PepsiCo Wal-Mart USA Growth Strategy, Kraft Hockeyville, Bridezilla, Sun Life Money for Life, Dove Sleepover for Self Esteem, and the Nissan Innovation Challenge.
Tony's agencies have earned more than 100 national and international accolades, including the prestigious Agency of the Year. He has worked with organizations in the public, corporate, and non-profit sectors both locally and abroad.
Tony Chapman is also one of the youngest inductees into Canada's Marketing Hall of Legends. His approach to audience involvement is featured in four separate television documentaries. He surrendered all of his assets years ago in order to freely express himself in the media to host and deliver motivational keynotes and conferences throughout the world.
Tony Chapman – A Man who Dons Numerous Hats!
Click To Tweet
The landscape of Tony's profession has altered multiple times over his career as a motivational keynote speaker and marketer. In this fast-paced climate, only the most versatile, adaptable and really innovative brands will survive and prosper, and Tony Chapman has established himself out and out as a man of many roles. Tony has successfully made a name for himself in this profession and business not only as an expert guide but also as a forerunner of effective communication.
He is a well-known contributor to national and worldwide debates on topics like business strategy, branding and marketing, and social media, thanks to his expertise and understanding. Tony actively creates opinion pieces and comments in the mainstream news when he is not working with clients or imparting his knowledge as an inspirational keynote speaker.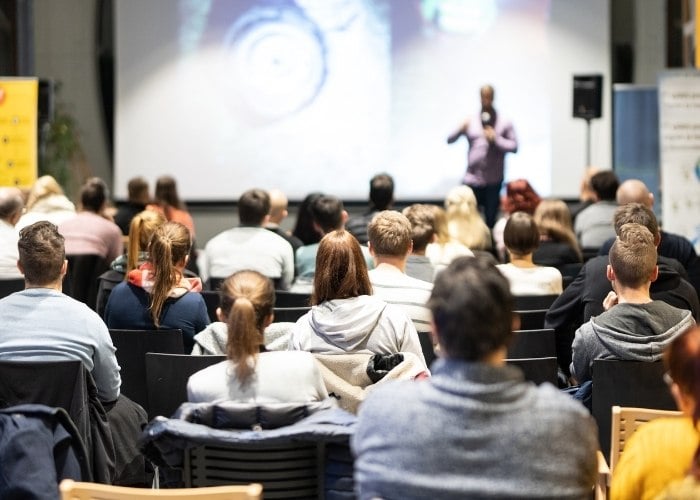 He speaks at conferences and panels and contributes to the body of knowledge in his field. Tony is the marketer who marketing consultants at Toronto look forward to and trust for innovative and sound industry analysis. He is capable of assisting organizations and individuals in accessing their resources and positioning themselves for growth. Using his skills to target certain audiences, Tony provides tailored and individualized lectures that inspire and encourage. Most importantly, his speeches provide audiences with tangible methods that they can instantly apply to their business and markets.
Today, Tony Chapman's LinkedIn blog receives more than 100,000 visits each week, and he can be seen on National Television, the Financial Post's Video Blog, and is heard on Bell Media Radio Stations on a weekly basis.
---
SUBSCRIBE NOW
Our content acknowledges the strength of the ardent entrepreneurs and their lifelong experiences of the marketplace that help them build successful business empires. Our belief in productive learning and providing inclusive content is why we have plans for a wide spectrum of activities that incorporate everything from reading to prolific networking.
Tony's Success Tips for Small Business Owners
Tony Chapman is of the view that small business owners, as well as budding entrepreneurs, should turn their vision into reality by working tirelessly on their goals while being resilient throughout their entrepreneurial journey. They should look back at the tough times they experienced and try to better themselves each day, being self-reliant.
Tony believes that the global pandemic has generated a lot of difficulties and eliminated the term 'normalcy' in people's lives, and business owners are no exception. But, he also believes that small business owners are going to earn their way through and they are going to turn their whispers into roars, thus he requests everyone to be resilient and determined, and should not give up and lose focus.
Well, you can hear Tony Chapman on Chatter That Matters hosted by him where he runs a podcast on small businesses. For information regarding the podcasts, you can visit this link and learn more.