We all know that a comfortable and welcoming atmosphere plays a massive role in overall productivity and mood, but did you know that a well-designed office space can affect the success of your business? Knowing how to properly decorate your office can have a huge impact on your business. You spend a third of your life at work and when in the office, you need to be productive, creative, and communicative. The design and decor of your office have a huge impact on the way you feel and think, as well as your employees.
Employers need to consider that millennials expect happiness at work and want experience, not just a monthly paycheck. Empowering your employees to design and decorate their office space can make them feel more satisfied at work. Not only does this create a better culture, but it also saves money because disgruntled employees are more likely to take sick leave and be less productive. A stylish environment full of life, color, and inspiration creates a happy and healthy work atmosphere for team members to grow.
Your office design should embody your organization's values ​​in a way that makes everyone feel good at work. As an employer, you can make a positive difference in your office space and make everyone happy. So, take a look at these innovative office decorating ideas to keep your team motivated, inspired, and productive every day.
What many people don't realize is that transforming a workplace doesn't require new furniture and major renovations. Even small steps to make your workplace more organized can help. We recommend you declutter your workspace.
You can simply begin with your desk. If a document from a month ago is on your desk, it's a sign of a problem. Tidying up your desk is like a breath of fresh air. Once all the clutter is gone, your productivity will improve. If your filing gets too difficult, consider purchasing a new paper storage box or filing cabinet.
If your office doesn't have enough light, and it remains dark, now it's time to change. Natural light brightens the workplace and motivates all employees. You can easily do this by installing large windows in your workspace. This may make the room appear larger than it really is. If you already have large windows, you should always close the blinds to let in the light.
Add Personality to Your Workspace
If your office has grey desks and white walls, it's never too late to make a change. You can simply do this by painting the walls in vibrant colors to give your room more personality, or by hanging wall art to add vibrant colors. You can also add plants to your workspace to make it look great. Plants can positively impact the environment and increase employee productivity. It will make your workplace stylish and comfortable.
Personalize Your Workspace
Personalizing and customizing your own workspace can help you feel more comfortable in your office, so you can be more productive. You can do this by installing a picture frame for all your loved ones. This can improve your connection to your workspace. Motivate and encourage your employees to do the same to get a home-like feeling at the office.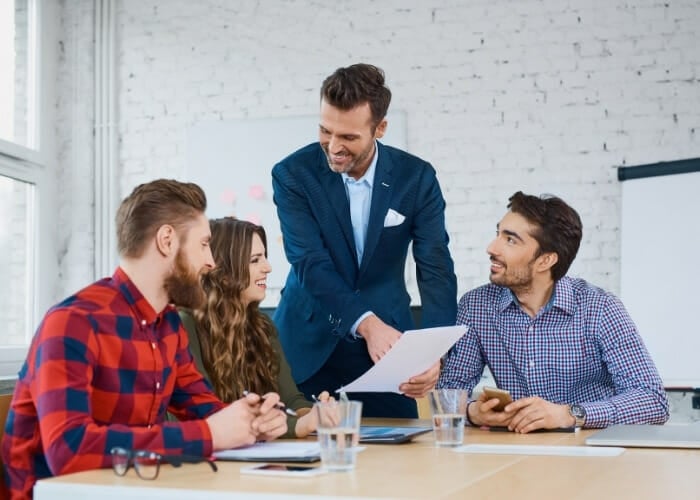 Opt for Supportive Flooring
You may have considered a conversion kit that changes your desk from a sitting to a standing position. Alternatively, there may be a fully adjustable pedestal table. But what about the surface under you? Anti-fatigue floor mats can provide support and reduce discomfort when standing at a desk. Available in a variety of sizes and materials, you can find the best fit for your office. Plush-lined carpets can also provide cushioning under your feet.
Furniture with clean lines and simple profiles while providing ample storage space contributes to ease of use and a way to curb clutter. This simplicity works especially well in small rooms, giving it a welcoming spacious feel without sacrificing productive workspace. Clean profile office furniture is equally effective in large spaces that can be expanded to meet workspace requirements and increase storage.
Wrapping Up
As you can see, there are many ways you can upgrade your work environment without burning a hole in your pocket. Just follow these above-mentioned simple steps to reduce stress and increase productivity.
For more similar information, subscribe to our monthly CanadianSME Small Business Magazine.