We had the pleasure of speaking with Mona-Lisa Prosper, Director of Futurpreneur's Black Entrepreneur Startup Program, who shared her insightful opinions on the most crucial details of black history that must be remembered to make Black History Month more meaningful for all those involved. She also discussed the biggest obstacle black entrepreneurs face when starting a business. Additionally, she spoke about the crucial improvements in view of the Black Entrepreneur Startup Program's second-anniversary celebrations, the positive results they have observed with program participants, and finally, the fascinating plans Futurpreneur has for the Black Entrepreneur Startup Program in the future.
Mona-Lisa is the Director of Futurpreneur's Black Entrepreneur Startup Program. A lawyer by trade, she also gained experience in entrepreneurship, human resources, and economic development through her diverse career. Very involved in her community, she served as the President of the Women's Young Chamber of Commerce of Québec for the past two years and continues to sit on multiple other boards. A proud ambassador of the importance of inclusive governance, she is also involved with different organizations promoting diversity, equity and inclusion. With a penchant for media and communications, she is a collaborator on the show "Zone Économie" on Radio-Canada, hosts the first ever Futurpreneur podcast, Startup + Prosper, and is a guest blogger for the Journal Les Affaires where she highlights entrepreneurs from diverse backgrounds in her French blog called "Diversité Prospère".
---
How can we ensure that Black History Month is more meaningful for everyone involved? What are the most important aspects of black history that need to be remembered?
There are so many things that have been left out of mainstream history books about Black history that it is hard to name just one! To my opinion, the key is to celebrate the impact that Black individuals have had in Canada and the world through time, all while recognizing the barriers that Black communities still face today. We should also take this time to assess and plan for how to continue working towards removing these systemic barriers. Lastly, the biggest mistake is to have a short-term approach to the initiative created. February is indeed Black History Month, but that does not mean that it's the "only" month where Black communities should be highlighted and thought about.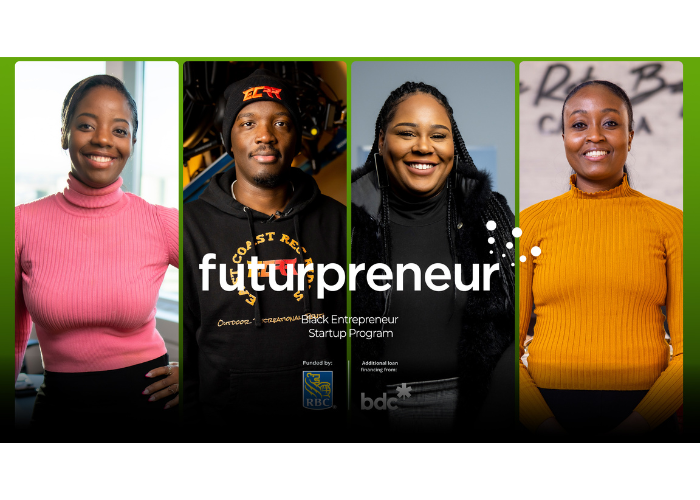 ---
What do you think is the biggest challenge facing black entrepreneurs when starting a business?
Lack of access to resources and networks, as well as a lack of business financial literacy. Too many Black entrepreneurs solely use personal finances to start their business and are unable to properly scale, but thankfully things are moving in the right direction! A very strong ecosystem for Black entrepreneurs is being built to specifically address these challenges. I am excited to see how things evolve within the next 5 years
---
Congrats on the Black Entrepreneur Startup program's 2nd anniversary! Can you tell us a bit about what the program entails and important updates?
Thank you! We are very excited to be celebrating our second year! The Black Entrepreneur Startup Program is a tailored version of our offering. We offer up to $60,000 of loan financing combined with mentorship for 2 years to young Black entrepreneurs aged between 18-39 all over Canada. After 2 years, they can come back to us to access up to $40,000 of follow-on financing, which is a first for Futurpreneur since we normally only help startups during their launch period. With the follow-on financing component, we are able to help young Black entrepreneurs scale and reach new heights. March 24th, 2023 will mark the start of the access to the additional financing, and we are excited to see how it goes.
---
How has the program progressed since it launched two years ago? What kind of success have you seen with participants in the Black Entrepreneur Startup Program?
Since year one, the program has been getting lots of traction and we have surpassed our projected numbers, which is amazing! During our first year alone, we helped 136 young Black entrepreneurs launch their businesses and this year we're on track to surpass that number, which is very promising. The continued success of this program validated its existence!
---
Can you share any exciting plans Futurpreneur has for the Black Entrepreneur Startup Program in the future?
We are committed to having a lasting impact on the entrepreneurs we help, so we are always looking to improve and add value to our programs. This year, we have extended our team to include a dedicated Programs Specialist to help develop and deliver training that will help more entrepreneurs succeed and receive a loan from us. This will also help create more networking opportunities for young Black entrepreneurs throughout Canada.