What Customers Will Need From Companies During (And After) COVID-19
As Canada slowly reopens major parts of its economy, the most common question small and medium-sized enterprises ask their customers — "How may I help you?" — is suddenly far more complex and difficult to answer.
Before the outbreak of COVID-19, helping customers was primarily about guiding them toward finding the products and services they wanted. More recently, as businesses became more geared toward developing stronger relationships with their customers, being helpful meant going a step further, and anticipating their needs.
Today, and for some time to come, the definition of "helpful" need to transform once again.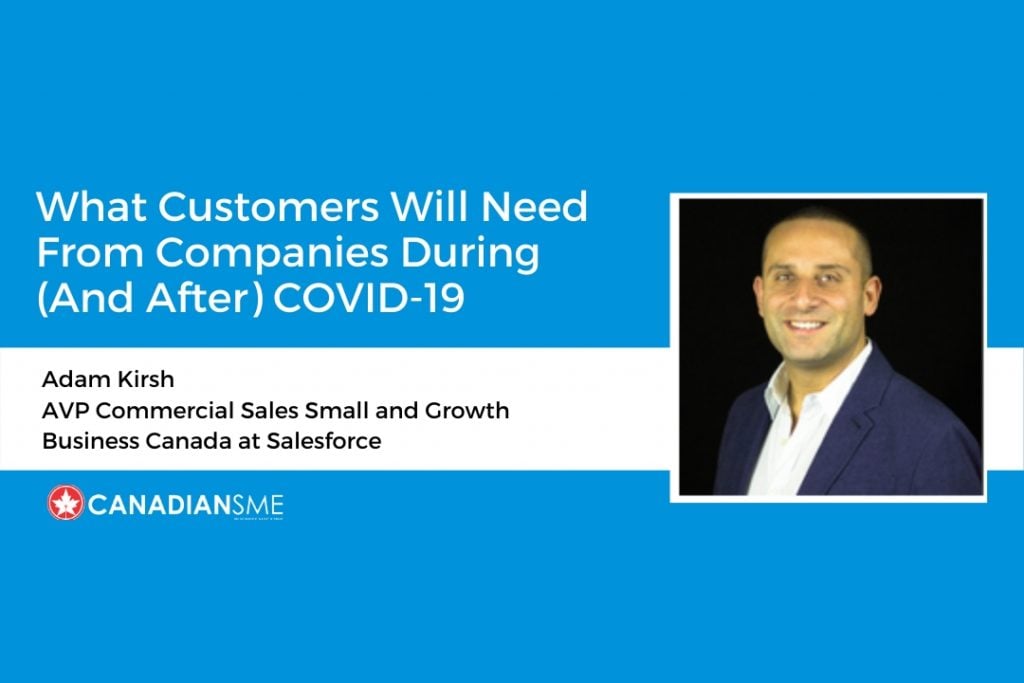 Customers will be returning to the public sphere having had their normal routine disrupted in a way that would have been almost unimaginable beforehand. Even as businesses reopen, guidelines around physical distancing and new standards of hygiene will change the customer experiences they might have come to expect.
Although it's no doubt a relief for many SMEs to go back to doing what they do best, this is a moment to consider how they could raise the bar and do even better — reimagining the customer experience based on the challenges that may continue amid recovery.
Some elements of these experiences will be unique to the SME in question, but here are a few ideas that will likely equal "helpful" to most customers:
Be A Voice Of Ongoing Reassurance Amid Uncertainty
Many firms put signs on their storefronts and notices on their websites that they were temporarily closed when the pandemic began. Some sent out an email message early on pledging to "be there" for customers in some form or another. Now is the time to prove that you meant it.
It may not be possible to alleviate customers' individual concerns or fears, but ensuring you are present and available to answer questions or provide support can do a lot to reinforce the strength of a relationship.
That means being active and responsive on whatever channels customers are most likely to use, from phone lines in contact centres to social media, email and text. "Omnichannel" was never meant to simply be about marketing and selling: it was supposed to be an approach that met customers wherever they are. That's especially critical now.
Make The Return To Normalcy As Realistic As Possible
As plexiglass screens and stickers on the floor asking people to line up two metres apart go up in some workplaces, "business as usual" may seem like an oxymoron. Customers will likely prove resilient and capable of adjusting to necessary changes, but SMEs can play a huge role in helping prepare them.
Long before the Coronavirus emerged, it was quickly becoming the best practice to treat customer service as a way of getting ahead of problems, rather than operating in a reactive way. The technology is here today to let SMEs empower their customer service teams — even if they're working remotely — to reach out to customers who may need to know about new or different ways they'll search for, pay for and receive the products and services they want.
Put yourself in the customer's shoes as early as possible to think through the places where friction might have been introduced as part of the effort to create a safe environment or process. How can you inform them and make them comfortable in advance so that it feels as "normal" as possible?
Negotiate Short-Term Relief To Provide Financial Stability
The near-universal impact of the pandemic on businesses in almost every sector has led many lenders to consider deferred payments or new terms and conditions to existing arrangements that will be in the long-term interests of all parties.
If you haven't already, begin that conversation with your financial institution or other third parties, given that the recovery may have some bumps and take longer than we'd like.
Engage With Empathy
When workers were sheltering-in-place, many leaders realized they had to connect with their team in a way that expressed the most human-centred approach to management possible. Customers will need the same thing.
You may not be able to "check-in" with customers to the same degree as your employees, or watch for cues like body language on a video conferencing call. You can, however, be ready to actively listen — not just to make a sale, but to remind customers that what's happening is a shared experience. Doing so builds rapport, and can be the first step in turning conversations towards a more optimistic, positive outlook.
The phrase "We're all in this together" has become a common refrain throughout the crisis, but customers probably associated it more with their friends and family than with companies. The most successful SMEs, however, are always in the relationship business, and the way they respond now will help determine how well we get out of this together, too.