Did you know that a report by the Canadian Mental Health Association (CMHA) and Business Development Bank of Canada (BDC) stated that 62% of business owners feel anxious and depressed at least once a week? And when it comes to poor mental health amongst entrepreneurs, the percentage is a lot higher in the US. Mental health plays an imperative role in the overall growth of a person. And workplace well-being is not only about being fit physically but also a lot about feeling good emotionally. It's more of a holistic approach towards being perfectly fine inside out.
After more than a year of lockdowns, quarantines, and loss of loved ones clubbed with economic uncertainties, it's essential for the companies to support the mental health of all the employees. Anxiety, stress, and fear can appear anytime. But in light of the pandemic, the worries have escalated to a higher level. For small business owners, who do not have the right budget to provide expensive therapies for the employees, the situation might feel despairing. However, there is a lot that even a small business can do to support their employees mentally.
Here we will learn about a few very creative ways to help your employees fight mental issues so that they can be their best version at work, always.
1. Create an Accepting Work Culture
The first thing which small business owners need to do is normalize mental health at the workplace. Being vulnerable to their employees' mental well-being is imperative for a more inclusive workplace ethic. The pandemic has taught us how uncertain life could be. And it has affected almost everyone in some way or the other. So, being honest about what everyone is feeling inside their head could be the first step towards having an accepting work culture. Even the Harvard Business Review's work report on Mental Health, 2019 derives that having an open and compliant work culture is what the employees wish for. Simply put, it is important for your employees to feel safe and comfortable going to you or their supervisor to talk about their mental struggles. They should be made aware of the fact that they can always reach out to you or someone else to just talk it out without getting judged.
2. Model Healthy Work Behaviors
Don't just say that you are aware of mental health issues at work. Try to follow the same and model it through your and your team's behavior. This will allow your employees to feel that they can always prioritize their mental health even inside the office. This is important for you too, as the manager or the owner, as most of the time, you forget to take care of yourselves. Prioritize a staycation, go for walks in between, take a therapy session (if required), and talk about these openly at the workplace.
3. Offer Flexible Work Options
All thanks to the pandemic, we now have the option to work remotely. However, it is essential for employers to have full trust in their employees even when they are working from a different location. For a lot of remote workers with children, working on a set period of time might be a little difficult. So, it's on you to offer them flexibility in scheduling their work as per their feasibility. This will result in better productivity as they will be able to plan their work during the times of least interruption. This will, in no way, mean that you'll have to lower your standards of work. If you can empower your team members to set their own work schedules, you will allow them to work more efficiently. This will make them feel more confident about their work and they will be less stressed about the whole thing.
4. Make a Mandatory Vacation Policy
Having a mandatory vacation policy will allow your employees to take a break from work no matter what. You can create a few set vacation days a year when the employees will have to go on a holiday or spend time with their loved ones the way they wish to. It could be a week off or more than that, depending upon your work schedules. And this can have an amazing result in your overall work culture. When your employees come back from the vacation, they will be better renewed mentally and will have a healthy sense of purpose at work. Why is this necessary? Well, even though attending the office is important, a lot of the job can be done over the phone. So, even if they are on leave physically, they might have a hard time coping with work as they will be reached out on phone. So, when you have a mandatory leave policy, they will know that they can simply put down their phones and have fun.
5. Stay Connected in a Fun Way
Feeling connected with your coworkers can immensely boost both mental and physical health. It's just as important as maintaining a healthy relationship with friends and family. Work and family are intertwined and managers should always look out for ways to bond well with the employees even at work. How to do that? Well, you can fix 1:1 meetings every week with each one of them. Or you can maintain a greet session every day where each one of them will have to greet their fellow workers with handmade cards, and so on. These simple activities can foster a sense of community and connectivity.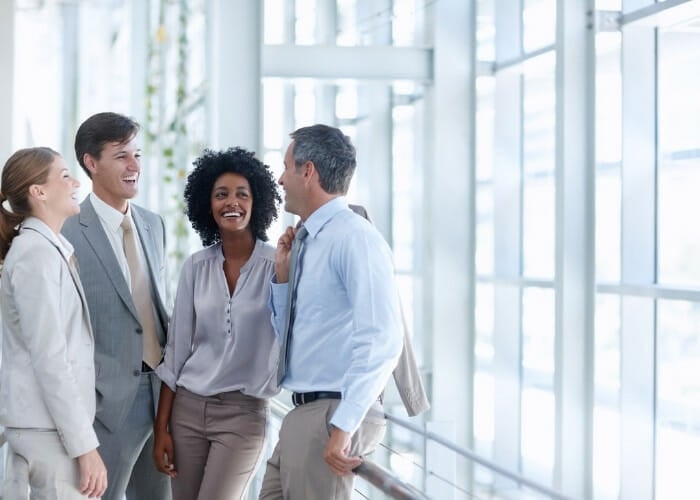 Wrapping it up,
The last year and a half have induced the feeling of anxiousness in almost all of us. It has always made us more aware of how important mental health is. Losing loved ones or seeing so much despair everywhere isn't an easy thing to fathom. Hence, apart from maintaining physical hygiene, it's super important to take care of one's emotional hygiene as well. And prioritizing workplace wellness is the first step towards building a positive and inclusive working community.
To know more about such tips for maintaining a healthy work-life balance, do not forget to subscribe to the CanadianSME Small Business Magazine.