When it comes to e-commerce and the small to medium-sized business (SMB) sector, technology has leveled the playing field between giant conglomerates and smaller-sized companies by enabling SMBs to close geographic gaps and sell products to customers the world over.
Technology and e-commerce also kept many small businesses afloat during the COVID-19 pandemic, acting as their lifeline when physical businesses had to close their doors. It brought automation to shipping, accounting, and billing, as well as streamlined customer support. So, it should be no surprise that online sales in Canada increased by a whopping 110 per cent during the second quarter of 2020 when the pandemic was in full swing, and expectations are that this year alone, the volume of e-commerce in Canada will surpass $90 billion.
SME businesses that want to take a bigger bite of this massive market should consider enhancing their digital transformation to remain competitive and efficient. They can achieve that by using smart tools and solutions that leverage Artificial Intelligence (AI) to enable better business decisions and outcomes.
As you probably know or already heard, buzzwords like ChatGPT and Bard have quickly become household names by bringing the power of AI to the masses. But AI-powered solutions have long been available almost "off-the-shelf" to retailers and small businesses and make a huge difference in e-commerce operations, reflecting more than 100 solutions available by Intel and its eco-system partners. From enhanced and tailored customer experiences to demand forecasting and inventory management, AI-powered solutions are at the fingertips of businesses of all sizes – including yours.
---
Tailored, Personal Customer Experience
Whether you're a small boutique owner or run a chain of stores, you still have something in common with the large multinationals: you both work hard to create shopping experiences that are convenient, personalized, and enjoyable. Excellence in shopping experience hinges on three elements: customers should be able to quickly find what they're looking for, get help when they need it, and check out fast. AI streamlines these elements to create more satisfying customer experiences.
For example, a Point-of-Sale system that captures data about purchases uses AI that can be used to generate new product recommendations for a given customer based on their most recent transaction or matched to complementing purchases made by other customers with similar profiles. Additionally, digital signage embedded with computer vision, like smart cameras and AI-powered vision analysis, can measure customer engagement and serve up real-time advertising by tailoring promotions and additional product offerings on the spot. This leads to more accurate segmentation and experiences that are informed by consumer patterns and preferences.
Similarly, and especially in a post pandemic era, shoppers may be concerned about picking up germs from self-ordering/self check-out stations. But what if they could fill orders and check out without touching anything? Computer vision makes it possible to accurately decipher customer's hand gestures and "see" items in a customer's cart without the need for any physical contact.
From customer's fingertip (also known as Edge) to the Cloud, AI delivers more opportunities to personalize experiences. This enables business owners to make better decisions and leads to more accurate segmentation and experiences that are tailored to a customer's patterns and preferences.
---
Demand Forecasting and Merchandising
By the same token, the more you understand customer behaviours and trends, the better you can meet demand and present the best possible products. Against a backdrop of global supply chain challenges, AI is also helping businesses improve demand forecasting, make pricing decisions, and optimize product placement.
Predictive analytics can help you order the right amount of stock so that your real or virtual shelves won't end up with too much or too little. AI can also track data from online channels, informing better e-commerce strategies. New types of AI at the retail edge can help recognize customer intent and optimize the shopper's journey accordingly. One example is heat-mapping in the store. The combination of cameras and computer vision reveals which products are picked up, which are returned, and where the customer goes after leaving the shelf.
Similar behaviours can be tracked online based on how long a customer spends viewing a product and the webpages they visited before and after. Businesses can use this intelligence to create experiences that promote better engagement with products.
In-depth analysis of poor sales performance is as important as hero product sales analysis. By combining vision analytics with transaction data, more complete insights are gained into sales performance during periods of both high and low physical and virtual traffic.
---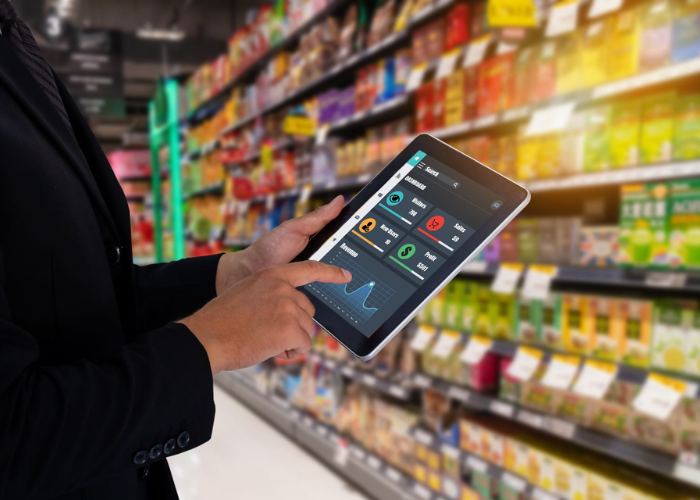 Automated Inventory Management
Maintaining an accurate inventory is a major challenge for all businesses, regardless of their size. By connecting more parts of their operations with AI solutions, a comprehensive view of stores, customers, and products is invaluable for inventory management.
Another type of AI inventory management uses smart shelves to quickly identify out-of-stock items and pricing errors. The system can alert staff to low stock or misplaced items for more-up-to-date inventories, and computer vision‒enabled checkout systems can help mitigate product loss in real time. As a result, retailers can run their businesses more efficiently and free up associates' time to focus on improving the shopping experience.
Intel's responsive retail and e-commerce technologies make it possible to collect and process data from sensors, cameras, and other sources. Designed to bridge islands of technology and eliminate data silos, the Intel platform supports a variety of third-party solutions.
To learn more about retail and e-commerce solutions from Intel and its partners, visit Intel® Solutions Marketplace.
Phil Vokins is the Director of Channels, ISVs and Cloud at Intel Canada. He can be reached at https://www.linkedin.com/in/philvokins/.