As the Chief Executive Officer at Peninsula Canada, Tony Rosati is responsible for the national operations of the company. He brings more than 20 years of experience to the role. Tony is a guiding force in providing outstanding client service, driving profitable results, and growing the company to new heights.
Tony is a champion of small businesses across Canada. He understands they are not only job creators and the employers of many Canadians but that small businesses are the backbone of the economy. He firmly believes that giving them the support they need to grow is critical to ensuring a better future for all Canadians. Whether it's to navigate ever-changing legislation or setting up policies that will keep their staff safe and help them succeed, Tony is driven every day to help them grow. This drive and vision to help small business owners are why he is the perfect leader for Peninsula and has led to new growth across the country.
Could you tell us a little bit about Peninsula Canada? What is your vision for the company, and how do you plan on achieving it?
Peninsula Canada is a leading human resource (HR) and occupational health & safety (OHS) firm. We are committed to helping Canadian business owners simplify their HR and OHS to ensure they stay compliant with ever-changing legislation. We launched in Canada in 2017 and are helping 5000 business owners save time & money across five provinces while letting them focus on what they're best at—running and growing their businesses.
My vision for Peninsula Canada is to expand into every corner of the country. Small businesses are the backbone of the economy—they are the majority employers of Canadians, and their entrepreneurial spirit drives innovation in a country. But they aren't experts on the details of provincial legislation or OHS. Peninsula helps them achieve their goals by taking care of all the small stuff so they can focus on the bigger picture. No one succeeds alone, and Peninsula is the support system business owners need to put their time into what matters.
My plan for achieving this is to expand across the country. As we build the expertise in-house to manage each province's employment legislation, we will expand into every province to provide the support business owners need. We are always hiring the best talent, from HR advisors to business support personnel, to help us reach every business owner in Canada.
---
Do you believe that leadership is a skill that can be learned or is it something that people are born with?
I think it's a mixture. Some people are born with charisma and empathy to help those around them. That is what leadership is, organizing people to achieve a goal. These natural traits need to be refined with training and learning. I'm still learning what it takes to be a good leader. And not just from my own staff, on whose expertise I lean, but from my kids, their sports coaches. It's a continual process, and I'm lucky to be able to learn from people like Peter Done and Allan & David Price, owners and managing directors of a global company for over 40 years.
---
What do you think are the unique challenges facing small businesses in Canada? Do you think there is enough support for SMBs in Canada? Why or why not?
Top of mind is the current rate of inflation. This impacts their bottom lines directly, from product costs and rising salaries to lower consumer spending. This is exacerbated by the employment standards in each province and the federal set of rules above those. Navigating these regulations is challenging for any one person—it takes a team of experts to understand how it all works together so you can run a successful organization.
I also don't think there is enough support for SMBs in Canada. I won't discount there is support, government grants, programs to digitize and such. But the bigger issue is that business owners are overworked, stressed, and usually underpaid. Most SMBS put their profits back into their businesses instead of their own pockets. They're working 60+ hours a week and time is their most valuable commodity, and it's non-renewable. Peninsula prides itself on saving them time. Every hour they don't spend on paperwork, HR, or OHS is time they can put back into their business or use it to rest.
---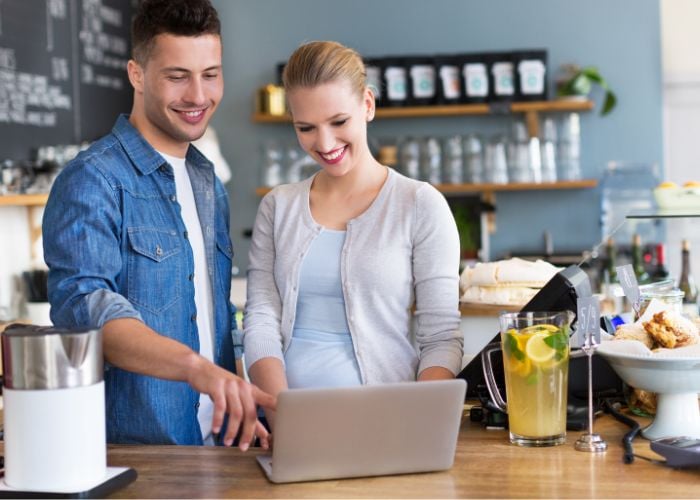 What do you think are the best ways to support small businesses to grow? Can you tell us a little bit about your experience working with SMBs?
The best way to support any small business is to give them the time to focus on growth. Small business owners don't have time to think of new strategies or service offerings when they're under a mountain of paperwork. Having the time to plan, prepare, and execute is critical to success.
My own experience working with SMBs stretches over 20 years. I'm really proud to have been able to make a career out of helping Canada's entrepreneurs. The everyday struggles business owners face are something I deal with at work and at home. When I'm not keeping my team focused on improving the working experience of Peninsula's clients, I'm lending advice to the business owners I personally know to help them.
---
What would be your advice for aspiring leaders out there?
I have three simple pieces of advice for any aspiring leaders out there:
Learn and absorb as much as you can. Whatever your role, whether you're selling a service or starting a new job, you need to go 100% into it and become the subject matter expert. Learn everything you can, even if it seems trite. It WILL come in handy one day.
Ask questions. People have solved every problem you'll face; ask and find those solutions.
Find mentors. Having access to mentors with whom you can bounce ideas, both for your professional and personal life, is important. In the last 15 years, I've made myself available for mentorship and coaching to help young leaders reach their goals.