Creative Director at Daughter Creative
In our insightful interview with Keli Pollock, Creative Director of Daughter Creative, we discussed her role within the company and her thoughts on Daughter Creative's recent achievement of being ranked 66th on the Institute of Canadian Agencies Creative Power List for the first time. Keli highlighted the importance of creativity in today's corporate landscape and elaborated on the dynamic nature of the creative industry. She also shared how Daughter Creative has successfully adapted to evolving client needs and industry trends over the years. Looking ahead, Keli offered her vision for the future of Daughter Creative and the strategies that will foster the company's growth and success in the years to come.
Keli is a traditional art director by trade but her skill set doesn't begin and end with the stroke of a keyboard. Born in Medicine Hat, Keli has spent most of her career working on some of Calgary's biggest brands, including WestJet, TELUS, The Calgary Stampede, Shaw, TransAlta, Calgary Co-op, and Bow Valley College. Away from the screen is where Keli gets to truly embrace craft. Pottery, photography, and most recently painting, keep her inspired. Her resume features a who's who of agencies and accolades to fill many a trophy case. Partnered with Stephanie, Keli is an active creative as well as a CD, concepting and developing work for Arts Commons, TransAlta, Calgary Co-op, and more. Keli also has a strong background in photo and video production.
---
When did you start your career? And what is your role as the Creative Director of Daughter Creative?
I started my career in 1992. As a Creative Director, my role is multi-faceted. A lot of it is envisioning what a successful outcome looks like on any given project. There are always many variables— the client, budget and timeline — my role is to get the best work possible produced. Sometimes that means I'm designing, sometimes I'm just making sure the right people are in the right room, and sometimes it's ensuring we have the right strategy in place or reading the clients' needs. It's a combination of artistic vision and experience that allows me to steward teams to a successful outcome.
---
What do you have to say about Daughter Creative's recent announcement that it has been ranked 66 on the Institute of Canadian Agencies Creative Power List for the first time?
We're obviously thrilled; it's an impressive list to be on. One of the most exciting parts of this is the other Calgary agencies that are on the list with us (shoutout to Bamff in particular). There is so much incredible talent in Calgary, and seeing the new entrants on the list is indicative to me of the bright creative future our city has in store. Our city doesn't have a reputation for being a creative hub, but it unequivocally is. The more that reputation is cemented, the more our community thrives — being on this list signals that.
---
What role does creativity play in the current corporate environment? How are smaller firms, such as Daughter Creative, particularly situated to present creative solutions that larger firms might overlook?
Creativity is everything for brands right now — and it doesn't matter if you're a B2C or B2B. The role of brand matters; the companies that see that and invest are the ones that will win the future. We're a small agency, but we're a relatively large creative team with a very specific area of expertise. For businesses that understand the outsized power of a brand and how it can supercharge growth, we're a great fit — we deliver work on par with the largest, most elite design firms without the layers of overhead to pay for.
---
What is the evolving nature of the creative industry? How Daughter Creative has adapted to changing client needs and industry trends over the years?
Everything and nothing has changed, which is an opaque answer, but I'll elaborate. Brand is still about creating emotion and meaning. That will never change, but the channels and the speed at which that emotion and meaning need to be conveyed have accelerated. The essential nature of what we do has not changed, but we've had to adapt and create more content more quickly.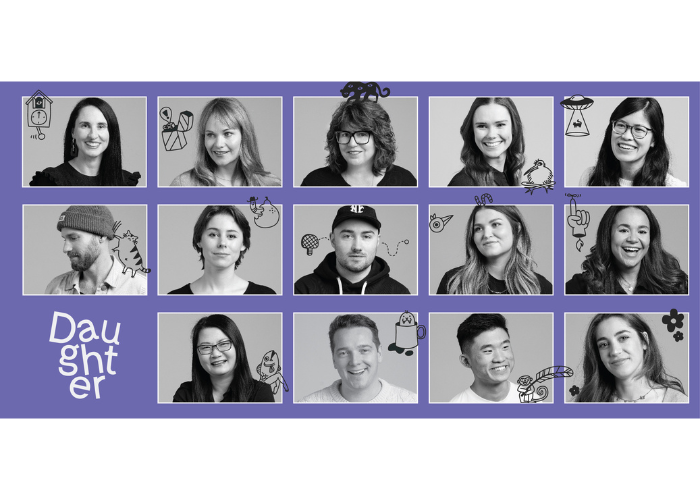 ---
What do you think the Calgary creative scene is like? And how does Daughter Creative fit in with other illustrious firms like Bamff, Believeco, McCann, and Critical Mass?
We all have different areas of expertise, and we all know the types of clients our agencies are a fit for. Someone like Critical Mass isn't set up to swing at a local brewery, where you can see Bamff just knock that out of the park. No one but Critical Mass can serve the digital needs of blue-chip clients. We've focused on branding and brand advertising, and that's a niche we've excelled at. For McCann, bigger corporate clients that need a high level of service are a great fit. We could spend time seeing each other as the competition, but we think that'd be missing the point — we need to work together to establish Calgary as the creative hub it already is.
---
What are the challenges of operating a small agency in a competitive market? How has Daughter Creative overcome these obstacles by prioritizing collaboration, relationship building, and exceptional client service?
We don't see our clients as our clients. It's our clients' clients that we need to connect with. This comes back to having empathy for our ultimate audience. It's not about selling to the people across the boardroom table; it's about delighting the people that keep our clients in business. This is the heart of exceptional client service — building alignment around a shared goal. It's not about liking each other, although we usually really love all of our clients; it's about finding a shared definition of the problem and then being uncompromising as we work together to solve it.
---
What does Daughter Creative's future have in store, and how will the company develop and flourish as an organization in the years to come?
The north star for the agency has not changed since its inception. We want to put great creative out into the world on behalf of our clients. We're going to continue to strive for that while building the creative community around us. We're launching a non-profit later this year whose main mandate will be to support Calgary's creative community.