The fashion sector has seen a major shift toward sustainability in recent years. Still, careful consumption has been a part of the spirit of a Toronto-based jewelry brand, CUCHARA, since its inception. Edilou Canedo, in 2014, made her first jewelry piece, a necklace using materials from an old silver spoon from her collection, and the robust brand came into being.
---
A Brief about Edilou Canedo
Edilou was raised in Victoria B.C. Canada, and shifted to Toronto to study fashion at George Brown College. The two different environments – the easy-going, nature-packed island and the diverse, crowded city, provided Edi with a one-of-a-kind lens to get creative.
Edi's extensive conflicts have resulted in a clever and sophisticated design style, born left-handed but forced to transform into right-handed. She is inspired by the city, beach, the '90s (grunge, hip-hop, and punk) and everything the earth offers to the being.
Edi's career has come together organically. She foresaw this and also anticipated her path would lead to where she is right now would not be true. After earning her bachelor's degree from the University of Victoria, she studied fashion and moved to Toronto, where Edi completed the Fashion Techniques and Design Program from George Brown College.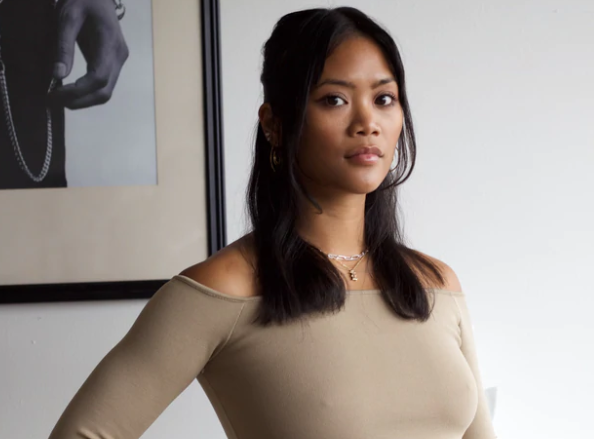 Her passion project – Cuchara, became a tangible and real business after she realized that jewelry and accessories are the things and the sector she was the most passionate about. After years of a part-time job in hospitality, Cuchara has been Edi's permanent job, and she is very lucky to have been doing it and knows that her jewelry has the power to bring joy to people.
---
Edilou Canedo – A 'Jewel' of an Entrepreneur to Watch
Click To Tweet
Edilou Canedo, a creative and innovative person, loves fashion, thrift, sewing, and accessories. After completing her graduation from Uvic, she took a six-month trip to Southeast Asia. She met a lady who was a textile designer. Little did she know that her career and story motivated her to pursue her creative career.
Cuchara's beginnings started in 2010 when Edilou and a friend of hers created necklaces from collector's old silver spoons, thus the label's name. Her brand has evolved to include heavy chains, rare gemstones, matte and bright pearls. Her jewelry can be defined as playful and edgy. Every piece of jewelry is exclusively handmade to bring originality and flair to the wearer.
---
A Few Lines about Cuchara
Jewelry has always been an essential part of human life. Long before necklaces, rings, and bracelets were fashion accessories, jewelry was worn to symbolize various aspects of wisdom, life security, social status, wealth, etc. And since jewelry is more accessible than ever, CUCHARA brings meaning to each of its pieces by creating jewelry that's not only made with care and love but also designed with its ethical responsibility to Mother Earth at the vanguard.
They are very committed to their brand identity and want their customers to feel a part of their journey. They don't claim to be fashion designers or marketers who know everything. They continuously learn from their peers along with trials and errors. Cuchara only releases something that they as consumers, would be attracted to, so they don't make things just because it is the market trend or because everyone else is wearing it. If people browse the extensive collection, they will find everything from delicate necklaces to chunky rings; all pieces are handcrafted, one-of-a-kind, and never produced in masses.
Recently, Cuchara has updated and revisited its 'Brand Board', a mood board consisting of texts, images, and colours. This made them reflect on their core values while modernizing their aesthetic.
---
Edilou's Pieces of Advice to Young Girls
Edilou Canedo wants young girls to work hard since she finds many young girls today have a laid-back attitude and want to get results without putting in the kind of effort needed to achieve goals. They need to be prepared to lose sleep and get uncomfortable to achieve their goals efficiently.
Also, Edi wants young girls to learn the ins and outs of the industry they want to be a part of. Then, they should figure out their weaknesses and strengths and surround themselves with people who have the power to bring the best version of themselves.
For more information regarding Edilou Canedo and her brand, Cuchara, you can simply scroll through their official website and learn more.
For more information on amazing women entrepreneurs in Canada, subscribe to our monthly CanadianSME Small Business magazine.