In 2010, Kirk co-founded Wave and has since guided the company to 400,000 active small businesses registered 260+ people on the Wave team and over $100 million in funding raised from investors around the world. In 2019, he and wave were named Most Admired CEO and Most Admired Corporate Culture by Waterstone. The wave was acquired in June 2019 by H&R Block for over $537M – the 7th largest tech exit in Canada since 2001. Under Kirk, Wave has won numerous awards for leadership, culture, and innovation, including the Deloitte Fast 50, the KPMG Fintech 100, and Great Place to Work Canada. In addition, Kirk has served as an advisor to the Next 36 and provides mentorship to young entrepreneurs and startup visionaries.
---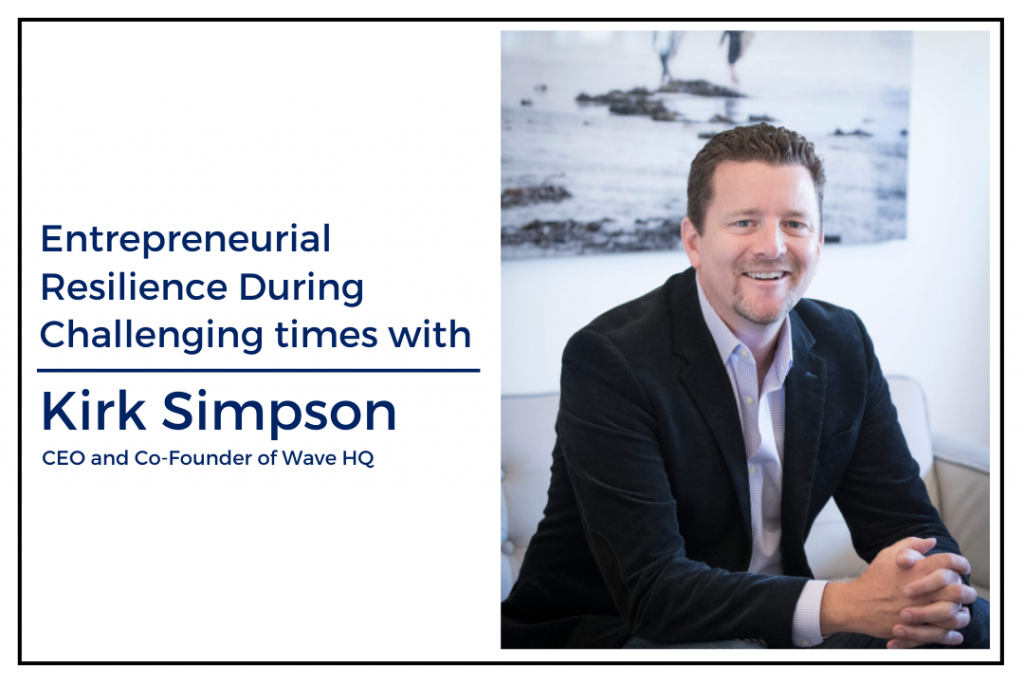 Recently Wave financial announced their new product, Wave Money; can you share a few details about Wave Money with our audience?
Wave money is a no-fee small business bank account that's been built for small business owners. The benefits are no fees, as well as instant access to your money, so if you're using Wave for invoicing and payments, as soon as your customers pay you through Wave Payments, you can get those funds instantly available through your Wave Money business bank account. It seamlessly integrates into Wave accounting so small business owners can spend on the business card, take a picture of the receipt, categorize the transaction, and be done with that transaction all the way through bookkeeping and into tax. It streamlines and simplifies those tasks for small businesses so they can stop having to do the monotony of recording keeping and bank record conciliation and get back to running their business.
---
As an entrepreneur, can you share a few challenges that you faced and how you overcame those challenges?
I, very much like a lot of small business owners, really despise everything that has to do with accounting, bookkeeping, and tax. It is not something that most entrepreneurs are passionate about, and it wasn't something I was passionate about. Therefore, the reason for starting Wave was to remove those obstacles so small businesses like me could continue to do what they are passionate about. All of the back-office tasks get in the way and make owning a small business complex, scary and difficult and Wave aims to clear as much of that as possible.
The other thing is COVID has a huge impact on small businesses in our communities. We and many other software and service providers need to be doing as much as we can to support small businesses during this challenging time. Small businesses are so important to our overall economic growth and are very important to the strength of our overall communities.
---
What initiatives is wave financial implementation to help small businesses during these challenging times?
We are lucky that our core software is given to small business owners for free and we have no plans on changing that. We offer award-winning invoicing and accounting tools for free so that small business owners can take better control of their books and be ready for tax, bookkeeping, etc.
Secondly, we've been incredibly responsive to our payroll products in ensuring all of our government programs and subsidies were put into our payroll as quickly as possible so we can save small business owners money and help them access government funds.
Third, we offer some of our payment products for reduced fees so that we can help with cash flow and help them get paid faster.
---
Given the current situation, how can businesses smooth the transition of reopening their business in the coming weeks or months?
The government authorities influence and set direction on what small business owners should be doing in each of their communities. I would say that now is the time to – as much as possible – continue to innovate with different ways of serving customers. Customer habits and expectations have changed during COVID, so being as responsive as you can to the changing landscape and to what your customers need is more important than ever. A lot of the digital tools allow small business owners to be more flexible and that's really important right now.
---
What is your key advice to small business owners running their business smoothly during these challenging times?
I would be as innovative as possible. I would understand customer behavior and how it has been changing. I would be as prudent as possible around cash flow management and ensuring you've got as much as you humanly can of capital required to manage through these difficult times. And the last piece of advice is to make sure you go easy on yourself and your employees. It is a challenging time for all of us and we all need to be a little bit easier on ourselves through this process. We will get through it, but we need to be patient through the process and understand that there will be a light at the end of the tunnel.