Recently, CanadianSME had the chance to sit down with Jesse and Tamara, co-founders of Everlasting Candle Co., who discussed how their family's invention is providing a way for people to connect and share a love for entrepreneurship and home décor with an ever-growing demand for clean burning products, the significance of having candles that go well with a variety of personalities and interior design themes, the challenges they overcame on their path to entrepreneurship, and future goals of Everlasting Candle Company.
---
When did you begin your entrepreneurial journey? What motivated you to start Everlasting Candle Co.?
Jesse and I began our entrepreneurial journey in 2019 after moving to Canada and frequently hosting dinner parties with friends. We wanted to enhance the dining experience with candlelight but were unsatisfied with the short lifespan and messiness of wax candles, including the smoke and soot they produced. This inspired us to design and develop a reusable oil-burning candle made of steel, which became an instant hit with our guests. The positive feedback and interest from our friends gave us the momentum to launch Everlasting Candle Co. and bring our innovative product to the market.
---
How is this family invention offering a method to connect and share a love for entrepreneurship and home decor with an ever-growing demand for clean burning products?
In terms of entrepreneurship, our invention has allowed us to share our passion for design and sustainability with a wider audience, creating a business that reflects our values and beliefs. We believe that by providing a product that is both aesthetically beautiful and eco-friendly, we are offering a solution that meets an ever-growing demand for clean burning products. We hope that our commitment to sustainability and customer satisfaction will continue to set us apart in the candle industry and inspire others to embrace more sustainability and innovative practices in their own businesses.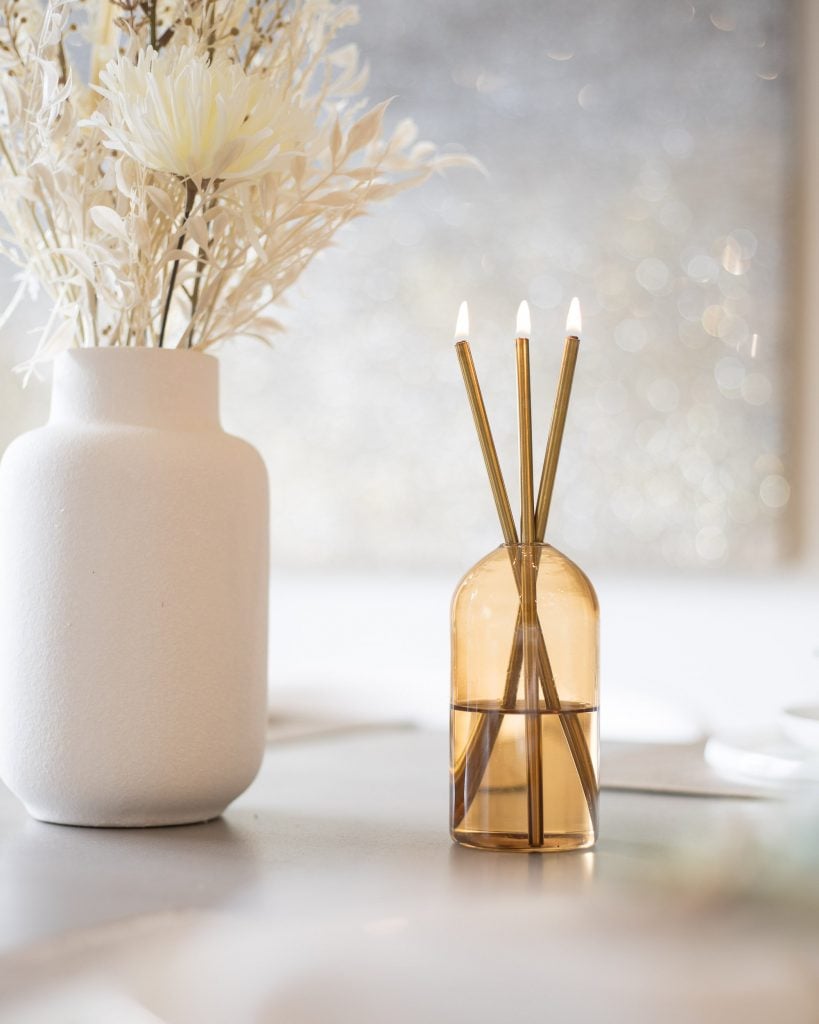 ---
What did your initial collection consist of? Why is it crucial for you to have candles that complement a variety of personalities and interior design themes?
At Everlasting Candle Co., we believe that everyone should be able to enjoy our product, regardless of their interior design theme or personal style. That's why we initially launched our collection of steel candles with a clear, minimalist vase inspired by Scandinavian design, which we named after our son, Wylie. We wanted to create a product that was accessible to everyone and not just limited to a niche market. As our initial collection gained popularity, we realized that offering a variety of color options would enable us to cater to a wider audience and their varying aesthetics. It's important to us that our candles complement a variety of personalities and interior design themes, so that our customers can create a warm and inviting ambiance in their homes that reflects their individual style.
---
What are the obstacles that you faced on your way to entrepreneurship? How did you overcome them?
As entrepreneurs, we faced various obstacles on our journey to success. One significant challenge we encountered was when we decided to venture into the US market after establishing a strong brand in Canada and building a robust wholesale program. While the US market showed huge potential, we struggled to find a quick and economical way to ship orders to new customers and wholesale vendors. Shipping internationally proved to be less than optimal and costly, which prompted us to pivot our strategy. We decided to partner with a fulfillment center in the US to ship locally, which has had a significant positive impact on our business. Overcoming this challenge not only allowed us to expand our customer base and reach, but also helped us streamline our operations and cut down on shipping costs.
---
What sets your business apart from the other companies offering candles? What goals does the Everlasting Candle Company have in the future?
Everlasting Candle Co. differentiates itself from other candle companies through our focus on customer experience and sustainable innovation. We believe in building strong relationships with our customers by seeking their feedback, responding to their needs, and creating experiences that leave a lasting impression. We recognize that word-of-mouth marketing is crucial and aim to make every customer feel valued and heard.
As we look to the future, our goals include continuing to innovate and develop new sustainable products, expanding our reach across the Canadian and US markets, and ultimately, becoming a global brand in the home decor industry. We are committed to our mission of providing high-quality and sustainable products while maintaining our focus on customer satisfaction and innovative experiences.