Founder of Honeybunch Naturals, a natural skincare and wellness product line.
Hailing from Whanganui, New Zealand, Lisa Jolly has been a serial entrepreneur for over 20+ years, launching her most recent international company Honeybunch Pure Naturals in 2014. Her stroke of creative genius came right from her kitchen when she decided to submit her handmade soap and scented bath products to Shopify's Build a Business competition. Her high energy, hard work, and persistence caught the attention of many in the industry, accelerating Honeybunch's jump into the world of e-commerce.
The natural product line, infused with New Zealand Manuka honey, was created because of Lisa's desire for safe products that her whole family could use and enjoy. All Honeybunch products are created in an eco-certified facility and carefully handcrafted in New Zealand. Manuka honey lovers can immerse themselves in a variety of bath and body products including flavorful lip balms, soaps, lotions, and more.
Lisa is passionate about the natural wellbeing of humans and wildlife, she is continuously finding ways to contribute her products and her voice to causes that are dear to her heart. Lisa is excited about Honeybunch's launch into the U.S market and is focused on sharing both her brand and her entrepreneurial story with thousands of others.
For more information or to purchase a product please visit www.honeybunchnaturals.com
---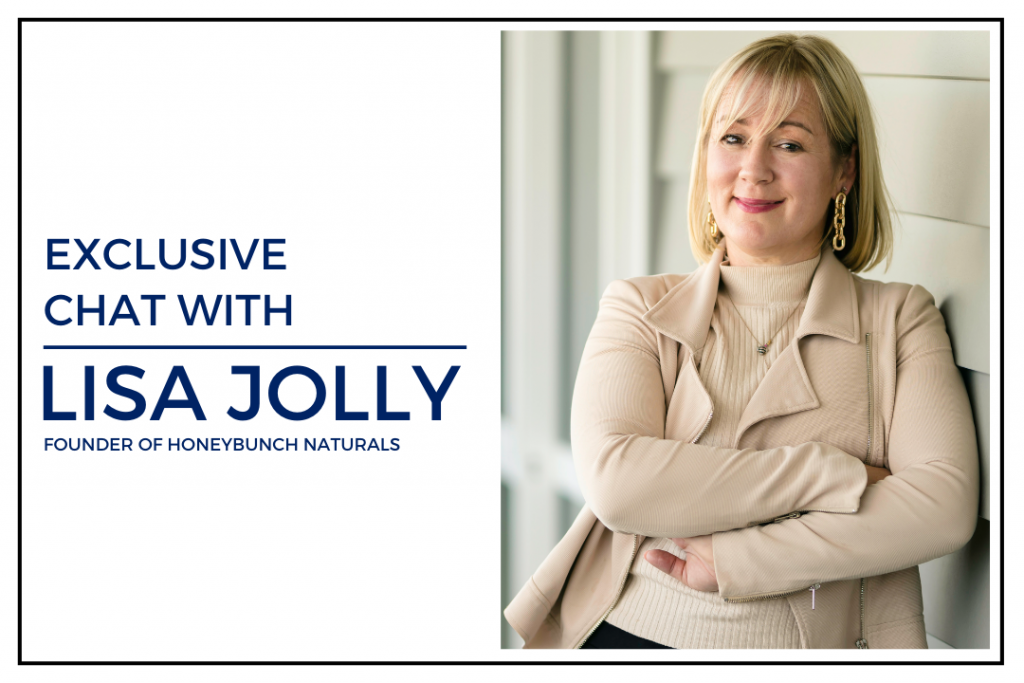 What was the inspiration behind the founding of Honeybunch Pure Naturals?
For myself the inspiration has always been the same from the get-go, to make people smile, by creating an amazing product experience that emphasizes self-love, well-being and lifting people's spirits. We are so blessed to already have a product which is formulated with what we consider to be liquid gold which is Manuka Honey. The inspiration for me was to design packaging and innovate my product in a way that people will not only experience the wellness benefits of Manuka Honey but also feel an extra dose of joy and happiness when using the product and opening the packaging. I've always been inspired by building a brand that tells a story. As an entrepreneur you can do and start anything at any stage of life and although we all acknowledge it can be hard work we sometimes forget it can be super fun and empowering all at the same time. Self-love, wellness, empowerment and smiles, that's what keeps me motivated.
---
You recently launched Honeybunch into the U.S. Market. What's been the most challenging part about launching in the U.S. and what strategies did you use to overcome these challenges?
Definitely distribution and learning about how it works. My normal Kiwi self just would walk up to anyone I see, with a product in hand (always have a product on you – handy hint) and say "Hey, look at my beautiful products, you need to try it out!" but that was not so easy in the USA. Having to understand a different way of business and then make decisions afterwards is key. The most challenging part for me is just learning how to match the speed, pace, energy of the US, slow down at times and speed up at others. Ultimately, I love learning the way other countries do business, it helps me sharpen my skills and learn what a new customer base is looking for. It's important for me to remember not to dilute my beliefs and values, or compromise my brand, regardless of who I'm doing business with.
---
What can you tell us about some of the strategies you've used that have contributed to the success of the company?
Oh, I love that question! A valued mentor friend of mine has told me that I lack strategy but have another incredible quality which is my "just do it attitude." For me, the strategy can be learned, but you either have the "just do it" attitude and no fear mindset, or you don't. So, it's fair to say I'm learning strategy. I tend to reverse engineer. For example, the other day I woke up and said to myself "I'm going to sell $1 million dollars' worth of online gift boxes before Christmas." So, I went and told my team of VIPs and after doing some calculations they let me know how many products we'd have to sell, and they're going to help me do it. So maybe I do have a strategy! Putting out the idea to your core group and team with a reverse engineer approach works to get everyone striving towards the same goal. We build the roadmap back to front and of course, get packing boxes!
---
COVID-19 has had a huge impact on many businesses who have been forced to make adjustments to ensure the safety of their employees and customers. With that in mind, working from home seems to be the new norm for several organizations. What would you say is the biggest challenge that many employees will face when it comes to working from home?
The biggest challenge that many employees are facing right now is the lack of connection and team energy. A lot of success comes from team energy and it's difficult to do that working from home. We are a company of people who really like each other and there are days at work where we are running around like crazy people and don't have much time to chat, but we still maintain that buzz which is harder to achieve working from home. Right now, we make sure that we all communicate constantly even if it's sending a silly photo of our homes and personal lives to keep the vibe alive while we're working hard during the day.
---
According to a recent survey, 69% of employees are experiencing burnout symptoms in the United States. What advice can you give to employees when it comes to implementing strategies that can help them adjust to this "new normal"?
I'm potentially the biggest burn out the queen. I've had to force myself to stop and take time to keep my mind fueled so I can carry on at our fast pace. For our business, we have several things we do. For me, I believe that COVID allowed the world to pause and take a break – so take that break yourself and heal any burnout where you can. I've included a few things below that help me and my employees out:
Ensure you carve out some me-time: No matter what, between the hours of 2-3 pm every day, I go on a run and focus to keep myself fit and committed as I live and breathe this business 24/7 currently. Fitness for me means to focus and it's an investment in not becoming burnt out. When I'm at the beach, I build compartments in my head and I leave all the negative energy and thoughts behind when I leave. This really helps me stay grounded. It's important to treat yourself like an important meeting and not skip out because work "took over for the day." You'll notice how much happier you become!
Carve out time to spend with your family/friends: In times of extreme stress, our families/friends can really take the brunt of our emotions, so it's important to carve some time out to spend with them as well. Taking your thoughts off work and enjoying time with loved ones is great medicine after a hard day or week.
Use your colleagues as a resource: Start a Facebook group chat. I've made it really clear that we can be open and transparent here. My team can offload anything that is wearing them down and let others in the group know when we need some group support. It's always done in fun and humour but it's in a way you can read between the lines. It's like therapy and everyone respects each other. I'd also advise people to find a buddy at work that you can really trust and hold each other accountable for projects/deadlines and each other's me times. You spend more than 8 hours a day working with your colleagues, it's important to build good relationships with people who understand you and will push you to do better.
Work smarter not harder: I used to subscribe to "hustle porn" but no more. COVID-19 really slowed me down as I was travelling less and made me realize how important being strategic is. Working smarter not harder means trying to get everything done in your allocated time in your workday. If you can't, find a way to pivot by talking to your boss or your colleagues or policing yourself so you're able to be more productive. That could mean taking a gym break, cutting yourself off at a certain time, and doing your best not to reinvent the wheel.
Reevaluate your career: At a time of uncertainty, use this time to be certain. If you've been considering a career change, look to ways where you can take a course to learn more about that industry or connect with individuals on LinkedIn who are in your dream job or industry. If you're gunning for that promotion, work smarter and not harder and find ways to climb that ladder by speaking to your boss. Lastly, if you're looking to start that business or you've started a business already, ensure that you see it to completion.
Write: I write a blog, but I would suggest a journal. Just getting things out of my head at times where I'm feeling burnt out or run down really helps. You only have so many compartments in your head and it's impossible to have them all rented at once all of the time.
---
In your expert opinion, would you say that working from home is the best solution for everybody?
The short answer is no. I think a mix of both is best. I personally believe for my business that I would prefer a 50/50 split as I love my team and having family and home time. Zooming in PJs is wonderful, but so is being together as a business and interacting with each other face to face.
---
On a final note, what can you tell us about your own personal experience of suffering from burnout throughout your career and how did you overcome it?
I really experienced a bad case of burnout around this time last year, and not addressing it at the time became a horrendous business mistake. I took on too many things at once, it all seemed fun and appealing but then reality set in and it was just too overwhelming for me. I was being pulled in so many directions and constantly depleting my energy. I couldn't show up how I needed to, when I needed to. I'll never forget being in a hotel room in Brisbane after I had finished enduring a tour from hell (for a band I was managing) and I was lying there in the dark for 2 solid days. I had to leave to fly home, where a great friend told me to stop and take time. I was no good to anyone being in the shape I was in. So, I listened and surely, I started to rebuild my energy, my focus, and redirect my attention to the things I'm good at. I did all the things I had to do in order to bring myself out of that place, it involves making choices and being more intentional with my lifestyle. Now I take those lessons and I'm more mindful of how I structure my time.