Minister Prabmeet Sarkaria
Associate Minister of Small Business and Red Tape Reduction, MPP, Brampton South
Prabmeet Sarkaria has the honour of representing his community as the Member of Provincial Parliament for Brampton South and serving the people of Ontario as the Associate Minister of Small Business and Red Tape Reduction. 
Before answering the call to public service, Prabmeet worked as a corporate and commercial Associate at Miller Thomson LLP. He earned his law degree from the University of Windsor as well as a Bachelor of Business Administration from Wilfrid Laurier University, where he majored in Finance. Prior to his legal career, he worked at TD Securities. 
Passionate about community, Prabmeet is an active volunteer. He served on the City of Brampton's Property Standards Committee as well as the Board of Directors for Hockey for Humanity and KarmaGrow. He is an avid sports fan who enjoys playing and watching hockey, basketball, baseball, and football.  If you ever have the opportunity to visit his office, it will be impossible to forget who won the 2019 NBA Championship.
Prabmeet Sarkaria entered public service in order to be a strong advocate for hardworking families in Brampton South and all across the province he loves—and is committed to giving voice to the concerns of the everyday people he is humbled to serve.
---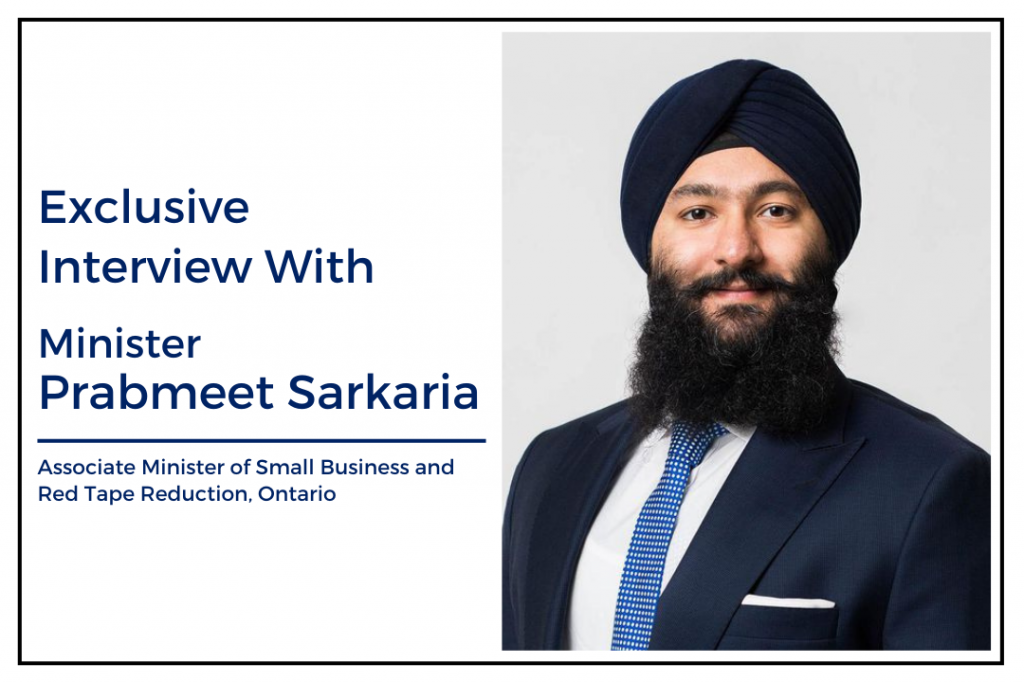 As Associate Minister of Small Business and Red Tape Reduction, can you tell us more about your role to give our readers a better understanding of your responsibilities?
As Associate Minister, I had the opportunity of being tasked by the premier in June last year to make Ontario more competitive. I try to create jobs by eliminating the Red Tape burden and regulations so that businesses can grow, and by creating and protecting jobs for the people of Ontario. I aim to reduce the annual cost of complying with regulations affecting businesses by 400 million dollars by the summer of 2020. The goal is not that we're against regulations, it's that we're against unnecessary regulations. We believe that regulations are essential in keeping people safe, healthy and protecting the environment. Just because the regulations are necessary, doesn't mean businesses should have to jump through unnecessary hoops to comply with it. I understand that business owners face intense time pressures and juggle with many demands when running and growing their businesses and we're trying to take a proactive measure by eliminating regulations that are outdated, cumbersome, and those that don't achieve their purpose but just add costs to the system. I had the opportunity to work with stakeholders and regulatory ministries to modernize and streamline regulations while ensuring that we also uphold the highest workplace, health, and public safety standards.
What are some of the initiatives and projects you're hoping to implement that can benefit the small business industry?
We have taken several strides already when trying to remove barriers that hamper business success, specifically lowering costs to make Ontario more competitive by fostering more investments to grow the economy and create good jobs. For example, when we have an overlap between the federal and provincial level, we try to streamline those types of regulations to make Ontario work smarter for business and better for people. We announced new steps for a consultation on a small business success strategy to ensure businesses have the right tools and resources necessary to succeed. These consultations are the backbone that forms the Ontario Small Business Success Strategy that was launched a couple of weeks ago. We understand that small businesses face unique challenges, and we want to listen to their concerns and how they achieve their long-term goals. In those discussions, we talk about competitiveness, regulations to innovation, commercialization, all the way to succession planning, which is a very important topic. When I jumped into this role, I had bill 132 which contained nearly 50 legislative measures as part of a broader package aimed at reducing unnecessary regulations, so it's about introducing Red Tape packages for the sector. We passed the Restoring Ontario Competitiveness Act on April 2, 2019, that had about 31 actions to cut red tape in 12 sectors and on November 22, 2018, we passed the Making Ontario Open for Business Act. In total, we've been able to take 200 actions to reduce these burdens across Ontario and we're not looking to stop there. We're now in the process of developing our 5th red tape package in less than two years.
Prior to joining the public service, you worked in legal and financial services. How would you say your past experience in law and finance has prepared you for your current role?
There's a lot of similarities. In my previous role, worked as a corporate lawyer at one of Canada's largest law firm. I specialized in emerging tech, startups, venture capital, as well as private equity financing. I had the opportunity to get an understanding of what small businesses struggled with on a day to day basis. I saw them grow, from being a startup and coming to our office with zero cash flow and zero dollars and with just an idea, to landing 120-million-dollar financing rounds from across the world. Law presented itself as an opportunity to hone in on critical thinking and analytical skills and to apply those skills in a business sense and bring that over to the Ministry of Small Business where I'm able to now examine those challenges through that lens and tackle the regulatory framework that these businesses operate under. I have the unique ability to use some of my legal skills and get through the regulatory burdens that can save money for businesses.
What would you say is the biggest challenge that entrepreneurs face in Ontario, more precisely, in Brampton, when it comes to growing their business?
We recognize that entrepreneurs and small businesses play a critical role in communities by creating employment, weather part of the supply chain, supplying to larger companies, or contributing new ideas. When we speak to businesses, they continue to tell us that Ontario needs to be more competitive, pointing to the regulatory environment. That's why the premier took the unprecedented step of appointing me the task of Red Tape Reduction. The OCC released its Ontario Economic Report that said Red Tape was one of the biggest issues to growing businesses. That is why we've come out with a 400 million dollar promise to reduce the compliance cost in Ontario by summer 2020 and we're going to continue to work to make Ontario more competitive and to make governments work smarter for businesses across the province.
You initially joined the public office to be an advocate for hard-working families. Would you say you have achieved your goal?
Our government came out with a strong agenda to make Ontario a completive jurisdiction and we've taken several steps to improve Ontario's competitiveness. We reduced the cost of starting a business in the province of Ontario. Pre COVID-19, the numbers were approx. 300 thousand new jobs in the province since premier Ford was under his leadership. That included making sure that WSIB premiums were reduced through the unfunded liability portion. We froze the minimum wage and introduced one of the most generous progressive tax settlements for Ontarians across the province. We introduced the capital cost allocation incentive, which allows companies to write off capital purchases of equipment. As well, we've put in a lot of different measures to reduce the cost of doing business and we will continue to work towards reforming and making sure Ontario remains competitive to be the economic engine of Canada.
You're an avid sports fan. If you were to compare sports and business, what would you say are some of the aspects they have in common when it comes to succeeding?
I would say teamwork. One of the biggest things about governments is making sure we all work together on the same page. Often you hear of governments, whether its different ministries, having siloed approaches to tacking issues. When all governments work and integrate, whether its health, education, or the environment, there will be a huge productivity gain and economic benefit. Now more than ever, we understand how integrated our supply chains are and how every decision-making impacts how we go about in our day to day lives, whether it's through the business lens or lens of the resident.
On a final note, what would you say has been your biggest accomplishment in your professional career so far?
One of my biggest accomplishments was having the opportunity to pass the piece of legislation called Better for People, Smarter for Business Act that was introduced in the previous legislative agenda in 2019. We introduced a piece of legislation that had about 80 action items, that were actioned on, and that made a real difference in Ontario's competitiveness and business environment. Having the opportunity to listen to the province and many different stakeholders across Ontario, and to then action their concerns into a piece of legislation that was passed a couple of months ago, and seeing the impacts of it first hand, for me couldn't have been done without the hard work and support of premier Ford and my entire cabinet collogues at Queens Park.
Is there anything else you would like our readers to know?
One of the main things I want everyone to know is that our government is going to do anything and everything it takes to make sure Ontario is the most competitive jurisdiction in the world. We want to make sure every dollar of investment being considered, that Ontario is at the top of the list. We have some of the smartest people in the world and some of the best academic institutions in the world. We have so much going for us and we have to remain competitive and ensure we are doing everything to attract as many good-paying jobs to secure the future generations across the province. We're going to be committed to ensuring we do our best and support small business owners and businesses to make Ontario more competitive.