We recently chatted with Jackie Prince and Liz Drayton, co-founders of Guests on Earth, who shared their journey of transforming home care into self-care. They focus on Home & Planetary Wellness through products like their All-Purpose Cleaner, Foaming Hand Soap, and Waffle Cleaning Cloths. Their approach combines aromatherapy, sustainable materials, and counter-worthy design to reduce stress and create enjoyable cleaning experiences. Unique essential oil-based scents, such as Desert Dawn and Dunes at Dusk, further enhance the experience, while their commitment to sustainability is showcased through reusable aluminum vessels and small-format refills. This firm is backed by Futurpreneur, Canada's premier non-profit institution that grants financial aid and mentorship to young, budding entrepreneurs aged 18 to 39.
---
Jackie Prince
Jackie's background is marketing, social impact and tech. She was based in London and New York for over a decade and led strategy teams at a number of social impact and creative agencies, most recently, Meta's Creative Shop. Jackie moved back to Toronto in 2020 and began developing Guests on Earth, while contracting at TikTok as a Creative Strategy Director. She is now exclusively focused on developing Guests on Earth.
---
Liz Drayton
Liz started her career as a CPA with PwC in Hong Kong and San Francisco, but switched into Brand Strategy consulting after she got her MBA from NYU. She moved back to Toronto from New York in 2014 to work for Google. She has spent the last three years scaling Toronto based startups through high-growth, Ecommerce strategies at a small consultancy. She is currently balancing applying her combined experience to Guests on Earth with a full time role at Pinterest.
---
What was the inspiration behind starting Guests on Earth? And what are you hoping to achieve through your work?
92% Canadians feel more relaxed when they have a clean home and 46% of people clean to reduce stress. Now, picture the cleaning aisle where you do your shopping. The products we use today during these "stress relieving" activities are not so relaxing, not very stress free. While we were home during the pandemic, we became acutely aware of how bad of an experience using these products was. They smell toxic and look like they belong under the sink, and they are just generally inconsiderate of humans and the planet.
The last ten years have been characterised by a self-care revolution. We are more focused on mental health and rituals that promote stress relief than ever before. As we move forward in a hybrid work environment – we are still spending more time at home, with a heightened focus on the products, ingredients and materials that we invite inside.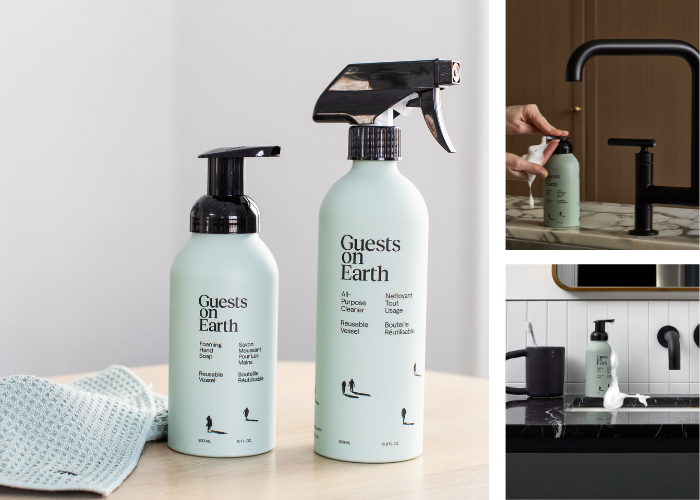 We wanted to create a brand experience that maximizes these daily mundane moments around the home, and transforms them from chores, or routines, into self-care rituals.
Think of it as cleancare – products that clean your home and clear your mind.
---
Can you explain how Guests on Earth's vision of Home & Planetary Wellness is reflected in the products you launched last year, such as the All-Purpose Cleaner, Foaming Hand Soap, and Waffle Cleaning Cloths?
Absolutely. I think it helps to first explain the concept of planetary wellness, which is when the integrity of Earth's ecosystems remains unimpaired to a degree that species and future populations can achieve well-being.
To that end, we think of Home & Planetary Wellness as a recognition of the link between human consumption/behavior (Home) and the state of the planet.
We wanted to create products that not only elevate everyday experiences at home, but also that are rooted in a consideration with our shared Home. That directed our selection of reusability as a key tenant in our product suite. It also guides our ongoing research and development of reduction, creating products that reduce the amount of materials, formula and packaging. Finally, we look at material afterlife and recyclability.
We see this as a journey ourselves, and are constantly researching different packaging options to ensure we are making the best decisions we can.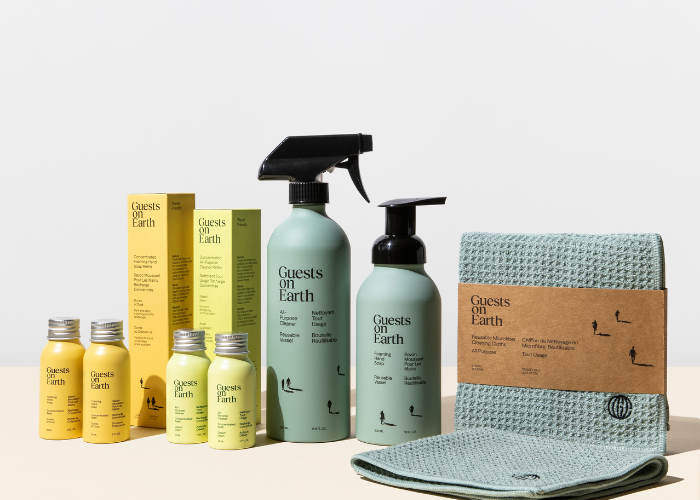 ---
How do Guests on Earth incorporate self-care into its home care products, creating an experience that caters to both personal well-being and a clean living environment?
At Guests on Earth, we focus on the experience of home care, elevating daily routines around the home into delightful rituals with the same attention and thoughtfulness that we give to taking care of ourselves. That means we focus on the sensory experience of the products, scent, textures and design.
We have two signature essential oil blends: Desert Dawn (cool and energizing, a citrusy oasis) and Dunes at Dusk (dark and spicy, a calming yet invigorating desertscape).
Guests on Earth is a part of our customers' journey to live a more sustainable lifestyle. We believe that using our products both reinforces people's commitment to make more eco-friendly choices on a daily basis, and encourages them to engage in more mindful consumption across their purchases.
---
Considering the research that shows Canadians feel more relaxed with a clean home, how do Guests on Earth's products contribute to reducing stress through cleaning routines?
We contribute to stress relief in a number of ways
1.The physical, sensory experience:
Our products facilitate self-care sensory experience via our signature essential oil blends, which have aromatherapy properties meant to help you unwind and relax.
Our counter-worthy vessels are meant to be left out to see and enjoy, which results in cleaning more frequently, and therefore a greater sense of calm and control.
2.The mindful experience:
We formulated our products to be MADE SAFE compliant and we list our EWG (Environmental Working Group) score in the Ingredient Glossary on our website. Our products are plant and mineral-based, and were created to be safe for people and the planet. They are safe for kids to use (supervised) and safe to be around pets.
I touched on this a bit earlier, but there is a sense of both pride and relief in using products that are designed specifically to have a lower environmental impact.
---
In what ways do Guests on Earth's three pillars—Aromatherapy, Sustainable Materials & Formats, and Counter-Worthiness—differentiate the brand from other home care companies in the market?
We are building a new category of Home & Planetary Wellness, approaching this category holistically from a wellness perspective, with sustainability at our core. We are the only company talking about a home wellness category and we are the first mover in this space.
We started with cleaning, and will continue to expand into other categories.
Our three pillars highlight our unique approach to the category:
Self-Care (Aromatherapy): We focus on the experience of cleaning, elevating daily routines around the home into delightful rituals with the same attention and thoughtfulness that we give to taking care of ourselves. Because at the end of the day, taking care of the spaces we live in IS taking care of ourselves and our loved ones. We do this thought our plant-based, luxe formulations and category-defying scents (essential oil blends). Desert Dawn will transport you to an energizing citrusy oasis (spa) and Dunes at Dusk is dark and earthy, a calming yet invigorating desertscape.
Sustainable Materials & Formats: We have chosen aluminium for our reusable vessels, which is infinitely recyclable, with ~75% still in circulation vs. only 5-6% plastic. And small-format refills, greatly reducing the amount of product needed ongoing.
Counter-Worthiness: Our products are beautiful, designed to be seen, not hidden beneath the sink or in the closet.
---
Can you describe the inspiration behind the unique, essential oil-based scents, such as Desert Dawn and Dunes at Dusk, and how they contribute to the overall cleaning experience?
You really need to smell them to understand the experience! Cleaning with our scents truly elevates the experience into one of self-care. We have customers who say they sometimes spray the cleaner into the air just for the scent.
We wanted to create complementary scents that evoke different natural landscapes. Desert Dawn is cool and refreshing – we describe it as a 'citrusy oasis'. It has top notes of peppermint and tangerine, heart notes of lavender and rosemary and base notes of fennel and cedarwood.
Dunes at Dusk is deeper, more woodsy scent. It has top notes of pine and bitter orange, heart notes of sage and clove, and base notes of patchouli sandalwood and vetiver.
---
How does Guests on Earth's commitment to sustainability manifest in the choice of aluminum for reusable vessels and the use of small-format refills?
We underwent a carbon assessment in our first year of operations (conducted by a third party) and verified that our small format cuts carbon emissions by 53% that of full-sized cleaning products. We are working to continually improve upon this metric in our own sustainability journey.
I touched on aluminum earlier, but we selected this material for its lightweight, durability, and infinite recyclability.