Give power to employees with technology in a hybrid workplace
More than two years ago, COVID-19 compelled all businesses to shutter their offices, and small businesses were no exception. Work from home became a common practice. With offices reopening and the pandemic still ongoing, most employees prefer the flexibility to work from anywhere. Pandemic uncertainty and a changing workforce make it more important for small businesses to pivot effectively and quickly. How can small businesses adapt to this change, keeping the needs of employees and business productivity at the centre?
A hybrid workplace is an answer. It offers immense flexibility to employees to work in or out of the office. "Flexibility is not a fad, it's now foundational, and technology plays a big role in that flexibility," said Lenovo's Brian Mignault. For a hybrid workforce to be most effective, employers must choose the best technology for each location to ensure smooth and effective working without impacting working-from-home employees.
---
CanadianSME spoke with Mignault and Rob Silver of Lenovo, who provided the Top 5 Advantages of maintaining a hybrid workforce for small businesses:
Productive and focused employees: The hybrid workforce remains happy, engaged, and efficient because of a balanced workload. Employees feel a sense of empowerment which leads to greater business outcomes.
Acquisition and expansion of skilled workforce: To run a successful business in this global age, you must recruit from a diverse talent pool. With a hybrid model, you can employ talented people throughout the country or around the world. It simply liberates you from the limits of your local area.
Non-stop learning with a moderate budget: Webinars, virtual conferences, and online workshops facilitate endless e-learning. It saves the cost of training and networking for SMEs with limited budgets.
Lower operation costs by reducing real estate budgets: Indeed, real estate is no longer a cost-effective option for innovative businesses. Are you looking for ways to reduce the expenses of an office building, desks, printers, and reduction in utility bills? Switching to a hybrid workforce gives you an easy way forward.
Better company culture: When employees come to the office with readiness to contribute to the company's mission, company culture surely improves. Switching between remote and onsite work creates this willingness in employees and enhances their overall performance in the company.
---
Major technologies for working remotely
The right technology is necessary to provide an equitable experience for all employees. To facilitate technology choices for your business, a list of the major technologies related to the hybrid working model is shared below:
Videoconferencing is an essential tool for keeping active communication alive with employees. It provides visual treatment, streamlines collaboration, saves money and time, and allows greater productivity – helping amplify the company's development. Thus, small businesses must have licenses for platforms like Zoom, Cisco, Webex, or Microsoft to operate in a hybrid environment effectively.
It is equally important to install hardware like smart cameras and conferencing solutions. The smart tech hardware allows for convenient display, meetings, and recording sessions, no matter where your employees are.
Lenovo has developed collaborative solutions to equip your employees – from attending conferences or virtual meetings to utilizing tech in their daily lives. These solutions are easy to operate, so no matter your team's tech experience, they can walk in and get started. Depending on your office space and how many employees you anticipate being in the office at a time, there are three different hybrid workplace technology scenarios to consider: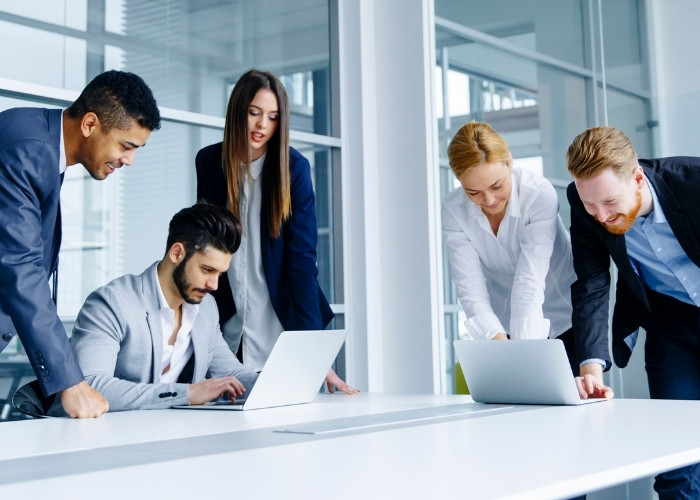 For a small focus room with space for 2-3 people, consider a Lenovo mounted monitor display and the Lenovo ThinkSmart Bar to allow for a collaborative view and interactive discussion in a small space.
If you have small conference rooms that hold 4-6 people in person but need to accommodate your virtual team simultaneously, the Lenovo ThinkSmart Hub + Lenovo ThinkSmart Cam ensures control and visual capture of meetings from a central location.
Large conference rooms with seven or more attendees may require a more custom solution to capture the full in-person view and your hybrid workforce. Consider implementing the Lenovo ThinkSmart Core Kit with additional microphones for accessible audio to ensure everyone is heard.
---
Conclusion
Small business owners tend to wear many hats, and technical prowess for installing and purchasing smart equipment may not be a strong suit. Sometimes the lack of technical proficiency to allow employees to work remotely creates trouble for small businesses, particularly when retaining employees can be a challenge in its own right. This is where reliable partners like CDW can assist you a great deal. They can pitch in to provide an analysis of your business environment, identify business needs, and even help you select and install new technology.
CDW has a huge number of tech pundits who can collaborate with you to develop customized solutions for your small business, including the hardware, software, services, and devices required to boost your business growth. The best thing about CDW is that it partners with all the well-known brands like Lenovo to deliver ideal solutions for your hybrid workforce.
If you want to learn more about CDW's tech support for your small business, please visit https://www.cdw.ca/smallbusinesses
Brian Mignault
Sr Director, Smart Collaboration & Solutions
Brian currently serves as the General Manager for Lenovo's North America Smart Collaboration and Vertical Solutions business. Here he looks after Lenovo's unified communication sales organization, along with incubation offerings within verticals such as Retail, Healthcare, Education, Connected Cloud, and the Metaverse.
Rob Silver
Regional Sales Manager, SMB Canada
Rob is currently the Regional Sales Manager for Lenovo Canada's SMB business in Eastern Canada. His role is to manage the end customer business with a sales team that focuses on driving innovation while delivering the highest levels of customer satisfaction.