Kale Johnson is a senior sales manager at CDW Canada. He works to develop small, medium and enterprise sales teams to provide the right IT solutions to customers across Canada.
---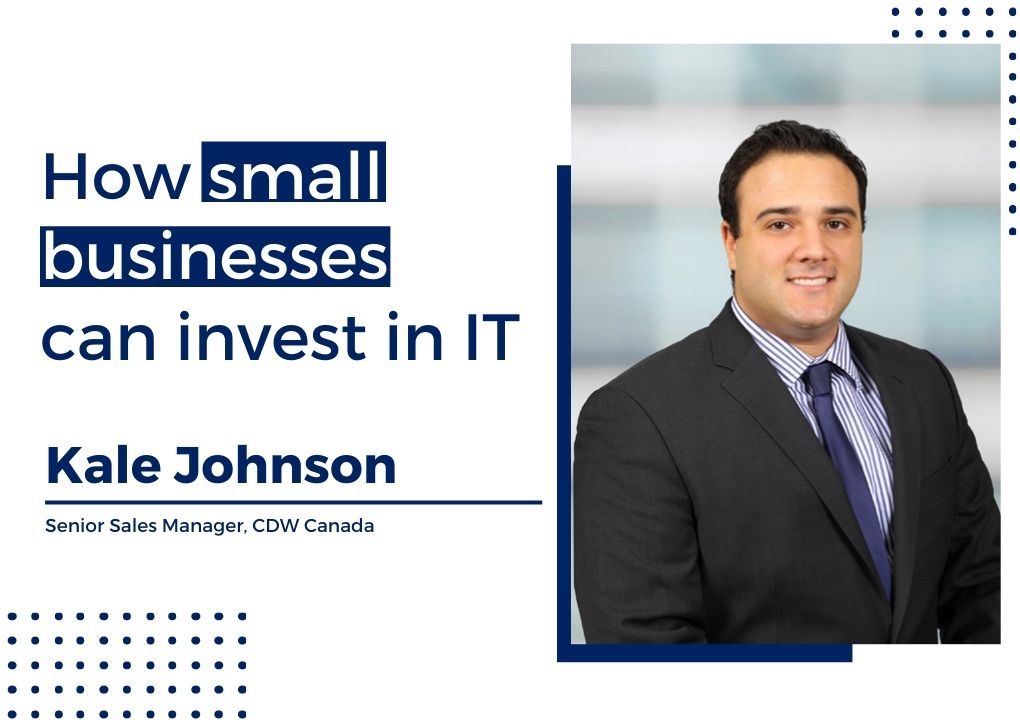 As a sales manager at CDW, can you tell us about some of the responsibilities of your role?
As sales manager for our National Small Business team, it is my responsibility to formulate and execute our strategy for businesses with under 100 coworkers. As well, I oversee the development and professional growth of our sellers to ensure they are prepared to be a trusted advisor and indispensable resource to their customers.
---
Of the survey that was commissioned by the CDW, what would you say was the most interesting findings of the report?
Interestingly, our survey conducted with Angus Reid found that nearly half small business respondents were able to navigate the transition to working remotely, with 40 percent stating their organization was prepared for the shift to remote work. That said, 19 percent of respondents stated they had some difficulties with the transition and 12 percent stated that while they were not prepared, they were still able to pivot. This demonstrates that, while a surprising number of small businesses took a proactive approach to remote infrastructure, there is still work to be done as an alarming amount were caught off-guard.
---
Given most people are remotely working from home. How important is device protection not just for business owners but Canadians in general?
Device protection is paramount for all parties, especially in a remote workforce. Keeping software up to date and safeguarding is an important cybersecurity measure all Canadians and business owners should take to prevent a cyberattack from occurring. A separate survey looking at device protection found that nearly two-thirds (62 percent) of small businesses permit BYOD devices, so we recommend employees separate their home networks into two connections, one for their personal devices and another for the devices they use for work. This allows for an added level of protection for both business and personal data from being breached.
---
What are some findings from the device protection report that you would like to share with our readers?
Despite the increased prevalence of data breaches, 21 percent of respondents to our device protection survey said they rarely or never review their device security and privacy settings. Additionally, 20 percent said they believe this process is unnecessary because they have never experienced a breach. This is extremely discouraging to see, as cybercriminals are continuously coming up with new ways to penetrate devices and gain access to data or credentials. Regularly reviewing security and privacy settings, avoiding re-using passwords and using multi-factor authentication for signing into devices are simple steps to maximize device protection.
Only 36 percent of working Canadians cited app, program or software security as a top cyber concern. This is a very sobering finding, as clone apps are often put on the app store in hopes of being mistaken for the official ones, making it easy for hackers to access device data once the app is activated. It is critical to always check the publisher and look at reviews before downloading and installing an app to ensure authenticity. Another way to verify this is to question the app permissions when prompted. Ask yourself, "why does this app require access to my microphone or camera?"
---
What are some suggestions on how business owners can better protect their data and security when working from home?
Employee cybersecurity education is key, as the biggest risk to a business often sits between the keyboard and the chair. Unfortunately, our small business survey found that 48 percent indicated they provide training on cybersecurity training resources, the lowest of any business size. Proactively engaging in cybersecurity education is one of the most effective ways business owners of all sizes can better protect their data and security when working from home because when employees are made aware of potential dangers, they can serve as the first line of defense, flag any suspicious activity and avoid falling into traps set by cybercriminals.
Keeping software up to date is an important cybersecurity measure all businesses should take to prevent a cyberattack from occurring. When software is outdated, it's at a greater risk of being exposed to cybercriminals. While it can be tempting to continuously click "schedule for later", allowing software updates to take place is a critical component to ensuring cybersecurity.
Defining and enforcing an IT policy that employees must follow, especially when working remotely, is vital to protecting sensitive business data and security. Consider what devices, software and digital tools employees use, so policies can be developed that are tailored to help protect specific business resources. When establishing the rules, set guidelines for employees to follow and outline violation penalties to ensure employees take them seriously.
---
Would you say small businesses face barriers in IT investment? And what is your recommendation on how they should invest in IT Technology?
Small businesses face many IT investment barriers, namely cost/cashflow (34 percent), not knowing what they need (22 percent) and being unsure where to start (13 percent). Having essential IT tools and infrastructure in place is critical for employees to be able to get their work done, especially from home, and including plans for IT investments during yearly budget planning is a great way to proactively combat barriers and avoid unexpected costs down the road. Partnering with an external solutions provider like CDW Canada can also be an effective and cost-efficient way to invest in IT, so you can remain focused on day-to-day operations while your partner handles all things IT for you.
---
What are some key initiatives or new projects that the CDW has launched to help small businesses during the pandemic?
We understand that part of the battle can be knowing where to start when looking at IT investments, which was noted by 13 percent of respondents in a small business survey we conducted in October. CDW Canada is here to help small businesses along their IT solutions journey so our customers can focus on growing their business. We are proud to offer an entire line of business dedicated to small business support. From dedicated account managers to solution specialists, CDW Canada is here to provide advice and IT support every step of the way.
This Angus Reid survey gave us findings that have strengthened our understanding of small business needs and reinforced our commitment to providing tailored, customer-centric solutions and services for small business across the country.
We've leveraged these findings to regularly share reports and insights on our website specific to small businesses and their unique needs. CDW also has a membership shipping program for small businesses, where members get free ground shipping on orders under 75 pounds for a $75 annual membership.
---
What was the toughest challenge you faced in your role as sales manager and how did you overcome that challenge?
One challenge was small business owners coming to us during the pandemic and not knowing how to shift their business and ensure business continuity. Our survey found that 22 percent of small businesses weren't sure of their needs when looking to invest in IT during the earlier stages of the pandemic. While it was difficult to hear these real-life stories from small business owners, as an organization we worked tirelessly to find the right solutions for them to try and remedy one burden they're facing in this uncertain environment.
---
On a final note, what is your advice to small business owners during these challenging times?
As we remain unsure of how the Canadian work landscape will look moving forward, our survey findings indicate that small business owners and employees remain optimistic, and that's inspiring. My advice is to remember that even though small businesses will undoubtedly face many challenges ahead, both pandemic and non-pandemic related if Canada's small businesses are known for one thing, it's resiliency. Don't lose sight of that and remember that you don't have to go through the IT investment process alone – we are here to help.