JACKIE KING – Chief Operating Officer at Canadian Chamber of Commerce
With over 20 years of experience, Jackie King is a proven business and people leader. Currently, the Chief Operating Officer (COO) of the Canadian Chamber of Commerce – Canada's largest and most influential business association – Jackie is responsible for leading the executive and management teams in the development and execution of the organization's strategic plan; overseeing operational and financial performance, and strengthening relationships with key external stakeholders.
Prior to joining the Chamber, Jackie spent 19 years with the country's top-ranked public relations and public affairs consultancy – Hill + Knowlton Strategies (H+K). She sat on the executive committee of the board of the Ottawa Chamber of Commerce, served as a member of the National Board of International Women's Forum Canada (IWFC), currently sits on the executive committee of the Ottawa chapter of IWFC and on the community advisory committee of the Ottawa Integrative Cancer Center.
---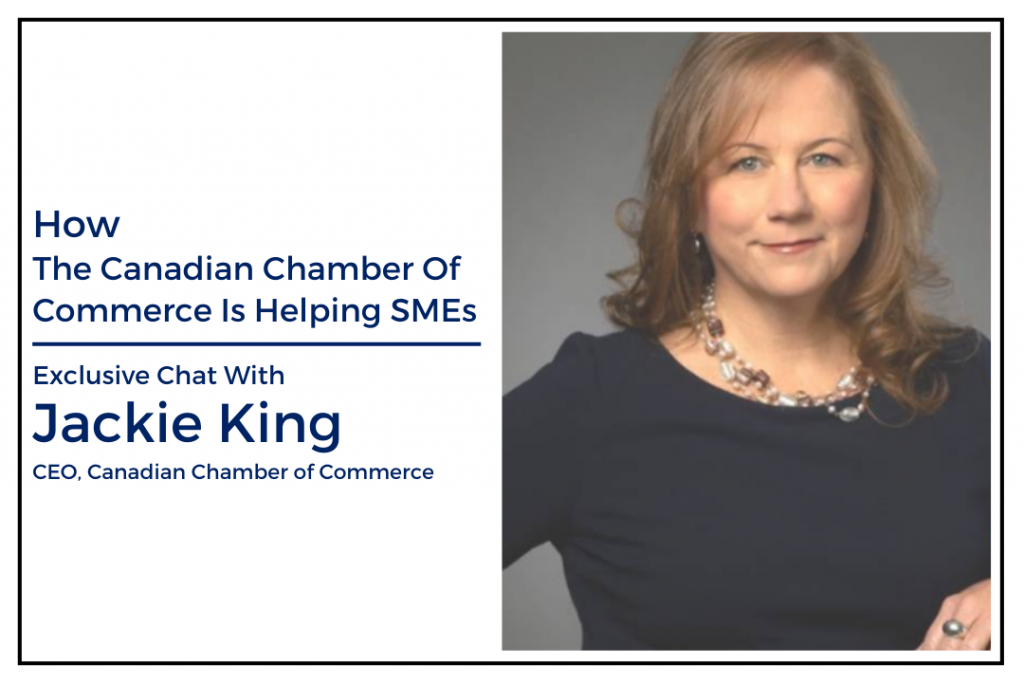 As COO of the Canadian Chamber of Commerce, you're responsible for leading the executive and management teams in the development and execution of the organization's strategic plan. What would you say is the most challenging part of your role?
I am fortunate to be working with a leadership team committed to the mission of the organization, to the teams they lead and to our members. The most challenging part of my role is to lead effectively in order to capitalize on the opportunities that existed in the organization to take us to the next level. Like any organization with different operating groups, one of the biggest opportunities for enhancing success is integration and tying together all functions in the organization to deliver the best possible results. Another opportunity is championing continuous improvement in everything, without allowing perfect to get in the way of progress. Lastly, I would say building an entrepreneurial and high-performance culture.
My role is to set the conditions, establish a heightened level of accountability down through the entire organization, and remove the obstacles that prevent people from performing to their full potential.
My focus is on empowerment, but I am clear that results are expected. I believe that this is more effective than being a more transactional leader (e.g. You do this and you do that). I serve as a facilitator making connections, building relationships, and establishing a culture to make things happen, where everyone buys into the vision and we row in the same direction.
Although I have the potential to be a control freak, I believe that leading is not about control. I have learned that by letting go of the control you get better outcomes because you're leveraging more talent and ultimately instilling a shared consciousness that empowers people to make the right judgment and to take initiative.
Overcoming challenges and capitalizing on opportunities really is all about building a team and relationships within it. Just putting talent together doesn't always equal a good outcome. However, that doesn't mean constant harmony where everyone nods, smiles, and agrees. The best way to make the right decisions and to solve problems is to build enough trust within and across your teams to pull out all the honest opinions from people efficiently through productive and constructive conflict.
---
What are some of the programs and resources that the Canadian Chamber of Commerce offers to start-ups to help them succeed?
Over the past two years, we have been examining our role and value in supporting SMEs. What we learned is that in Canada, there is already a lot of focus on businesses in the start-up and early commercialization phases and that they are well supported through provincial and local chambers of commerce and boards of trade, accelerators, a plethora of government programs and mentorship programs, etc. Growth-ready gazelles, unicorns, and more mature companies who want to grow domestically or internationally are, unfortunately, not as well served.
Based on this, we believed it was imperative that the Canadian Chamber increase the value we provide within the SME ecosystem and target those companies who may be falling through the cracks. The Canadian Chamber is uniquely positioned to develop and deliver a program that includes new essential business services, ensures alignment with all levels of the Chamber Network, and supports international expansion.
To accomplish this, we have been developing and delivering services and solutions that will ensure scale-up ready entrepreneurs can leverage a national value proposition to:
Access essential business services;
• Gain insights and advice related to business strategy and execution, leadership and people development;
• Build connections for the customer, partner, stakeholder and investor engagement;
• Easily access information and resources on government funds/programs and international development/export assistance; and
• Unify and strengthen the SME voice to the government.
---
In your expert opinion, what are some of the areas that the Canadian government should improve to better help the SME industry succeed in the global marketplace?
The government has a lot of programs in place to support SMEs to go and grow internationally including the Trade Commissioner Service, EDC, BDC, and the Canadian Commercial Corporation. The Canadian government also opens up opportunities for businesses of all sizes in global markets by negotiating free trade agreements. I think where there is room for improvement is enhanced and consistent engagement, as well as collaboration with the private sector, to inform the development and delivery of programs and supports, and in advancing Canada's interests in international policy development and in negotiating trade agreements.
---
Prior to joining the Canadian Chamber of Commerce, you accumulated almost two decades of experience in the public relations industry. How do you believe your past experience has prepared you for your current role?
I have always considered myself a generalist. I could never quite figure out exactly what I wanted to do or what I wanted to focus on. I did not focus on becoming a subject or service expert. I loved communications and public relations, but I also loved the business of the business. I loved to learn and try new things and thrived when the stakes were highest and during times of change. So instead, I tried to get as much experience in as many areas as I could in order to be a well-rounded leader with the ability to make a difference.
When I joined the Canadian Chamber, I was given the mandate to modernize and grow the organization, which included improving our relevance and impact in helping Canadian businesses thrive, as well as enhancing the country's competitiveness to benefit all Canadians. The Canadian Chamber operates within a complex and dynamic, multi-stakeholder environment and serves a broad network of businesses of every size, sector, and industry in every region of the country on a wide array of issues. Therefore, the skills and experience I gained over the course of my career are essential to delivering on my mandate.
Prior to joining the Canadian Chamber, I spent almost 19 years with Canada's top-ranked public relations and public affairs consultancy. My success at the firm was largely based on my ability to lead. I advanced through the ranks – from an entry-level intern to executive leadership – within an international company that prides itself on rewarding performance, leadership, and teamwork. In my final role at the firm, I ran the second largest office and was responsible for developing and executing office policies and the business strategy. My focus was to foster and advance integration and collaboration across teams and to enable them to proactively create opportunities to develop new streams of revenue and position the firm as a leader driving the change that was happening in the highly competitive and evolving public relations and public affairs industry.
Simultaneously, I led and managed multiple, complex national, and international client files. My professional experience as a consultant has been built over 19 years in the field of strategic communications and public affairs. Therefore, throughout the course of my career, I have built a comprehensive knowledge of best practices in, and the evolving nature of communications, reputation management, public consultation, as well as the competitive and noisy public policy landscape, and the machinery/operations of the federal, provincial and municipal governments. I have counselled boards, senior executives and officials, developed and executed integrated, sustainable, results-driven strategies for clients in almost every sector and industry in the Canadian economy.
Finally, I gained extensive experience working with public and private sector stakeholders to plan for and manage numerous contentious issues with broad economic, financial, and political considerations. I was responsible for building, nurturing, and managing strategic relationships, networks, and communications linkages with key stakeholders and partners, to ensure alignment and integration of activity in advancing corporate goals and objectives. These groups include government at all levels (political and bureaucracy), media, business associations and organizations, clients, prospects, partners (law firms, investment banks, etc.), employees (nationally and globally), and various community and civil society groups.
My experience has not only strengthened my skills, but it has also honed my instincts to be able to lead our organization through constant change and disruption, in addition to effectively navigating the complex national and international environment in which the Canadian Chamber operates.
---
Having spent 19 years in the PR world, what would you say is the biggest challenge that small businesses face when it comes to creating a positive image for their company?
Over the course of my career, I have observed that start-ups and small businesses are pretty lean organizations that focus primarily on developing and selling the product or service. Many tend to put significant resources into marketing the benefits of the product or service, but not as much focus on or a clear understanding of the importance of strategic communications to building and enhancing corporate reputation overall. In other words, they think marketing IS communications and anything beyond that is nice to have.
Essentially corporate reputation is the value that stakeholders attribute to the company and its products or services, based on their perceptions of the company's image and behaviour over time. Ultimately, corporate reputation will determine whether a business strategy succeeds or fails as it impacts the company's ability to:
• Attract and retain talent
• Be resilient in a time of crisis
• Attract customers
• Have a license to operate – favourability of political stakeholders/build support for public policy initiatives
• Protect shareholder value
• Facilitate entry into new markets
• Attract investors
• Reduce threat of competitive attack
• Enhance corporate brand value
• Establish differentiation
So, in addition to marketing and selling, small businesses need to think about and have in place a targeted, integrated, audience-centric communications strategy and invest in its execution. Communications success will enhance the reputation and will be based not only on the company's ability to tell the right story in the right way to the right people but on how effectively it has place mechanisms in place to listen to audiences needs and feedback to help inform whether the corporate strategy is working or if refinement or a pivot is required.
---
What's the best advice you can give to an entrepreneur who's looking to expand internationally?
Calling across borders can be complicated and resource-intensive, so entrepreneurs considering international expansion must first assess whether the expansion will truly benefit the company or if it will take away from the core business. Do you have the finances and resources to support the initial investment in entering new markets and to sustain efforts to deliver on growth forecasts? Will what you are selling in Canada have the same appeal in other markets and can you build a solid enough customer base?
Once you determine your company is ready to go global, there are a number of other things business leaders should be doing or thinking about to ensure success.
A critical first step is to have a thorough understanding of the market to which you want to expand. Do a significant amount of research on the economy, cultural and language differences, the regulatory environment, the talent pool, the infrastructure, the banking system, and the political environment, as well as aligning your strategy accordingly.
Companies that succeed internationally also:
• Have the right team in place (centrally and locally);
• Have the right infrastructure in place (IT, decision making, data management, etc.);
• Take advantage of government support programs;
• Establish local partnerships and networks to build relationships;
• Enlist experts to navigate the regulatory environment;
• Adapt to the local market as needed; and
• Customize customer support to accommodate time zones, languages, etc.
---
On a final note, what are some of the projects you have planned in the near future? What are you hoping to accomplish next professionally?
For projects planned for the near future, one that I am very passionate about is the Canadian Chamber's Inclusive Growth initiative. This came from our firm belief that diversity and inclusion in the workplace foster creative thinking, innovation and problem solving, providing organizations—and the country—a competitive advantage. Research shows the most successful organizations are creating diversified and inclusive workplaces in which individual differences and the contributions of all employees are recognized and valued.
Our inclusive growth initiative will build on our work in the area of fostering diverse and inclusive workplaces and will support businesses looking to fill their talent and skills gaps. In doing so, we will enhance opportunities for underrepresented segments of the Canadian population to participate in the economy and foster stronger communities across the country, resulting in a more prosperous Canada that benefits all Canadians.
Our inclusive growth initiative provides a platform for sharing information and resources. So, in addition to marketing and selling, small businesses need to think about and have in place a targeted, integrated, audience-centric communications strategy and invest in its execution. Communications success will enhance the reputation and will be based not only on the company's ability to tell the right story in the right way to the right people but on how effectively it has place mechanisms in place to listen to audiences needs and feedback to help inform whether the corporate strategy is working or if refinement or a pivot is required.
Empowering our members with best practices and tools. It amplifies the good work and successes of those leading the way and facilitates engagement to advance and advocate the public policies and government programs that will have the greatest impact.
In 2020, we will branch out from our work in mental health, accessibility in the workplace, and with Indigenous populations on reconciliation to introduce three councils:
• Council for Women's Advocacy, with a focus on women and the workforce
• Advisory Council for Veterans, with a focus on integration into the civilian workforce
• Council for New Canadians, with a focus on meaningful labour market integration
Each council will be comprised of senior business leaders who will help us determine what meaningful action, activities, and support we can undertake to achieve the greatest success for businesses across Canada.
As for what I want to accomplish next professionally, I don't know specifically, but I do know that whatever it is will be based on what's guided me throughout my entire professional career: to lead and to make a difference.