The Birth of Lohn was Predestined
The tales of the birth of brands can be strange and interesting. Coincidences and destiny make them walk a path that ultimately leads to creating a product that brings change. The personal story is closely intertwined with each step of its growth and development. Ultimately, it is a product that spreads a fragrance of nostalgia to all its users. Lohn has one such story to tell.
Katerina Juskey and Victoria Mierzwa crossed paths frequently and shared a lot in common. Both met in high school, attended the same college, and graduated with degrees in Chemical Engineering. After four gruelling years at university, they felt that traditional engineering was not their cup of tea. Adding all these shared experiences and their love for beauty and scent led to the birth of Lohn.
The Crossroads before Lohn
After her four years at Queen's University, Victoria landed a job that allowed her to explore the world of cosmetic formulation and manufacturing. She collaborated with extraordinary brands such as Byredo and Le Labo, as well as with raw material suppliers, packaging designers, buyers, production teams, and R&D chemists. She was happy with her job because she discovered a passion for which she knew she would remain forever. She eventually landed her dream job in the Sales & Marketing department at L'Oreal.
Katerina continued her studies and moved to France to pursue a Master's in Cosmetics and Fragrance at Guerlain's Perfumery School, ISIPCA, in Versailles. After completing her education at Guerlain, she joined Estee Lauder, where she worked in R&D for brands such as MAC and Tom Ford. She is regarded as a walking encyclopedia of perfumery knowledge.
Katerina and Victoria have been in constant touch for six years since their graduation, discussing their profession and passion. During one such conversation, they shared their idea of starting a business of their own. They deliberated and discussed their brand's values and vision for months. Katerina and Victoria narrowed their pursuit to candles after realizing their shared interests in candles, scents, and the nostalgia they evoke.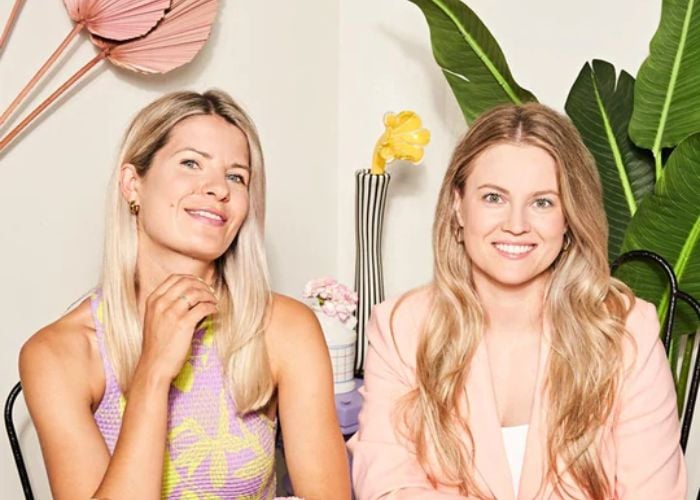 The Road to Lohn
Katerina and Victoria decided to use their chemical engineering education and years of experience in the beauty industry and their obsession with scent to better use by creating sophisticated, high-quality candles at an approachable price. They felt that scents have the power to evoke a time, place, or journey to tell a deeper story.
In naming their candles Lohn, which means 'scent' in Estonian and 'reward' in Old High German, the duo drew inspiration from their personal backgrounds. Victoria's Polish and Katerina's half-Estonian and half-Lithuanian ancestry helped them discover the ancient trade route known as the amber road that traversed these countries. Inspired by the historical and geographical relevance of the area, they imagined the smell of mountains, seas, forests, and fields to design their scent collection with Katerina's expertise in perfumery.
The scents and formulations for the candle were finalized after two years of intensive research and development, which included testing various types of waxes, wicks, and vessels and collaborating with industry experts. In the meantime, their friend Joanna was involved in the packaging's design. Eventually, they successfully came up with a clean, organic coconut & soy wax candle packaged in recyclable glass and carton, which is non-toxic and made with a lead-free, cotton core wick.
The Join called Lohn
Lohn was launched in 2018 with four candles poured into their kitchen. With 15 different scents, Lohn is a handmade scented candle enterprise made up of a small team of makers in a 2,000-square-foot studio, including a custom scent design studio located just outside of Toronto, Ontario. They make candles in small batches that are scented with essential oils, natural fragrances, and clean synthetic fragrances.
Katerina Juskey and Victoria Mierzwa show that passion can be turned into a successful profession with constant perseverance. With their step-by-step growth in business and minute detailing in everything they do, including finding their dream, researching for the right fragrance to creating scents that elevate their customer experience, Katerina and Victoria pave a path of lesson and inspiration for future entrepreneurs.
There are no better entrepreneurs than Katerina Juskey and Victoria Mierzwa, who rightly deserve the Women of the Month award for their consistent work in building a brand Lohn which is a lesson of how passion brings profession and profit home.
To know about the works and products of Lohn, visit their official website https://shoplohn.com/.
To read more inspiring stories of women entrepreneurs marking a difference in small business enterprises, subscribe to the CanadianSME Small Business Magazine! The perfect place for you to clear all your doubts regarding small and medium businesses in Canada.
To read more, visit our website https://canadiansme.ca/ and for the latest updates,check out our Twitter page Canadian_sme.