Michael Millar is the founder and CEO of Verto Health. Having spent 15 years working in healthcare IT and being a caregiver for a few family members navigating the healthcare system, Michael recognized some of the clinical workflow issues healthcare organizations needed to resolve. Michael founded Verto in 2017 with the goal to deliver technology that can track patients as they navigate through their care path in the health system; let patients, caregivers and clinicians know when important exceptions or changes occur; and provide access to the right information in the right care step of the patient journey. Prior to founding Verto Health, Michael was an Ontario eHeath Strategy Lead and technical integration specialist. He was also a lecturer in the University of Toronto Master of Health Informatics program.
---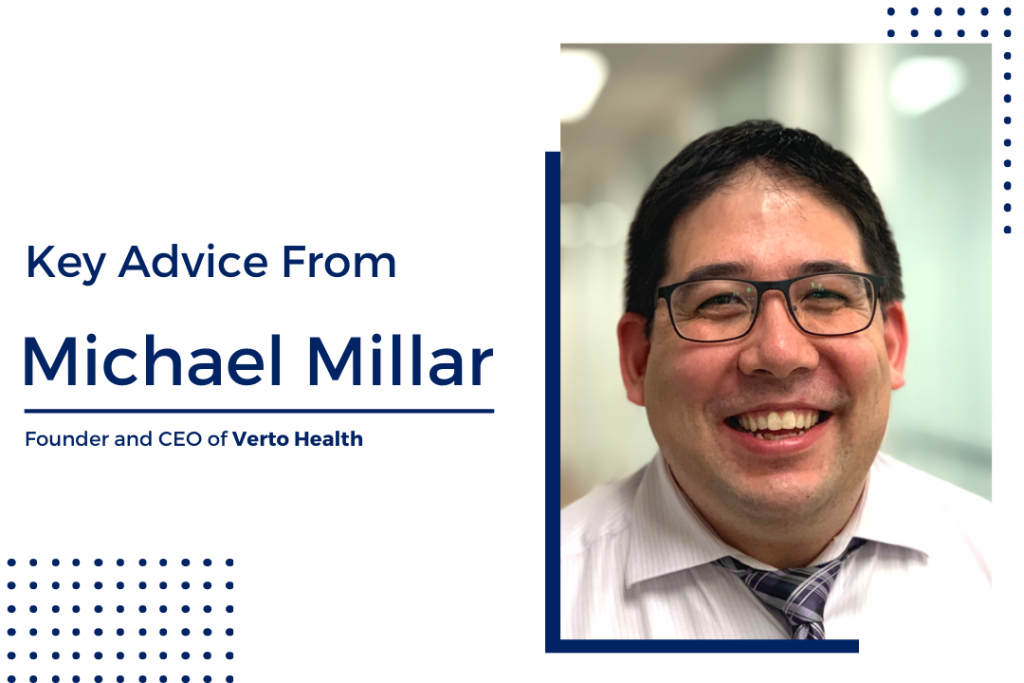 What is your key advice to small business owners during these challenging times? And what steps should they take to keep their small business afloat during the current crisis?
During these challenging times, my suggestion for other businesses is to not just focus on defensive strategies; try to also identify legitimate business opportunities to provide significant value in areas of pain that have been created by the current crisis.
It's a cliché, but challenges often create new opportunities. That doesn't mean trying to 'fake it', it means take a hard look at your business and the challenges the pandemic has created and determine if your offering can help your customers in new and emerging areas in this time of need.
Mask and hand sanitizer are obvious vendors that have seen their businesses grow during the pandemic, but grocery delivery and video streaming services have also all seen growth by positioning themselves effectively as addressing new needs as part of the new normal.

Talk to your existing customers and ask them if any new needs have emerged as a result of the current situation. It's important to segment their answers into problems that are short term — in order to determine if it's worth customers investing in a solution that can be implemented soon enough to have an impact during this unusual time — and which problems or goals may remain after the crisis passes.

The truth is that some businesses may just have to batten down the hatches and navigate the pandemic as best they can, but for others the crisis may have created opportunities that did not exist before, that may not be obvious and are worth exploring.