Paul Gaspar, Director of Small Business, UPS® Canada
Paul Gaspar was appointed director of small business for UPS Canada in 2011. He is responsible for educating and informing small businesses about the customized services, technologies and innovations available to them at UPS. He works with a team of small business ambassadors who help communicate how to better leverage UPS tools to help them grow and expand both domestically and internationally.
Paul's 29-year career with UPS began in 1991 in operations. Through several roles and responsibilities Paul's appetite for working with small businesses and educating them on the opportunities available in other markets grew. He soon realized that through his growing network of entrepreneurs, and the focused learnings of SME global supply chains, that he had a wealth of knowledge he can share to improve the success rate of businesses looking to scale and go global.
---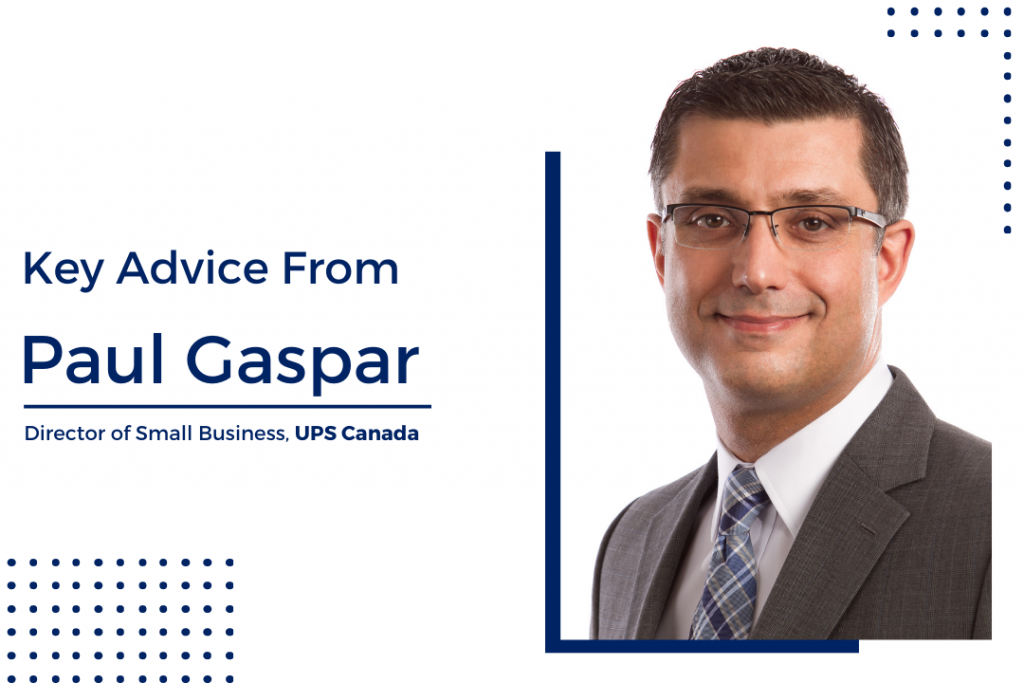 What is your key advice to small business owners during these challenging times? And what steps should they take to keep their small business afloat during the current crisis?
Understanding that this may be a difficult time for some, I would remind them that starting their own business was not an easy task, but they did it. Their resiliency and hard work got their business off the ground. That same determination will get them through this and perhaps provide an opportunity to look for new ways to grow their business. They are not alone as there are those who are here to help them.
Based on our research and survey we conducted, some of the key challenges businesses are facing include:
Inventory delays and shortages
Fulfillment challenges due to business closures and self-isolation of employees
A shift to e-commerce due to social distancing and location closures
An increased focus on cost savings from reduced cash flow
Below are some tips that may help:
Look for new sales opportunities. If you are a store front, and have not focused on your online business, now may be the time.
Plan for international shipping. Understand what global markets your product or service may benefit and be ready to make that sale.
Look for 3rd party fulfillment options to help with an isolated staff or to manage inventory.
Research, research, research. Ask questions, look for organizations that are there to help you network and teach new things. For example, we have partnered with organizations like Startup Canada, RevolutionHer, CCAB and many Boards of Trade and Chambers of Commerce. They help us support, promote and connect with Canadian entrepreneurs and they can do the same for your business.
I want to let the 1.2M small businesses in Canada know that UPS is here to help you adapt, navigate and grow. We will continue to partner with organizations that are a voice for businesses in Canada and we will continue to research and understand your customers to provide guidance.