"Do something that matters and try to help a few people along your way."
Sheri Somerville is CEO of Atlantic Chamber of Commerce (ACC), the largest accredited business association in Atlantic Canada representing more than 16,000 businesses through its network of 94 chambers and 27 corporate partners. She is a globally certified communications professional with more than 23-years of multi-sector business experience, and partners with her members to influence an environment in Atlantic Canada where business
succeeds.
A successful entrepreneur, leader and award-winning PR consultant to some of the nation's leading companies, Sheri took the helm as CEO in 2017. Since then, she has worked to create a chamber vision to serve the next generation of Atlantic Canadian businesses, cultivated new sources of revenue for the chamber and its members,
spearheaded new programming, enhanced governance and operational productivity, levered strategic partnerships, and elevated the Chamber's corporate reputation and membership as she and her team work to shape and support a strong, resilient chamber network for the future.
---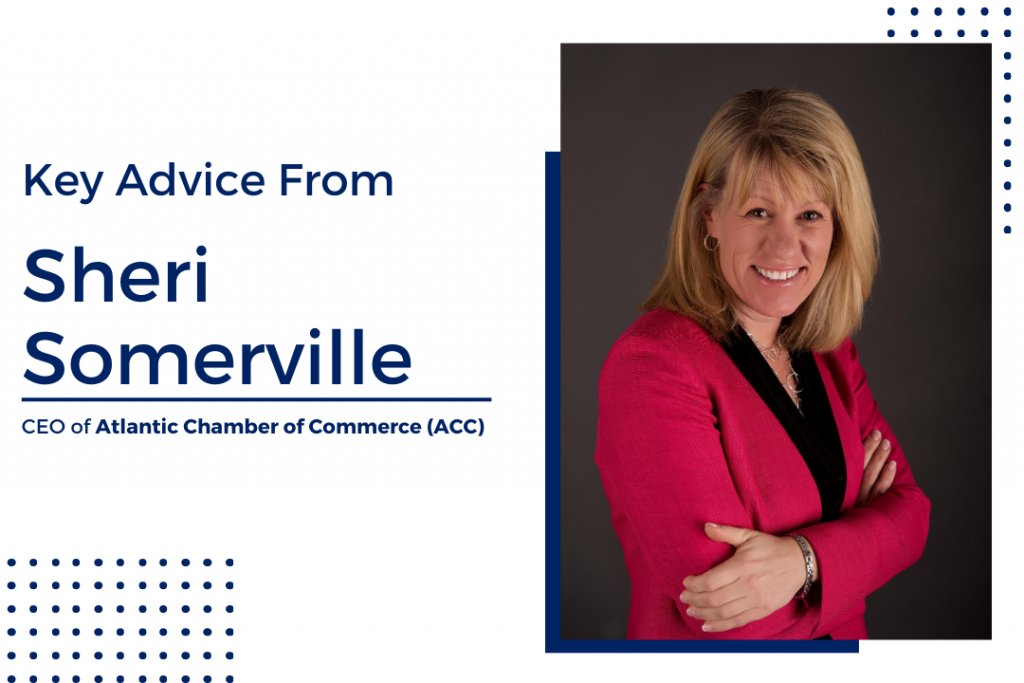 What is your key advice to small business owners during these challenging times? And what steps should they take to keep their small business afloat during the current crisis?
There's a saying we used in the military – improvise, adapt, overcome – that is particularly fitting for businesses as they face the uncertain conditions levied by COVID-19. And this simple motto may just help a few get to a place where they can shout HooRah!
Keeping a business afloat can be a solitary venture even in the best of times, one that lends itself to sleepless nights, uncertainty, anxiety, or worse, indecision and inaction.
First and foremost, be sure to care for yourself and your team. Take time to recharge so you can survive and thrive. Second, know what you've got to work with. Realistically review your operations and any risks so you can prioritize and address situations where required.
With that knowledge you can start to improvise. In these conditions, creativity is a must because so much has changed. Engage your team in brainstorming new ideas or processes, connect with new people to investigate new partnerships or opportunities to diversify your product or service, and talk to your customers to identify any shifts in their needs or new expectations (their business may be changing too).
Adapt. Necessity often accelerates innovation and incorporating new technology can expose new opportunities, improve productivity, and optimize operational performance. At the Chamber we recently leveraged a new digital platform to gather near real-time insight from business, which has greatly enhanced our operations and ability to serve our members. You can also explore and expand to new markets. There are programs available that can assist your business in new market development.
Finally overcome. Recovery from COVID is going to take a few years. Success in this market will require ingenuity and openness to new ideas, tenacity to keep pushing forward, and the willingness to ask for help—from your team, peers, partners, customers, professional associations, government and of course your local and provincial chambers of commerce because we're here to help with a variety of programs and benefits.
Above all else, be relentless in your pursuit of goal and the day you can shout HooRah!