Andria Barrett, President – Canadian Black Chamber of Commerce
---
What is your key advice to small business owners for 2021?
My advice for small business owners in 2021 can be summed up like this.
Don't look back.
Look ahead.
Be innovative.
2020 was hard, very hard. It was painful and forced many of us to rethink our business plan, business model and product and service offerings. We've seen companies redefine their niche and for some, simply close down.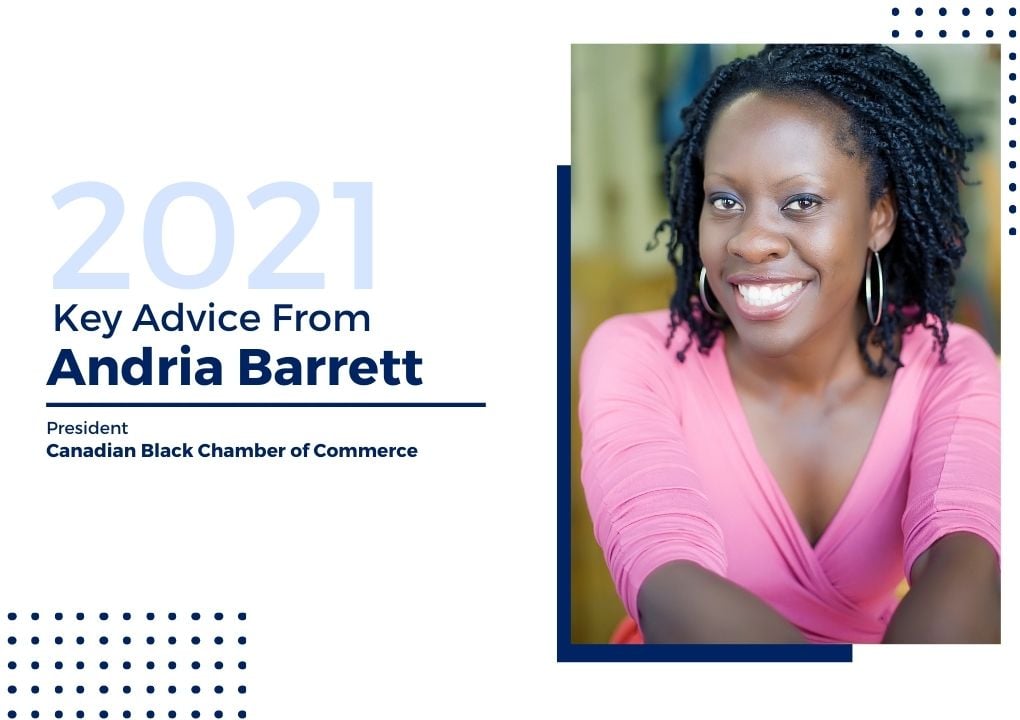 Be customer-centric. How is the pandemic affecting them and what little things can you do to improve their experience during these times.
Be prepared to break all the rules.
Be prepared to change your business model.
Be willing to experiment with your business model.
As your customer behavior changes, be prepared to change your behavior to enable long-lasting relationships or create new ones.
Embrace change.
Find a way to connect with your current and new customers.
Just because you can't see your customers doesn't mean you can't interact with them. Now, more than ever is time to get back to basics. Include a handwritten note in your shipping package, follow up with a courtesy call or reach out to your consumers on social media.
Be innovative & expect the unexpected.
Look at your business from every angle, every side, and perspective. Look at your business from the point of view of your suppliers, customers, and even your competition. Ask yourself, what you can do to keep generating revenue and satisfying your customers.
Look for trends and areas of opportunities for your industry or sector.
Don't be afraid of change, embrace it.