The concept of a ghost kitchen has long been crawling around the culinary scene. The idea of ​​Toronto's unique "Kitchen Hub" food hall concept, essentially a ghost kitchen that houses multiple catering partners, was born in Adam Armeland's head one day while on maternity leave and counting the number of people buying food. Kitchen Hub claims to be "Canada's first virtual food hall". It offers restaurants and foodservice establishments dedicated turnkey kitchen spaces (colloquially referred to as "ghost kitchens") to expand sales of the space, especially for takeout and delivery operations.
---
What Made Adam Armeland Open Kitchen Hub?
During parental leave, Adam always went to a place called Pazza Pazza in Eglington to buy food for his family. It was his way of 'cooking' for the family when he was busy taking care of his daughter. He kept noticing and slapped his head like an anvil several times, and eventually, he woke up and noticed a group of drivers and parents just passing by him. People were gathering and driving. He noticed two people sitting on the floor and had to feel the constant traffic jams. And, suddenly an idea came to his mind. Adam realized that people are busy and looking for comfort and quality food. Toronto is famous for its amazing food and it is known all over the world since off-premises were on the rise at that time. DoorDash just arrived in Canada and UberEats has its place. All these things led to the birth of Canada's first virtual food hall – Kitchen Hub.
Adam Armeland, Co-founder and CEO of Kitchen Hub, has an interest in logistics and plans to open more locations across the country, allowing brands to quickly and relatively inexpensively expand their presence in high-demand locations outside of shipping locations.
---
Kitchen Hub – Taking the Concept of Ghost Kitchen to New Heights!
Click To Tweet
Overall Strategy of Kitchen Hub
Adam Armeland's Kitchen Hub's strategy is to make restaurants very successful in their space. He has collaborated with small and large restaurants such as Kanga, Fresh, and Pai and a dessert-only concept of the Cheesecake Factory. It also attracts more CPG products and other brands that want to sell directly to consumers, such as Greenhouse juice and frozen desserts like Magnum, Ben & Jerry, and Klondike. Kitchen Hub's CPG partners typically sign up for a minimum of one year, but restaurants sign up for a little longer, which is closer to a rental.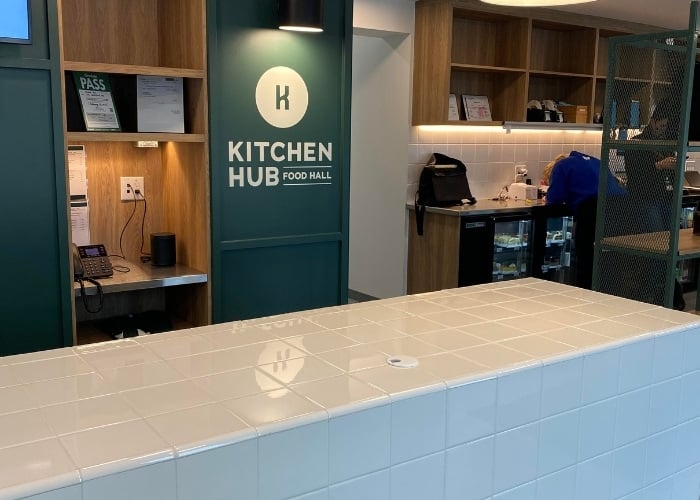 Kitchen Hub has two business models. One is 'instant cooking', in which dishes are prepared according to a restaurant partner's recipes and ingredients. Kitchen Hub is confident in launching a virtual brand that either succeeds or can succeed. The other is a jumble of sold by and sold through. When a pint of Ben & Jerry's ice cream or Greenhouse juice runs out, Kitchen Hub is a fulfillment partner for brands to "put the pins back in place" as if they are having a store of their own, but it's a virtual and digital store.
---
SUBSCRIBE NOW
Our content acknowledges the strength of the ardent entrepreneurs and their lifelong experiences of the marketplace that help them build successful business empires. Our belief in productive learning and providing inclusive content is why we have plans for a wide spectrum of activities that incorporate everything from reading to prolific networking.
Future Plans of Adam Armeland
Adam Armeland has announced plans to launch five more food halls next year, with 50 stores expected to open across Canada over the next five years. This announcement comes after Kitchen Hub has raised an additional $9 million in funding for a total of $10 million to date. According to Kitchen Hub, investors in this round include Harlo Equity Partners, Proficio Capital Partners, QSR Group, PIK Investments, as well as existing entrepreneurs and investors.
There will be the flagship site with 13 kitchens and retail space among the food halls to open in 2022. According to Kitchen Hub, the virtual food hall model gives restaurant operators access to previously non-takeout restaurants in the surrounding area, while providing infrastructure and low overhead costs for restaurant operators. Kitchen Hub currently serves takeaways from Toronto-based restaurants like Pai and Piano Piano. To expand its presence, Kitchen Hub will use the funds as a first step towards opening more locations to support adding restaurant partners, grow existing partners, further develop skills and double the size of the team.
---
What Does Kitchen Hub Believe?
Matthew Wosk, CEO of Proficio Capital Partners, said the pandemic has driven tremendous innovation and growth in the takeaway market. Virtual food halls have become an integral part of North America. And because Kitchen Hub is an industry leader in Canada, he sees an opportunity to help them grow quickly.
Mat Abramsky, Co-Founder and CFO of Kitchen Hub believes that Kitchen Hub is a great way to bring community centers, industrial hubs and suburban offices to life. This new capital will allow them to work with more rental partners across Canada to expand their presence and cater to their neighbours.
To know more about the company, click here – https://www.kitchenhub.com/.