We had the opportunity to speak with Amber Winters, Marketing Director at Pizza Pizza, who shared her journey with us. She talked about how it felt to be a woman of South Asian descent in a Canadian heritage brand and leading organization, the significance of strong female leadership in today's environment, the ways that companies encourage an inclusive environment for all employees, the challenges that female entrepreneurs face most frequently, and more.
A marketing professional, Amber Winters has spent almost two decades at Pizza Pizza. She started her journey at Pizza Pizza as an administrative temp and has risen up the ranks to her current role as the Marketing Director.
---
How would you describe your career with more than two decades of experience in the Quick Service Restaurant (QSR) industry and your dedication to fostering a culture that supports better equity, growth, and mentorship for women across all levels?
I feel very fortunate to be a part of an organization that has always believed in equity and the growth of our team members across the board. Although in the earlier days the D,E & I focus wasn't as deliberate, there was still a foundation of diversity. Since Pizza Pizza has always been a 'pizza of the people', there was a natural tendency of the corporate culture being representative of the customers we serve.
As someone who started out as an administrative temp, and was first-hand supported by my Leadership team and my peers (some of who are now also part of the Leadership team) throughout my tenure at Pizza Pizza, I am grateful for the opportunities that have unfolded and the way our team supports and encourages talent at all levels.
Fast forward to today, the environment has changed so drastically, especially in recent years, that it's now become necessary for organizations to better understand the need for equity and inclusion. As a founding member of Pizza Pizza's D,E & I Council, which is only just over a year old, it's an exciting time to be able to create impact by working with the organization to accelerate change.
---
How does it feel, as a person of South Asian descent yourself, to be a female leader in a Canadian heritage brand and leading organization?
I definitely feel privileged to be in this position. Though I've worked hard over the years and feel like I've earned it, I wouldn't be here without the support of those around me.
The initial appeal of working at Pizza Pizza (aside from the amazing food!), was that the brand's principles and values really lined up with my own. So just by being authentic within this environment, it's allowed me to thrive.
As a Canadian heritage brand, I also feel the responsibility to ensure we're not only shaping a strong & effective culture for our future leaders within the organization but also setting a great example for other Canadian brands.
---
What according to you is considered strong female leadership? And why is it necessary in today's environment?
I believe having the confidence that your input and role is equally valuable as anyone else's in the room is key. Be authentic to who you are as an individual and your own values, so that you bring your own unique voice to the table, sharing your views and perspective.
Don't overthink it and handle the situation as necessary. There are some occasions where asserting yourself might be valuable, or other moments where being empathetic is what your team needs – what's key is not comparing yourself to others, but doing what makes sense for you.
---
Why, in your opinion, is it crucial to mentor new talent? And how can businesses encourage an inclusive atmosphere for all employees?
At Pizza Pizza, we believe mentoring new talent is an invaluable investment in our overall business. Creating a culture of engaged team members lays the foundation for our success. We want to ensure there's a good balance of giving our new team members autonomy while also offering the support they need.
Conversely, learning from the new talent and encouraging them to share their ideas and experiences, as we continue to evolve as a business, benefits our bottom line as well.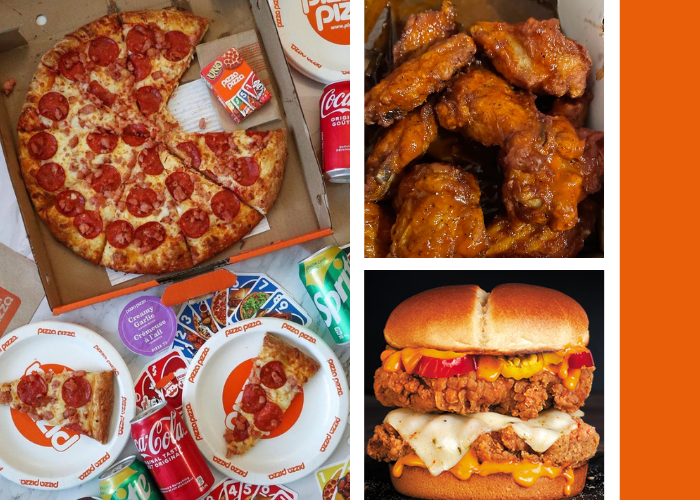 To encourage an inclusive atmosphere for all employees, ensure the two-way relationship and trust are established so that employees feel safe providing valuable & honest feedback. In this day & age, virtual work environments are more common than not, so finding ways to connect, even if it's a quick informal check-in weekly, will earn trust with your colleagues and team members. From there, it's always important to keep your ears out and listen and ideally, there's also a formal feedback process. With that process in place, your team can provide constructive feedback to ensure your business is working towards inclusion in a way that's meaningful to all team members.
---
What difficulties do female business owners encounter most frequently? What are some potential solutions to those difficulties?
It's difficult to give this question a blanket response as it can really range, but here are a few common examples.
Lack of female role models:
Be intentional about appointing qualified women to your executive team, corporate board and C-suite. Pizza Pizza's representation of senior leaders is over 25%. Only a couple of years ago, this was hovering around 10% so we're moving in the right direction. This has been achieved both by grooming talent internally and promoting within, as well as seeking talent externally where applicable.
Listen to women colleagues, take a look at your "go-to" people at work; is it a diverse group?
At Pizza Pizza, over a year ago, we formulated a D,E & I Council. The Council is designed not only to communicate the changes being put forth by the organization, but invite feedback in this space, take action on behalf of our team members and the priorities identified, and measure progress annually.
Even if you don't have the means to create a Council if you're a smaller business, you can weave the feedback process into your standard practices for collecting feedback from your team in order to keep your finger on the pulse and still action accordingly.
Switch the focus to productivity and results, and not time spent at the desk, or seek out managers who currently work flexibly and find out what works and what doesn't.
At Pizza Pizza, we've made huge strides in this area as we have added more rigor to our performance goal setting and feedback, where the team member and their coach are more focused on productivity and results. As well, this method has been an opportunity for some team members to show that they had more than a full-plate and so adjustments needed to be made. As a result, all of this has drastically improved work-life balance scores within our organization in just a couple of years. In late 2022, we were even recognized by winning Waterstone's Canada's Most Admired Corporate Culture Award, so we believe we've made a lot of progress in listening and meeting our team members' needs.
---
What are the expert tips you would like to offer women that will help them to navigate the workplace and build successful careers?
Hone in on what skills and qualities you carry that make you uniquely you and be confident in what you have to offer.
Be sure to reach out to people you admire, even a short conversation with them might be loaded with tips or insight as a result of their experiences.
Both you and your organization will evolve over time; know that you can make an impact in how your organization evolves.