Construction has often been seen to be a man's job. Women in construction have not been the norm, although there are many wonderful women breaking the shackles of common notions and stepping up to take up roles that have been unreachable before. "Buildforce Canada estimates that Canada will need to recruit more than 300,000 new workers over the next decade to keep pace with demand. One way to help fill the labor gap is by hiring more women. While the number of women in construction is steadily on the rise, women made up more than 13% of the total workforce in construction in 2019, only 4.7% of tradespeople working in construction were females," writes Jobsite.
Women In Construction
Mallorie Brodie is one such woman who has dedicated her life to being a leading lady in construction and all of this stems back to one road trip back when she was six years old. Mallorie's father had some consulting business for commercial property and he decided to take his six-year-old daughter along. The condition? Well, if he was able to get the deal, he vowed to pay his first-grade daughter a percentage of the commission he receives for her valuable time.
"My dad involved me in business conversations. He never underestimated that, despite my age, my questions might lead him to an idea," quoted Brodie.
Because of such early exposure, Mallorie Brodie went on to become the co-founder and CEO of Bridgit just at the age of 28. Established in 2014, Bridgit provides software solutions for companies in the construction field in order to make the construction space as simple as possible. Ever since its inception, Bridgit has been able to accommodate more than 5000 projects and 30000 subcontractors.
Mallorie Brodie on the Idea Behind Bridgit
In an issue of Next Canada, Brodie wrote the following: Bridgit is a construction technology company founded by Lauren Lake and me. With a foot in two industries that share the same challenges with diversity, we've made an effort from day one to recruit a diverse workforce and ensure an inclusive culture.
By taking a stance on diversity in the tech industry, we have no shortage of people from all backgrounds looking to join our team. When dealing with an ongoing labor shortage, leveraging a diverse workforce has helped us grow our company and explore new ways of approaching our business.
The benefits of a diverse workforce don't stop with growth and problem solving though. Across all industries:
According to the Boston Consulting Group, diverse management teams generate 19% higher revenue
According to McKinsey, companies with a diverse workforce outperform their industry norms by 35%
According to Glassdoor, 67% of job seekers consider a diverse workforce to be important when considering jobs
Construction Runs In The Family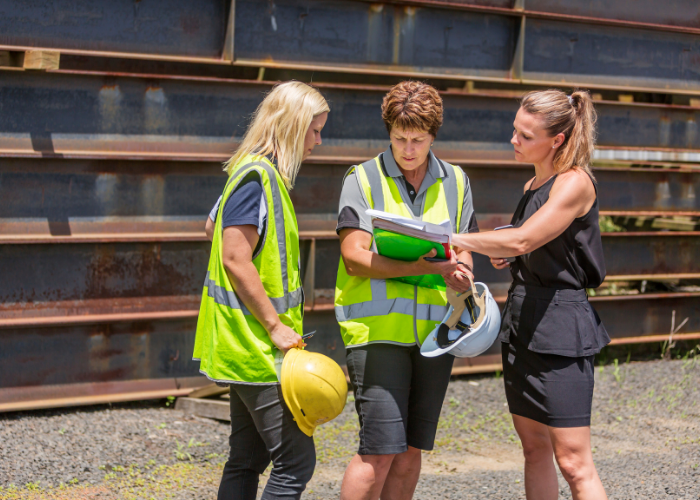 Construction runs in Mallorie's family with her great-grandfather laying the roots for the future generation with a steel mill. Next, her grandfather went on to establish a demolition company which was then taken up by Joel Brodie, her father. So who does Mallorie credit for her knack for construction? Well, her father and grandfather because she believes that without their support it wouldn't have been possible for her to step foot in such a male-dominated industry.
---
Mallorie Brodie
Mallorie holds an Honours degree from the Richard Ivey School of Business and has almost 10 years of entrepreneurial experience. She holds various entrepreneurial awards, including receiving the top prize at Google Demo Day, being named Techvibes Entrepreneur of the Year, being named to the Forbes Manufacturing & Industry 30 Under 30, being named to the Best Of Canada Forbes Under 30 Innovators list, and being named to the Top 40 Under 40 in Canadian Construction list.
Lauren holds a degree in Civil Structural Engineering from Western University and is well-versed in construction workflow methods. Lauren holds various awards, including receiving the top prize at Google Demo Day, being named in the TechWeek 100 list of entrepreneurs, being named to the Forbes Manufacturing & Industry 30 Under 30, and being named to the Best Of Canada Forbes Under 30 Innovators list.
To Wrap It Up
Mallorie Brodie became an entrepreneur at 19 when she used to sell art as a student at her university. However, all her efforts and what she achieved from then to co-founding Bridgit, earned her a spot in the 2019 issue of Forbes Manufacturing & Industry 30 Under 30. Truly, Mallorie Brodie is an inspiration for generations of women to come. For more such inspirational stories, don't forget to subscribe to the CanadianSME Small Business Magazine.