Founder of Flourish Pancakes
Andrew Maida is the 25-year-old Toronto native behind Flourish Pancakes, the protein mix brand revolutionizing the relationship Canadians have with healthy foods and indulgent treats. Since its inception in 2018, Flourish has grown rapidly, scoring an investment from Dragon Den's Arlene Dickinson, and scaling to more than 2000 retailers across the country. In the next 18 months, Flourish is tracking to become a 10MM/year business, and most notably, they just surpassed an amazing milestone: Serving one million pancakes to Canadians since their launch.
However, before the infamous pancake mixes were flying off the shelves at grocery stores, or sold out online, Andrew Maida was estranged from his family and facing precarious housing situations. After just getting back on his feet after one of the worst slumps in his life, he reached out to his brother, whom he hadn't spoken to in years, to commission him to create a healthy breakfast that could replace his classic Eggo Waffle meal. What began as a simple idea, eventually evolved into the brand it is today. Not only did Flourish enable his entire family to reconnect, but it also serves a similar purpose for consumers today — uniting families to come together over a healthy meal at the breakfast table.
---
FLOURISH was created in 2018 by entrepreneur, Andrew Maida.
Born out of a passion for the classic breakfast staple, pancakes, then 21-year-old Andrew sought to create a simple to follow yet delicious recipe that was health-conscious and packed with nutrients.
With guidance from his brother Peter, a chef and entrepreneur, FLOURISH was created – a pancake mix made from all-natural ingredients that are high in fiber and protein, organic and non-GMO, fortified with superfoods and contains 0g of added sugar.
---
What made you decide to found Flourish Pancakes? What was the inspiration behind it and what are you hoping to accomplish through it?
I founded Flourish Pancakes back in 2018 with a goal to change the relationship Canadian consumers have with healthy foods and indulgent treats. Whereas at one time you could only have one or the other, I wanted customers to be able to have both. The mission behind our company has always been to allow people to lead and live a healthy lifestyle, without restriction.
When I first started Flourish, I personally struggled to find food (breakfast foods specifically) that was tasty, but also good for you. I found that I always had that mid afternoon sugar crash and it definitely didn't feel great! At Flourish, we aim to deliver what we promise first and foremost. We live up to all of the amazing benefits we advertise on our packaging and our pancakes taste just like the "real" ones.
---
There are many healthy alternatives that already exist in the food industry that provide Canadians with healthy breakfast foods. What sets Flourish Pancakes apart from the rest? What gives it a competitive edge?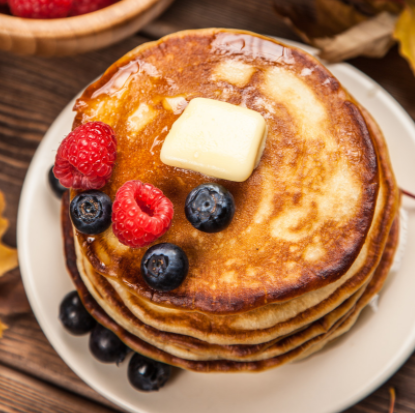 Many healthy alternatives aren't actually healthy and if they are, they usually aren't tasty. We wanted to create a product that Canadians could enjoy, without sacrifice. Our industry is plagued with 'health-washed' brands that call out fiber, or protein, or low sugar, but are then made with all the wrong ingredients. It's a huge problem in our space and deteriorates trust between consumers and brands.
Flourish provides Canadians with all the right ingredients, and all the good stuff, right up front in the bag.
This is what gets people to try our product in the first place. Afterward, it's the uncompromising flavor that turns first-time buyers into long-term Flourish Fam members!
Since its launch in 2018, Flourish Pancakes has been seeing a huge increase in profits. What would you say are the main factors that contribute to the brand's success?
We always put the consumer first. Our team puts countless hours into analyzing and improving all touchpoints throughout the brand journey which culminates at that first bite and then grows into eventual brand loyalty. If we lose our consumer-first focus, we'd lose our brand and our success thus far.
---
What was it like appearing on Dragon's Den and getting an investment from Arlene Dickinson? How has the company changed since this crucial event?
I didn't actually appear on Dragon's Den. I was approached by Arlene's team at her private Venture Capital company – District Ventures Capital. Arlene and her team brought us into the District Ventures Accelerator which really turned things around for our brand. We came in as the smallest company, and 6 months later, left as one of the largest. We then went on to become the first accelerator company to receive follow up capital from Arlene. Her support, appetite for risk, and expertise has been priceless. In turn, we've grown about 2000% since working in the accelerator just 1 year ago.
---
What's been the biggest challenge you've faced since launching the company and what strategies did you use to overcome these challenges?
Keeping up with the pace of demand from consumers and the grocery industry has definitely been a challenge. Our whole team is learning new things about the consumer packed goods industry every single day. I do my best to connect with other companies and work with mentors to expedite my learning.
However, like most start-ups, our typical strategy is to move quickly, and accept that there will be mistakes, walls, and pitfalls. We try to embrace a culture of speed and forgiveness of mistakes. That has been crucial to our rapid growth.
---
On a final note, what advice can you give to young entrepreneurs that they can benefit from?
I think the best piece of advice I can give to young entrepreneurs is to just take it one day at a time. Often times people want to jump to overnight success, but that's just not likely. As a young entrepreneur, I'm guilty of holding myself accountable for unrealistic expectations. When I catch myself in these negative thought-patterns I remind myself that next year, next quarter, and next week are not promised.
"Overnight" success is an accumulation of many ordinary days, mundane moments, small wins, big losses and innumerable lessons.
Do all that you can today. Do it with passion and do it better than you did yesterday.