Michael Duong – Head of Personalized Healthcare, Hoffmann-La Roche
Michael is the Head of Personalized Healthcare for Hoffmann-La Roche Limited. In this role, Michael leads a team responsible for Roche's strategy to advance the personalization of healthcare in Canada. Michael is also a founding board member of the Canadian Personalized Healthcare Innovation Network (CPHIN) which is a not for profit corporation representing a consortium of members from both public and private sectors focused on the acceleration of personalized healthcare for Canada.
Michael received his undergraduate degree in Biology and Pharmacology and a Ph.D. in Medical Sciences with a specialization in Neuroscience, both from McMaster University.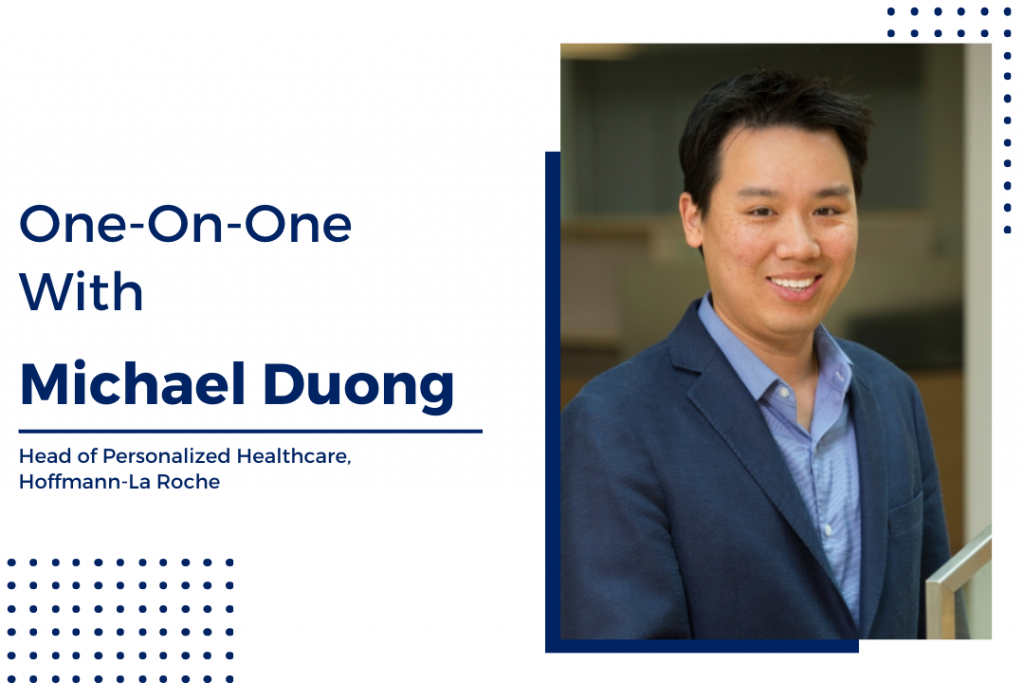 —————————————————————————————————————————————————
As Head of Personalized Health Care at Roche Canada, what can you tell us about the new innovation challenge that the company has launched to help find a solution to issues caused by the current pandemic?
Roche Canada is committed to a more personalized approach to patient care. In order to do so, we need to transform our health systems to adopt new innovations and build new frameworks that will allow for personalized healthcare in Canada. Therefore, collaboration and co-creation with our external partners are inherent in how we work and is key to our success in this endeavour. It is through these partnerships that we have seen, first hand, the amazing creativity and innovation within our Canadian communities. The COVID-19 Open Innovation Challenge is an effort to tap into this amazing resource to find potential solutions that can help us address the issues of the COVID-19 pandemic. Roche is proud to be in a position to help support and bring these ideas to fruition and to participate in getting through this together.
—————————————————————————————————————————————————
As an expert in the Health Care field, what would you say are some of the main issues that COVID-19 is currently causing?
There is particular concern over health resources and system capacity to manage the influx of COVID-19 patients in addition to other patients currently under care in our health systems. Immediate health-related issues that have surfaced over the past weeks include shortages in personal protective equipment for healthcare and frontline essential workers, as well as hospital facility and equipment capacity concerns. It is important to highlight, however, that the breadth of issues from the COVID-19 pandemic span beyond health concerns and we are seeing the impact of these issues across all aspects of our daily lives – ranging from social isolation to economic well-being.
—————————————————————————————————————————————————
What are some of the solutions you're hoping the innovation challenge will find?
We are leaving our minds quite open to what we will discover from this challenge and letting the creativity of Canadians really to come to the surface. We hope to see solutions that will address the immediate needs and issues of the pandemic, but also solutions to issues that we haven't even identified yet that will bring tangible benefits to patients and society.
—————————————————————————————————————————————————
In your expert opinion, how do you believe COVID-19 will change the current healthcare system?
There is a slow adoption of innovation and new technologies in our health systems. For example, the ability to leverage data and the application of digital tools is only now becoming a focus for health systems, while these technologies have already completely transformed other sectors such as finance and manufacturing. Through the solutions coming out of the Challenge, as well as other initiatives to address COVID-19, we hope to see an acceleration of our health systems to adopt these new innovations to better manage resources and more effectively deliver care to Canadian patients. We also expect to see an evolution in the definition of value through various healthcare innovations. Faster and leaner is possible, such as through expedited Health Canada approvals as an example, when patient lives are at stake and we hope to see this better leveraged going forward.
—————————————————————————————————————————————————
On a final note, what advice can you give to the participants of the innovation challenge to help them when it comes to finding solutions for the global pandemic?
We have encouraged applicants to think broadly about all the issues that are related to the COVID-19 pandemic and to think boldly about their solutions.