Nishaant Sangaavi is the Co-Founder and CEO of EnergyX, a high growth start-up with offices in Toronto and Halifax, that has successfully raised millions of dollars in financing and posted 100% growth year after year. Prior to founding EnergyX, Nishaant was leading global business development and marketing teams across North America and Europe. Nishant has a Bachelor of Science from Dalhousie University and an International MBA from the Schulich School of Business. Fascinated by maximizing his own, and others' potential, here are the words he lives by: "…The definition of hell; on your last day on earth, the person you could have become will meet the person you became."
---
What was the inspiration behind the founding of EnergyX Solutions? What are you hoping to accomplish through it?
Through my own personal experience dealing with utility companies and the trouble associated with accessing targeted information to make energy improvements, I became aware that I, as a majority of people, was quite disconnected from the energy I used to power my home. My goal in founding EnergyX Solutions was to help people bridge this disconnect, using data science insights to give recommendations about how to best improve efficiency and lower the cost of their bills. We believe that energy efficiency and conservation are essential for us to achieve our climate change goals and sustain the quality of life for future generations. We also believe that when people are empowered with the right information about their homes and businesses, they will make smart choices about their energy use. Our goal is to provide every building in North America with a relevant and personalized energy savings plan. Overall, we estimate that if every home globally used our RetrofitAI technology, greenhouse gas emissions could be reduced by 10 percent.
---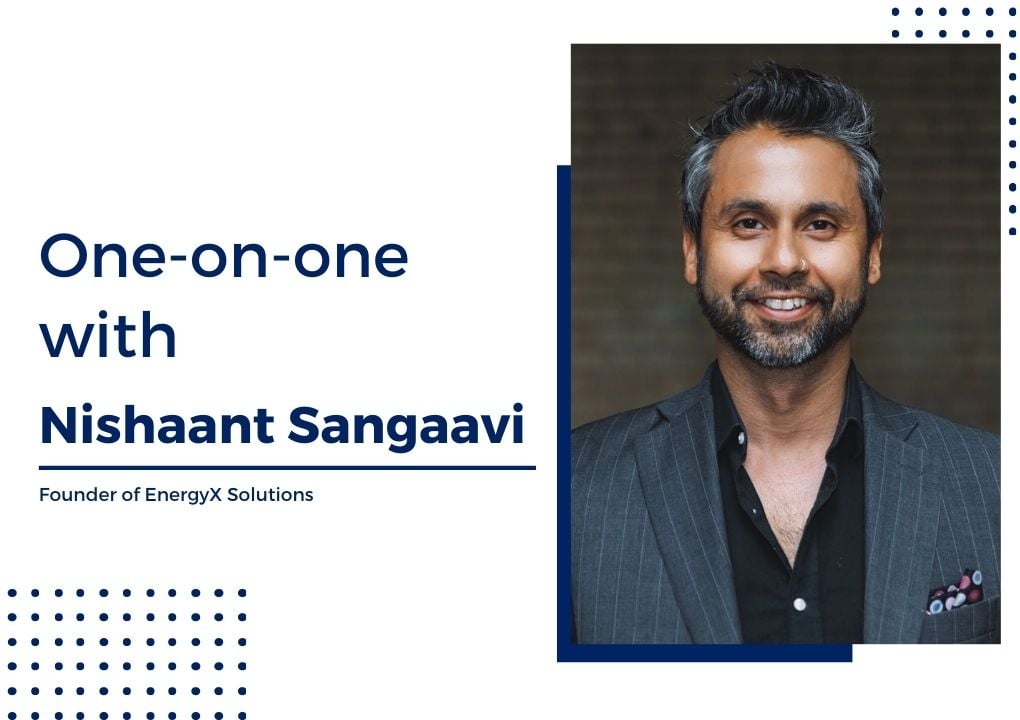 What would you say has been the biggest impact that COVID-19 has had on the company and what strategies have you used to overcome any challenges you were faced with due to the global pandemic?
Like many Canadian SMEs, we had to weather a number of pandemic-related business challenges during 2020. COVID-19 has had a negative impact on enterprise buying cycles but fortunately, we were able to leverage both the federal government's Innovation Assistance Program (IAP) and Canada Emergency Wage Subsidy (CEWS) supports, and I'm happy to report that we've been resilient in continuing our pursuit of growth and expansion and have kept our entire team intact throughout this year.
We're also optimistic about the future. With the pandemic the ability to conduct a virtual audit is critical, and we're confident this will transcend the pandemic, due to its scalability and the renewed focus on climate change initiatives and deep energy retrofits across North America.
---
What are some of the initiatives that EnergyX Solutions have put in place to help those impacted by COVID-19?
First and foremost, we believe fully in the team we've built at EnergyX Solutions. We've followed the recommendations of public health experts, and our teams in Toronto and Halifax have all been working from home since spring. We're also committed to the global energy transition, now more than ever. We believe in the importance of energy efficiency, and the work that our partners are doing to advance the goals of digitization, decentralization, and decarbonization. This work includes making sure energy efficiency plays a key role in Canada's post-COVID economic recovery plan, using deep retrofits as a tool to cut energy costs for families and businesses, reduce emissions and stimulate the economy.
By better focusing on climate change and the innovative green technology sector, Canada can stimulate the economy, create jobs, and provide hope and opportunity for those who are struggling. The clean technology sector employs nearly 300,000 people in Canada and represents $66 billion of Canada's GDP.
EnergyX Solutions has long maintained that cleantech companies will play a fundamental role in paving the way for the energy efficiency programs of tomorrow, and these recent developments prove that our vision and mission are aligned with the country's priorities.
---
What would you say are the main benefits of virtual energy audits, especially now during a global pandemic?
In the wake of COVID-19 gathering restrictions, the ability to conduct a virtual audit has become increasingly valuable, as it can be completed without a certified auditor ever having to visit the building site. By identifying energy efficiency opportunities at the building level, we can identify specific homes or regions that will benefit most from deep energy retrofits and help jurisdictions around the world achieve their climate change targets. For these reasons, virtual energy audits are poised to become the industry norm going forward. In addition, our RetrofitAI technology can help identify and pre-qualify the customers who are the best candidates for retrofit programs based on their unique building analysis. The great thing about this method is that it doesn't require customers to give up personal information, like income status or smart-meter readings, which can be a barrier to uptake of these programs.
---
In your expert opinion, how do you believe the cleantech sector is playing a crucial role when it comes to bridging the disconnect between everyday people and their energy use?
In the case of EnergyX, our AI-powered technology can provide deep insights about where a building's most prevalent energy inefficiencies lie. Once the consumer has these insights, they can set more specific and measurable energy usage goals – for instance, to lower their monthly bill by a certain dollar amount, or to reduce the amount of energy consumed by a certain number of kilowatt-hours. Now that the consumer has these goals in mind, our solution can also provide suggestions about what efficiency programs or retrofits are available to best help them attain those goals. From there they can start informed conversations with their utility provider or a contractor.
A good case study for what I've described is EnergyX's partnership with Energy New England (ENE). The provider launched our MyEnergyXpert Integrated Intelligent Marketplace in September of 2020. In the first month, ENE boosted conversion rates of 40 percent and generated an industry-leading 12 percent uptake on their free energy saving kits. Uptake of the ENE MyEnergyXpert platform stands at an annualized rate of 7.2 percent, with over 450 unique savings profiles created on the platform in the first month alone. Currently, ENE is on track to achieve seven times the industry average for the uptake of an online energy assessment.
---
What can you tell us about the Canadian Technology Accelerator's Cleantech program that the company has participated in? What are the main benefits of the program and how is it contributing to the success of early-stage startups?
The CTA Cleantech program supports early-stage cleantech companies looking to secure Seed to Series A funding rounds by enabling access to four of the most robust cleantech markets in the United States. – those being San Francisco, Denver, Boston, and New York. The program is led by the Consulate General of Canada in each of these cities, working together with cleantech ecosystem contributors like the U.S. Department of Energy's National Renewable Energy Laboratory. The program has served over 62 companies that have secured more than $219 million in venture funding to date. Applicants are evaluated based on product-market fit and growth potential, and we were fortunate to be one of 13 companies selected for the 2020 cohort. The opportunity to connect with mentors, investors, customers, and innovation partners will be instrumental in helping us continue to expand our reach across North America.
---
On a final note, what are some of the projects you have planned in the near future? How do you see the next 5 years of the company?
Today, EnergyX Solutions is growing steadily and quickly. We've raised approximately $5 million in dilutive and non-dilutive funding, have achieved 100 percent year over year growth in average annual recurring revenue, and have licensed our software to 17 utility partners across North America. In terms of presence, we expect to further expand our footprint in the United States market beyond our current client base. President-Elect Biden called for a $2-trillion, four-year investment in climate-related projects, including retrofitting four million buildings to significantly reduce energy use and emissions. In our own country, the recently-tabled Canadian Net-Zero Emissions Accountability Act mandates greenhouse gas emission reduction targets with the goal of reaching net zero by 2050. We also recognize that the problem we've undertaken to solve is global in nature, and to that end, we've also started undergoing pilot projects with utilities in Portugal and the United Kingdom.